'Party Down' Movie To Begin Shooting Next Summer?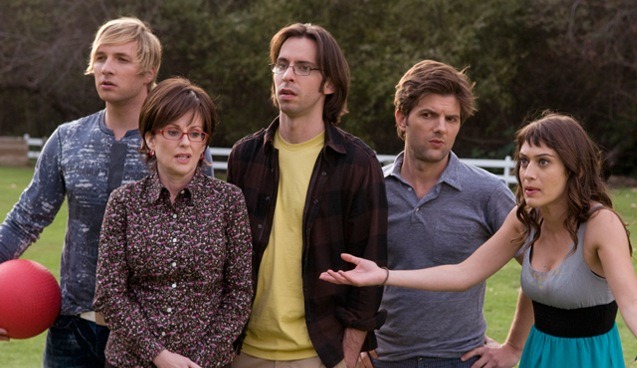 It's become fashionable for shows to hint at a follow-up feature film as they make their way off the air, from brilliant-but-cancelled series like Arrested Development and Veronica Mars to the somewhat less brilliant but much longer-lived Entourage. Sometimes, those plans really do come to fruition, as with Serenity (based on Firefly) and Sex and the City. But more often, nothing comes to pass — have you seen trailers for the Arrested Development or Veronica Mars movies yet?
One beloved show that's been promising a possible feature film sequel is Party Down, Starz' terminally underwatched series about the comical goings-on at a catering company in Hollywood. I've been kinda skeptical about this project actually getting off the ground since it was first announced, but it seems the cast and crew involved are more optimistic than I am. In a recent interview, star Adam Scott revealed that not only is the Party Down movie coming together, it just might begin shooting next summer. Read his quote after the jump.
We're like 90% there, we're hoping to do it maybe next summer, if everyone's schedules work out and the guys get time to write a script... They have kind of a skeleton of a story worked out so we know where it's going to go but we just have to kind of cross the t's and dot the i's, or something. But Starz are being super cool and they're going to let us do it, and we're all excited, we all want to do it.
While I'd absolutely love to see the Party Down gang make it to the big screen, Scott's comments still don't have me entirely convinced. It sounds like the cast and crew are totally enthusiastic about doing the movie, for sure. It also sounds like there's no script, no financing, and no set start date. Even if they manage to get the money together, "if everyone's schedules work out" is a pretty big if, seeing as many of the cast members have other projects lined up.
But whether or not the Party Down movie actually happens, we can take comfort in the fact that there are a few upcoming projects that'll see some of the cast working together again. Scott and Lizzy Caplan are set to star in Bachelorette, and Caplan and Martin Starr in the similarly themed Save the Date. And of course, we can expect to see Megan Mullally guest-starring opposite Scott in the upcoming season of Parks & Recreation. Or if you just can't wait that long, I suggest catching up on Childrens Hospital, which stars Mullally and Ken Marino and which recently featured a little Party Down reunion (minus Scott, alas).
Discuss: Do you think the Party Down movie will actually happen? What's your favorite Party Down episode? Offhand, I'd say mine is "Steve Guttenberg's Birthday."