Upcoming Survival Horror Game The Quarry Boasts A Cast List Any Hollywood Director Would Envy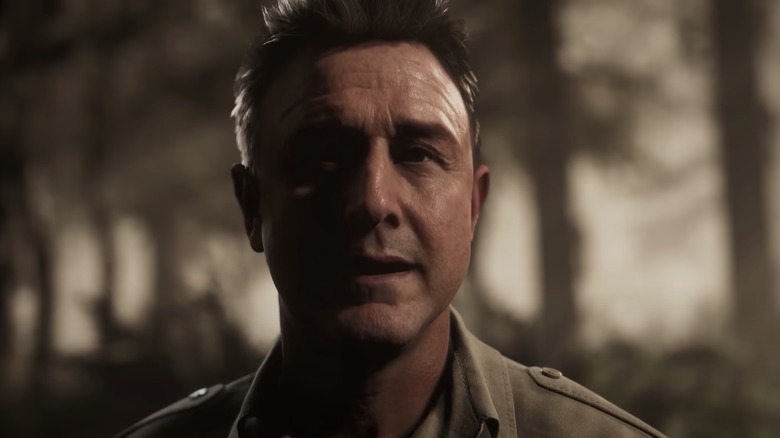 Supermassive Games
Gamers, you've got a new quarry. Should you choose to pursue it, you may find yourself stranded in a summer camp from hell, where you'll hear some familiar voices and see some familiar likenesses as you struggle to survive a human hunting scenario. 
"The Quarry" from Supermassive Games has enlisted quite a few recognizable actors for what IGN describes as "a spiritual successor to 'Until Dawn,'" the interactive horror survival game set in a place called Blackwood Mountain.
The head camp counselor in "The Quarry" is played by David Arquette, most recently seen reprising his role as Dwight "Dewey" Riley in "Scream," and he's none too keen about staying in Hackett's Quarry Summer Camp after sundown. Arquette is just one of the horror and thriller veterans on hand in a cast that includes Lin Shaye ("A Nightmare on Elm Street"), Lance Henriksen ("Near Dark"), and up-and-coming young actors like Justice Smith ("The Voyeurs"). Check out the full impressive cast list and their film/TV credits with the trailer for "The Quarry," below:
Ariel Winter – Modern Family, Speed Racer

Ethan Suplee – The Wolf of Wall Street, Remember the Titans, My Name is Earl

David Arquette – Scream franchise, Eight Legged Freaks

Lin Shaye – Insidious franchise, The Grudge, Ouija

Miles Robbins – Halloween (2018), Blockers

Grace Zabriskie – Armageddon, Wild at Heart, The Grudge

Halston Sage – Neighbors, X-Men: Dark Phoenix, Paper Towns

Zach Tinker – 13 Reasons Why, Law & Order: True Crime

Lance Henriksen – Aliens, Alien 3, The Terminator

Brenda Song – Dollface, The Social Network, New Girl

Siobhan Williams – Forsaken, Heartland

Skyler Gisondo – The Social Dilemma, Santa Clarita Diet

Evan Evagora – Star Trek: Picard, Home and Away

Justice Smith – Detective Pikachu, Jurassic World: Fallen Kingdom

Ted Raimi – Evil Dead, Spider-Man, Xena: Warrior Princess
Blame it on the bears
"Someone's dying, Lord, Kumbaya..."
The trailer for "The Quarry" recalls other recent "Friday the 13th" riffs like "Fear Street: 1978" as it teases a "Most Dangerous Game" situation that is obviously not going to end well for everyone involved. You'll notice that Arquette breaks one of the first rules of the "Scream" franchise with a variation on the line, "I'll be right back." As his character leaves the kids at the lodge with instructions to stay inside and keep the doors locked, he promises, "I'll be back first thing in the morning."
By then, it may already be too late for the doomed slasher teens of "The Quarry." Will Byles, the game's director, told IGN that there are 10 to 12 ways for every character to die and that players can expect around 10 hours of game time on average. 
If you hear a noise in the woods, blame it on the bears ... unless it's a creepy rendition of the old spiritual "Kumbaya," in which case, you'd probably better run. 
"The Quarry" is available for pre-order now and will be ready to give you your vicarious summer camp experience on June 10, 2022.