The Flight Attendant Season 2 Teaser: Cheers To Making Better Choices, Baby!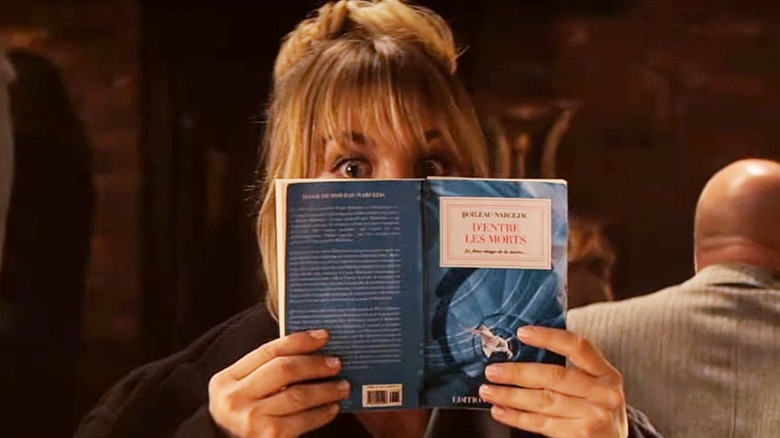 HBO Max
Is it about time that we all agreed that Kaley Cuoco is enjoying the best post-"The Big Bang Theory" career out of anyone in the main cast, or is that fact already agreed-upon? Between her voice performance as the title character in DC's animated "Harley Quinn" series and her sneakily nuanced role as the walking disaster Cassie Bowden in the first season of "The Flight Attendant," these two shows were more than enough to reestablish the actor as one of our most entertaining performers around. 
While I thoroughly enjoyed both shows, "The Flight Attendant" felt like the one that really came out of nowhere and ended up being much better than it may have seemed on first glance. The gleefully self-aware tone allowed viewers to fall right into a story about a messy flight attendant stumbling upon a murderous conspiracy after a drunken one-night stand with a charming man (Michiel Huisman, known for his supporting role in later seasons of "Game of Thrones"). More impressively, however, the series evened out its largely comedic storyline (well, as comedic as it can get while still accounting for a gruesome murder, of course) by grappling with dark and serious subject matter like alcoholism, abject selfishness, and the debilitating effects such vices can have on ourselves and those closest to us. It's a lot, but in a good way!
After such a successful first season on HBO Max, the streamer wasted no time at all in greenlighting "The Flight Attendant" season 2. The story seemed to come to a satisfying close with the murder mystery solved, Cassie (mostly) on her way to recovery, and the door left open for her continued involvement with law enforcement to lend her surprisingly resourceful assistance, should anything else come up. Well, something has definitely come up, if the season 2 teaser is anything to go by. The HBO Max original released our first look at the season to come, featuring much more of Cassie, her "part-time job" as an undercover spy, and her perpetual struggle to balance work, self-care, and her love life. Other than the spy stuff, totally relatable! Check out the new teaser below.
The Flight Attendant Season 2 Teaser
If you were slightly concerned that "The Flight Attendant" would move on from all the messy alcoholism storyline and just focus on the fun spy stuff, rest assured that that's not the case at all! The teaser opens with Cassie at an AA meeting, introducing herself and assuring her support group that she's making better choices. But much like real-life recovery, it's never as simple and straightforward as that. The first season cleverly explored ideas like PTSD through the use of Cassie's repeated hallucinations, which also had the advantage of bringing back Huisman in a recurring role and allowing him to do something more than just play a corpse. 
This time, however, it looks like the hallucination who'll be haunting Cassie's steps in the second season will be ... herself. Put that on top of the ever-present temptation to relapse and, yes, what looks like yet another sinister conspiracy, and it's easy to imagine our poor protagonist getting put through the wringer all over again.
Cuoco stars as Cassie in "The Flight Attendant," based on author Chris Bohjalian's novel of the same name. The series was created by Steve Yockey and also stars Zosia Mamet as Casie's best friend Ani, T.R. Knight as her once-estranged brother Davey, Rosie Perez as Cassie's flight attendant friend Megan, Griffin Matthews as her friend Shane, and more. Excitingly, we previously reported on the news that none other than Sharon Stone would be joining the cast of season 2 as Cassie's mother. Between the two of them, we can expect plenty of soup opera-esque drama to come.
"The Flight Attendant" season 2 will come in for a landing on HBO Max with an April 21, 2022 debut. Check out the synopsis for the new season below.
Cassie Bowden (Kaley Cuoco) is living her best sober life in Los Angeles while moonlighting as a CIA asset in her spare time. But when an overseas assignment leads her to inadvertently witness a murder, she becomes entangled in another international intrigue.