James Gunn Confirms Cameo As Himself In HBO Max's Harley Quinn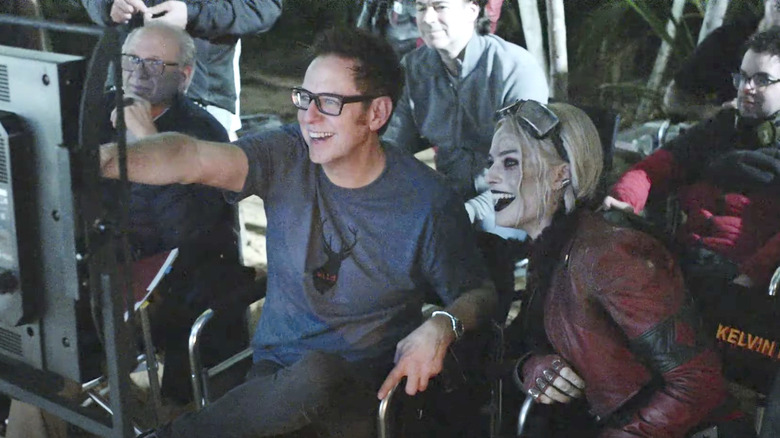 Warner Bros.
If you thought director James Gunn had positioned himself as one of the new main creative forces in the DC Universe before, this latest and unexpected bit of news will only reinforce that narrative even further.
It's tough to think of any other director whose career path can be treated as analogous to Gunn's own. After years of work on low-budget horror movies, Gunn made the leap to the blockbuster scene in style with Marvel's "Guardians of the Galaxy" in 2014. Far from being intimidated by the spotlight, the filmmaker parlayed that success into an even better sequel (still the high-water mark of the entire MCU, by far, if you ask me!) and found himself flying high as the first Marvel director in a position to actually complete his own trilogy of movies. 
However, his subsequent firing came as a result of social media unearthing some really tasteless jokes from his earlier and more provocative years — it bears repeating that those undeniably bad tweets were only exposed by far-right commentators as political revenge for publicly criticizing then-President Trump as much as he did. Undaunted, Gunn merely jumped ship to DC with the extraordinarily well-received "The Suicide Squad," regained his old job as director of "Guardians of the Galaxy: Volume 3" once again, and even built a thriving little shared universe of his own with HBO Max's "Peacemaker" spin-off series. Folks, I think we can all agree that James Gunn (and superhero fans) came out on top.
The director's incredible run of success shows no signs of stopping anytime soon, as we've now received confirmation from the man himself that he'll be cameoing — get this, as himself — in the similarly beloved DC series, "Harley Quinn." Check out the details below!
James Gunn gets animated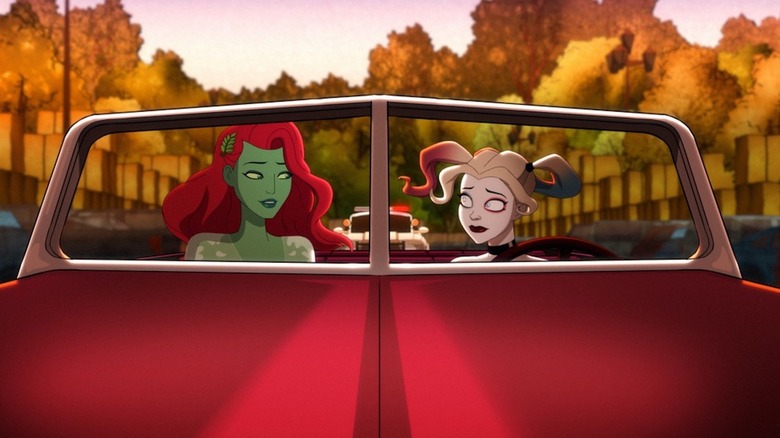 HBO Max
James Gunn has done both DC movies and a DC show. Now, he's about to get the animation treatment with another DC series. In response to a ScreenRant article reporting the news of Gunn joining the "Harley Quinn" series, announced by co-creator and co-showrunner Patrick Schumacker at the South By Southwest Film Festival (which was originally broken by /Film's Rafael Motamayor), Gunn took to Twitter to finally talk about the news in public.
"I've been holding onto this for a while. As an enormous fan of the show, it's an incredible honor! Thanks to the #HarleyQuinn gang for the fun (PS my Thomas Wayne biopic is going to be a MASTERPIECE!)"
I've been holding onto this for a while. As an enormous fan of the show, it's an incredible honor! Thanks to the #HarleyQuinn gang for the fun (PS my Thomas Wayne biopic is going to be a MASTERPIECE!) @dcharleyquinn @PMSchumacker https://t.co/NE0DKurdxl

— James Gunn (@JamesGunn) March 16, 2022
It almost goes without saying that the irreverent animated show would be the perfect avenue for an appearance like this, especially considering that this is the same show that previously lampooned fanboys who were unreasonably angry about "The Last Jedi" as well as the "Snyder Cut" crowd. Throwing in a meta twist where James Gunn exists in that world and is working on an in-universe Thomas Wayne biopic should provide plenty of laughs and ruthless self-deprecating jokes about the DC world that the writing team behind "Harley Quinn" have proven themselves to be so adept at crafting. The Gunn cameo will occur sometime in the upcoming third season, which we last heard is still scheduled for a release later in 2022. As Schumacker initially told attendees at the SXSW Not Kidding Around: Warner Bros. Animation and the Reimagining of Iconic Characters for an Adult Audience panel:
"[Gunn] is playing himself, and is directing a movie about Thomas Wayne."
Between his DC and Marvel work, Gunn is currently one of the busiest filmmakers in the business right now. It's pretty neat that he managed to carve some time out for "Harley Quinn," though we're not 100% sure just how big or small this appearance will be. In any case, may this be another reminder to catch up on "Harley Quinn" if you haven't yet. The movies and live-action shows will get all the credit, but DC is doing some tremendous work in the medium of animation at the same time. The first 2 seasons of "Harley Quinn" are currently streaming on HBO Max.