Harley Quinn Season 3 Is Still On Track For A 2022 Release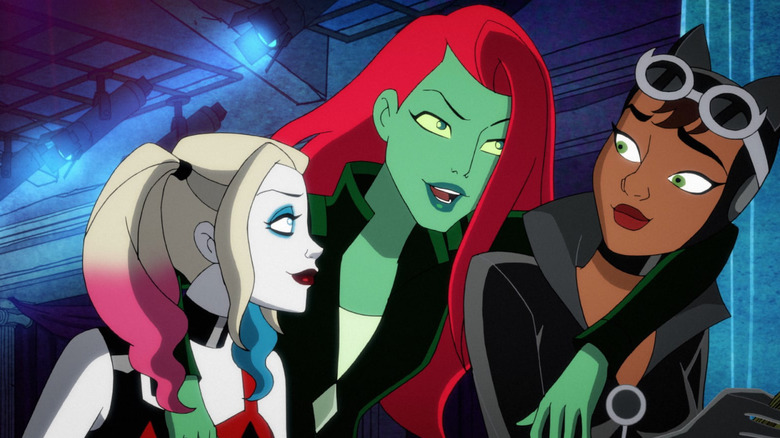 HBO Max
Now that "Peacemaker" season 1 is over, it's once again time to look forward to the return of everyone's other favorite chaotic, ultra-violent, comedic, queer DC antihero TV series with a heart of gold: "Harley Quinn." 
The last time we saw Harley (Kaley Cuoco) in the show's season 2 finale, she and her bestie Ivy (Lake Bell) had finally proclaimed their romantic feelings for one another and were driving off in Ivy and her would-be husband Kite Man's ride to destinations unknown, the Gotham City Police Department hot on their tail. That was back in June 2020, and there haven't been too many concrete updates on "Harley Quinn" season 3 since then, save for confirmation that it's happening and the release of an unfinished sizzle reel at DC FanDome in October 2021. TVLine didn't have much else to say on the topic while responding to reader questions in its latest edition of "Inside Line," either, other than season 3 "remains on track to hit HBO Max sometime this year."
What we know about season 3 so far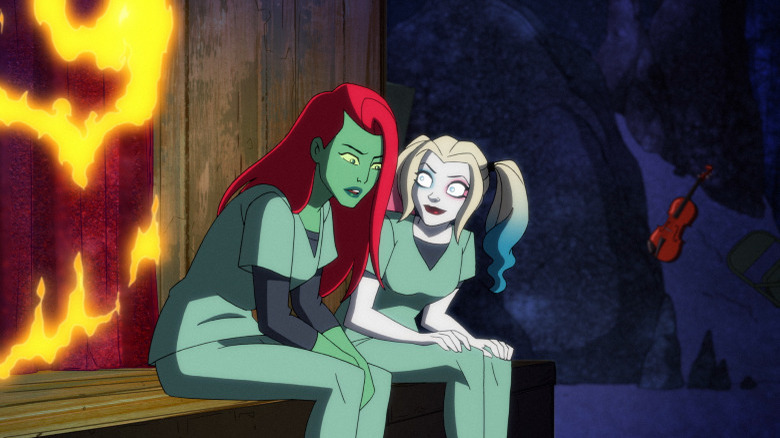 HBO Max
The animated series "Harley Quinn" was created by Justin Halpern, Dean Lorey, and Patrick Schumacker for DC Universe, with season 3 being the first to debut exclusively on HBO Max. As with Cathy Yan's DC Extended Universe movie "Birds of Prey (and the Fantabulous Emancipation of One Harley Quinn)," the show begins with Harley being dumped by The Joker (Alan Tudyk) and charts her not-so-surprisingly messy attempts to not only create her own villainous identity separate from her evil ex-boyfriend but also to leave her toxic relationship with the Clown Prince of Crime firmly in the dust.
Building on that, "Harley Quinn" season 3 will see Harley and Ivy trying their hand at having a healthy, equal, romantic relationship — something that neither of them have really had in the past, as Halpern previously pointed out to Entertainment Weekly:
"The thing we have discussed preliminarily is the idea that these two characters have had a lot of toxic relationships in their past. Although Ivy and Kite Man weren't toxic, it also wasn't an equal relationship, you know? He loved her a lot more than she loved him. So this is the first time they're both going to be in a relationship where they really and truly have affection towards one another. They have a lot of responsibility. So I think, 'what is it like to be in a good relationship after you've only ever been in bad relationships with abusive people?' is a big theme we want to play with."
"Harley Quinn" season 3 will also carry over the other plot threads left dangling at the end of season 2, including the over-enthused Barbara Gordon's (Briana Cuoco) transformation into Batgirl, Joker settling down as a family man in the suburbs, and Bane (James Adomian) ... well, honestly, I've no idea what he'll be getting up to this season, but the show's take on the muscle-bound super-villain is truly hilarious (as is the series itself), and I'm very much looking forward to having him back on my TV screen.
Season 3 is also expected to bring back most of your favorite supporting players from seasons past, including Ron Funches as King Shark, J. B. Smoove as Frank the Plant, Diedrich Bader as Batman, Giancarlo Esposito as Lex Luthor, Sanaa Lathan as Catwoman, Christopher Meloni as Commissioner James Gordon, Jacob Tremblay as Robin, Tony Hale as Doctor Psycho, and Tom Hollander as Alfred Pennyworth. Keep it tuned to /Film for further "Harley Quinn" updates and more in the months to come.