The Hidden Meaning In The Cowboy Bebop Anime's Opening Credits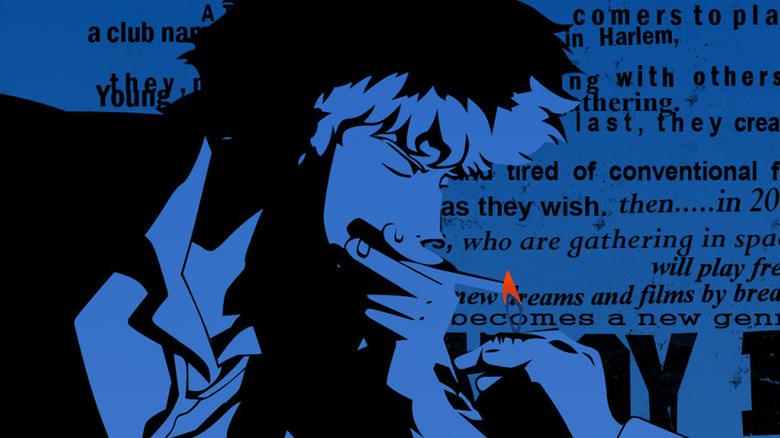 Funimation
There are some show themes you don't skip. The 12-string twang of The Shadowy Men's intro to "The Kids in the Hall." The hot sax and nasty bass running through "Night Court." And the freeform horns and smoky, chaotic transitions of "Cowboy Bebop." From its release in 1998 to its live-action adaptation in 2021, "Cowboy Bebop" has enjoyed a formidable legacy as one of the greatest anime series of all time, and certainly oneof the most influential. Why? When /Film spoke with the English voice cast of the animated series, Wendee Lee (who voices Faye Valentine) put it like this:
"It's really a lot of elements, but I think what was going on is that the creators were making the story they wanted to create, honoring their influences that happen to be the rock and roll roots of the US, jazz, Motown, you name it. All the musical influences are woven into the fabric and tone of this series."
Centered around a trio of bounty hunters fighting pirates and ennui in the far reaches of space, "Cowboy Bebop" was the creation of director Shinichirō Watanabe, with help from screenwriter Keiko Nobumoto and the formidable production and animation team at Sunrise. In the series, former assassin Spike Spiegel, former cop Jet Black, and con woman Faye Valentine pursue their bounties across deep space in their ship Bebop, all to the chaotic, melodic tunes of prolific composer Yoko Kanno (who also scored anime series like "Darker Than Black" and "Kids on the Slope") and her jazz band Seatbelts.
The theme music in the original "Cowboy Bebop" series is as beloved as the characters. It still finds fresh interpretations, such as last year's remix courtesy of Steve Aoki. From its opening brass explosion to its hip bass line, the show's theme, "Tank!," is matched by expressive, freewheeling visuals that reflect the band's energy. Vibrant splashes of yellow, green, and blue backlight the silhouette of each bounty hunter, all of whom are shown vaulting amid and between the credits. Each title card whizzes past, sometimes breaking up the composition into framed sections, all to the toe-tapping rhythm of the music. But what's hidden in those credits?
3,2,1, let's jam
Taking its visual cues from the dynamic credit sequences of Saul Bass, Sejun Suzuki's in-your-face 1966 gangster picture "Tokyo Drifter," and the pop art movement, the art direction of the "Cowboy Bebop" opener features noir beats, action shots, billowing cigarette smoke, and guns blazing. And hidden within this landscape are blocks of typeset text bearing Watanabe's not-so-secret manifesto for the series itself:
"Once upon a time, in New York City in 1941... at this club open to all comers to play, night after night, at a club named "Minston's Play House" in Harlem, they play jazz sessions competing with each other. Young jazz men with a new sense are gathering. At last they created a new genre itself. They are sick and tired of the conventional fixed style jazz. They're eager to play jazz more freely as they wish then... in 2071 in the universe... The bounty hunters, who are gathering in the spaceship "BEBOP", will play freely without fear of risky things. They must create new dreams and films by breaking traditional styles. The work, which becomes a new genre itself, will be called... COWBOY BEBOP"
Eagle-eyed "Bebop" watchers will also find excerpts of the text in the commercial bumpers for the show. It's a bold move to call one's shot like that in the opening credits of the series, but what are opening lines and images if not a mission statement for what you're about to watch?
"A new genre itself..."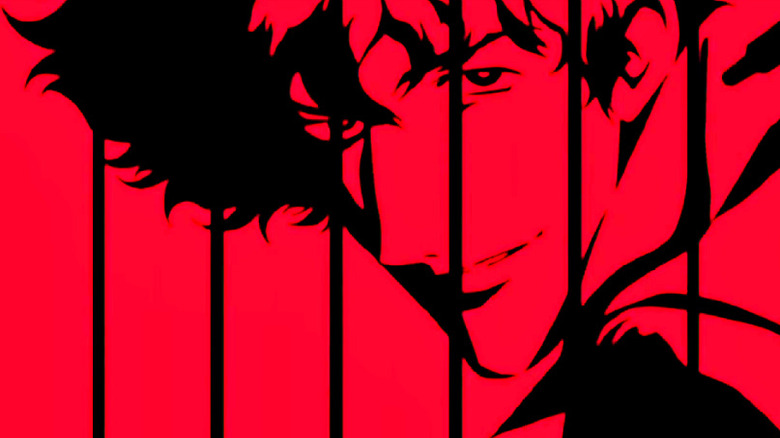 Funimation
With regards to the music, its use in "Bebop" is a bit like jazz itself. In a panel interview for Otakon 2013, Watanabe admitted that Kanno's process doesn't include much direction, as she adapts the Spike spirit and goes her own way to hit her target. But the two have a creative rapport, and the storyteller is inspired to craft scenes based on Kanno's music:
"First, let me [go] on the record as saying she does not compose music exactly the way I tell her to. *room laughter* She gets inspired on her own, follows up on her own imagery, comes to me saying "this is the song we need for Cowboy Bebop," and composes something completely on her own. There were instances where I heard these songs she created for Cowboy Bebop, took inspiration from them and created new scenes for Cowboy Bebop. And then she would be inspired by these new scenes I'd created, they would give her new ideas for music and she'd come to me with even more music. For example, some songs in the second half of the series, we didn't even ask her for those songs, she just made them and brought them to us. Normally this is unforgivable and unacceptable, but with Cowboy Bebop it was a big hit. So hakuna matata!"
No worries, indeed: the music of "Cowboy Bebop" has equaled the anime in terms of popularity. The theme was so perfect that Kanno was recruited to compose music for the live-action Netflix series, and the band has released seven original soundtrack albums since the anime's run first ended in 2000. With the help of Yoko Kanno and Seatbelts, "Cowboy Bebop" recalibrated the Japanese idea of anime and where it could go, almost becoming "a new genre itself" –  the space-opera Western. And that's why you never hit "Skip Intro."