The Bizarre Deal That Landed Marilyn Monroe Her Role In Asphalt Jungle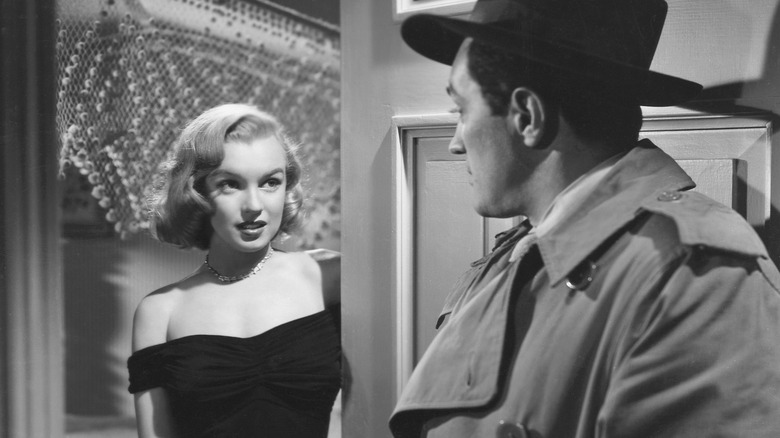 Metro-Goldwyn-Mayer
As hard as it may be to believe in light of her later fame, there was a time when Marilyn Monroe struggled to land even a small role in a major film. Her early acting career was spent as an uncredited extra in mostly-forgotten films like "The Shocking Miss Pilgrim" and "You Were Meant for Me." It wasn't until 1948 that she got her first speaking role in the musical comedy "Scudda Hoo! Scudda Hay!" where she was given one throwaway line and was promised a close-up shot. Although her line in the movie stayed, she never did get that close-up so many aspiring actors of the time hoped for.
She spent the next few years playing small, mostly thankless roles in films that no one really remembers today. One of her more substantial early roles was as a waitress in "Dangerous Years," receiving 14th billing in a cast of 16 credited actors. Although she did get a close-up shot in that film, this didn't result in any immediate boost in her film career, and up until 1950, she was in a constant struggle to make ends meet. It was through financial desperation that she starred in a nude calendar photoshoot, resulting in one of the most famous photographs in Hollywood history and only 50 more dollars in Monroe's bank account. (Even adjusting for inflation, it seems like she was drastically underpaid.) 
It wasn't until she starred in "The Asphalt Jungle," released in June of 1950, that her film career really took off. But depending on who you ask, she nearly didn't get the part. 
Marilyn's breakout role
"The Asphalt Jungle" was a noir heist film where Monroe played the role of Angela Phinlay, mistress of corrupt lawyer Alonso Emmerich (Louis Calhern). The more common story of how she got the part was that Johnny Hyde, the executive vice president at the William Morris Agency, got her an audition, where she won the role immediately despite her nervousness and self-doubt. Thinking she did poorly at first, she asked director John Huston if she could do a second take, but it wasn't necessary: Huston had already decided to hire her from her first take alone.
The other story of how she got the part is a lot more complicated. As supported by the Metro-Goldwyn-Mayer archives, another blonde actress, Lola Albright, was originally the favorite for the role. Monroe's nervous first audition didn't impress Huston at all, but when Albright turned down the role, Monroe managed to stay in the running — thanks to Monroe's insistent talent director, Lucille Ryman Carroll, who was one of the first female studio executives in Hollywood and one of the first people to have faith in Monroe's potential star power. When Huston found himself in deep financial trouble, Carroll took full advantage. As explained at Turner Classic Movies:
It turned out that Huston, an avid horseman, had a team of Irish stallions boarded and trained at Carroll's ranch, and he happened to be $18,000 in arrears for payments to the ranch ... Carroll informed Huston that if he did not allow Monroe another shot at the role, the ranch would sell his stallions and collect the money due. Huston did not refuse the terms, and Monroe got another screen test.
The $18,000 Huston couldn't afford to pay back to Carroll is typically attributed to the gambling addiction that was known to get him into constant trouble throughout his life. Bad luck for Huston, very good luck for Marilyn. 
Marilyn's performance in the film was praised by critics and her career quickly skyrocketed. She went on to land major roles in movies like "Some Like it Hot" and "The Seven Year Itch," and by the time of her untimely death at 36-years-old in 1962, she was one of the most famous people in the world. Marilyn would get to work together with director John Huston again in 1960 with her final film "The Misfits," and always spoke positively about her time working on "The Asphalt Jungle." "I don't know what I did," she said, "but I do know it felt wonderful."