The Best Heist Movies You Probably Haven't Seen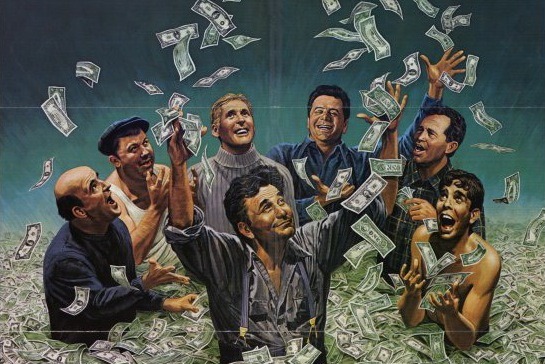 "While Trixie's distracting the guard, that's just when I'll be tunneling in from the fishmonger's. Just be sure to drive by in the van at precisely the moment the clock strikes or we'll all wind up in the hoosegow!"
Heist movies. I love 'em. And while they always remind us that crime doesn't pay, there we are lining up to see another one. So grab your blueprints, safecracking gloves and false identities, here are some cinematic capers you may have missed.
PS – thanks to @MikeGarba for this week's suggestion.
The Asphalt Jungle (1950); John Huston, director.
Arguably the ur-text of all heist movie tropes, there isn't much chatter about this movie today and I think I know the cause. The Asphalt Jungle has been overshadowed by Stanley Kubrick's The Killing, which also stars Sterling Hayden. It's also got the extra spin of being told out-of-sequence and is generally a little more hard-boiled. That doesn't mean you shouldn't check out this earlier picture.
If you haven't seen it, the embedded clip with its tough-guy talk, tempestuous dames and stylin' fedoras ought to be enough to inspire you. Join Dix, Gus, Cobbie, Louis and Doll as they plan for every possible contingency on their big jewel heist. . .except one. (Though if a stinkin' dame is gonna be the fly-in-the-ointment, good for it to be Marilyn Monroe in her first significant role.)
The Spanish Prisoner (1997); David Mamet, director.
David Mamet has made a few terrific heist movies, such as House of Games, American Buffalo and, um, Heist but this one is my favorite.
It's actually a nice reversal because the hero, played by Campbell Scott, through whom we see the film, is actually the one being scammed. We in the audience kinda-sorta know this, but don't know who to trust or what to do. The Spanish Prisoner has a number of clever twists, but also has a vice-like slow burn until the true master planners finally reveal themselves. This was quite an art house success at its release, so younger readers should definitely try and track this one down.
After the Fox (1966); Vittorio de Sica, director.
An overlooked Peter Sellers gem, After the Fox details the struggles and triumphs of criminal mastermind Aldo "The Fox" Vanucci. After a clever breakout of prison The Fox returns home to find that his baby sister is now grown up and (scandal!) obsessed with movies.
To keep his home in order he accepts a commission to smuggle stolen gold bars into the country. After a barrage of absurd "get the team together" scenes, Vanucci hatches his brilliant plan. He and his band take over a small town masquerading as a film crew. The Fox pretends to be a snooty art house director ("Hold. . .and NO Action!") and even gets Victor Mature as a thinly-veiled version of himself on board. This was Neil Simon's first screenplay credit, and no doubt a gas for legendary Italian filmmaker Vittorio de Sica.
See this one for the laughs, but also so when Ben Affleck's Argo comes out later this year you can say, "it's sooooo derivative of After the Fox."
Topkapi (1964); Jules Dassin, director.
From a similar time period as After the Fox comes a film that's no less entertaining, but played straight.
Film snobs can argue forever whether this or Jules Dassin's 1955 heist film Rififi is better (they can both be quiet because Thieves' Highway, although not really a heist film, trumps all) but for pure, bigger-than-life caper fun you can't top this technicolor triumph.
For my money Topkapi is actually a bigger influence on Soderbergh's Ocean's Eleven than the original Ocean's 11 if that makes any sense. The obstacles are gigantic, the characters are all broad and it makes stealing look like the best vocation on earth.
Quick Change(1990); Howard Franklin and Bill Murray, director.
What happens when your bank robbery goes off without a hitch, but you just can't lick the getaway? That's the premise of Quick Change which posits the very defendable position that New York City's Brooklyn-Queens Expressway is actually the roadway to hell.
Quick Change was one of the first indicators of where Bill Murray would take his screen career. Yes, this is still very high concept in a What About Bob? kind of way, but there's a world-weariness in his character here that, in retrospect, is very telling. It's also a very clever script, as you can tell by Geena Davis making a Thor Heyerdahl reference right there in the trailer.
The Lavender Hill Mob (1951); Charles Crichton, director.
As this British classic shows, there's no reason not to be gentlemanly about theft.
Alec Guinness is the fussy bank clerk and Stanley Holloway the ingenious exporter of souvenir trinkets. The two join forces in an effort to smuggle gold masquerading as Eiffel Tower replicas. Scotland Yard is no match for them, but schoolgirl tourists are, and to hilarious effect.
The Lavender Hill Mob isn't a gut-busting comedy, but its finely drawn characters and (no other way to say this) extreme Britishness make it a must-see.
Ossessione (1943), Luchino Visconti, director.
Not all heists have to be against banks or casinos or involve blueprints. Sometimes it is a simple matter of strangling your lover's husband and collecting his fortune.
Simple in deed, I should say, but not in moral complications, and that's where Visconti's Ossessione kicks into high gear. Based on James M. Cain's novel The Postman Always Rings Twice (of which there are two terrific English-language films), this one doubles-down on the then vanguard "neo-realist" style, letting the brooding, and naturalistic setting speak for otherwise silent characters.
As such, this would make quite an entertaining double-feature with After the Fox.
The Brink's Job (1978); William Friedkin director.
I figured the Peter Falk vehicle The In-Laws (1979) was too well known and I've already written about Harry and Walter Go To New York (1976). Therefore, we're closing with this one.
The Brink's Job is another heist set back-in-the-day with a host of colorful characters. In addition to Falk there's Gena Rowlands, Paul Sorvino, Peter Boyle, Alan Garfield and Warren Oates. Think you don't know they're names go Google them. I'll stay here as you shout "That Guy!"The Brink's Job has the added benefit of being a true story, with many of the Boston crooks actually consulting on the film. It's a tough one to find on DVD, so, true to the story, I offer the first chunk of the movie in the above video embed. Find the rest yourself.More Movies You Probably Havent Seen: