Jordan Peele Teases An 'Otherworldly Confrontation' For Daniel Kaluuya In Nope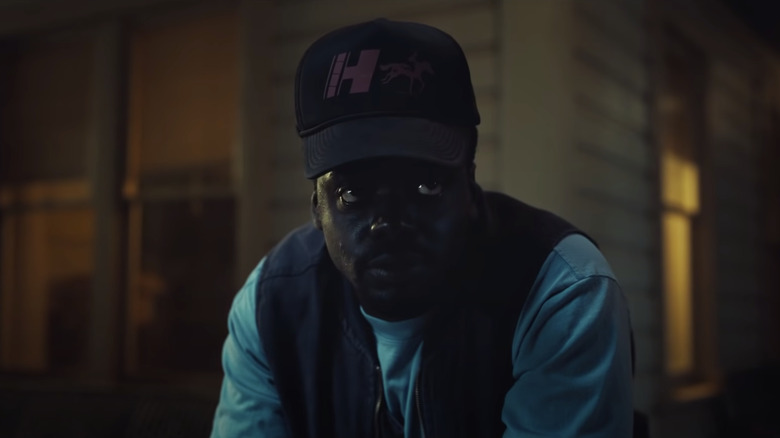 Universal Pictures
When Jordan Peele released the poster for his upcoming third foray into horror feature territory, "Nope," we all immediately speculated that the "Get Out" and "Us" director was bringing us some sort of alien invasion. If the evocative image of the floating cloud (???) with a kite tail of the triangle flag banners usually seen outside every used car lot in America wasn't enough to get our excitement brewing, the casting announcement of Daniel Kaluuya, Keke Palmer, and Steven Yeun was sure to do the trick. Kaluuya had been acting for years on shows like "Skins" and "Psychoville" and in movies like "Welcome to the Punch," "Kick-Ass 2," "Sicario," but "Get Out" turned him into a household name and nabbed him his first Academy Award nomination for Best Actor.
The reunion of Peele and Kaluuya is definitely one worth celebrating, and although the "Nope" trailer has inspired even more questions than the poster, Peele has at least given us the rundown on Kaluuya's casting.
"I wrote 'Nope' with Daniel in mind for the role — a humble man destined for an epic and otherworldly confrontation," Peele told Empire. "Daniel's craft is on a different level, but it's his warmth that grounds audiences even during points of absolute madness." Peele may be preaching to the choir on this one, as Kaluuya's Best Supporting Actor win for his portrayal of Fred Hampton in "Judas and the Black Messiah" has been hailed as one of the best performances in recent memory.
'You've got your brother with you'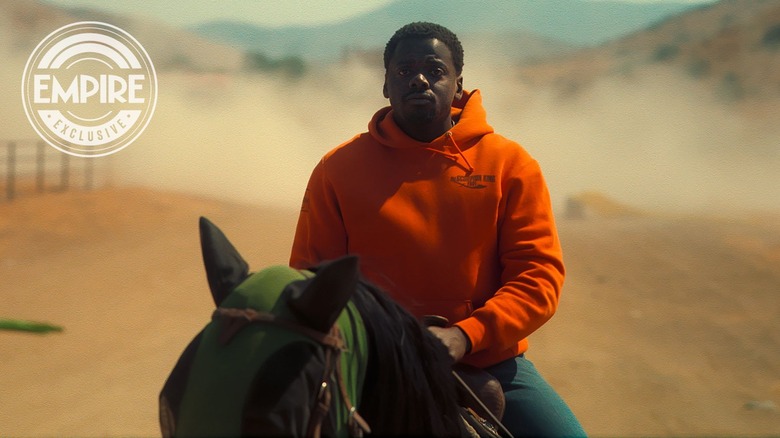 Universal / Empire
Peele's reference to an "otherworldly confrontation" seems to confirm all of our alien theories, but the humanity of Kaluuya's acting abilities are what inspired Peele to bring him back for another round of horrifying audiences. "You may be watching a nightmare, but when he's on screen, at least you've got your brother with you, and that's all you need," he said. Empire also released an exclusive new look at Kaluuya's character James Haywood, wearing an orange hoodie with a logo from "The Scorpion King," indicating the character may have been part of the film's crew in the world of "Nope."
Checking over at Humane Hollywood, there's an extensive breakdown of how the horses were safely treated on set, so kudos to Peele for choosing this film as a way to show Haywood is the best in the biz when it comes to horse wrangling. While the plot details of "Nope" have been kept hush-hush, we know that the film centers on the residents of a lonely gulch in California who discover something absolutely out of this world.
"Nope" is heading to theaters from Universal this summer, debuting July 22, 2022.