The Batman Passes $400 Million Worldwide In Its Second Weekend At The Box Office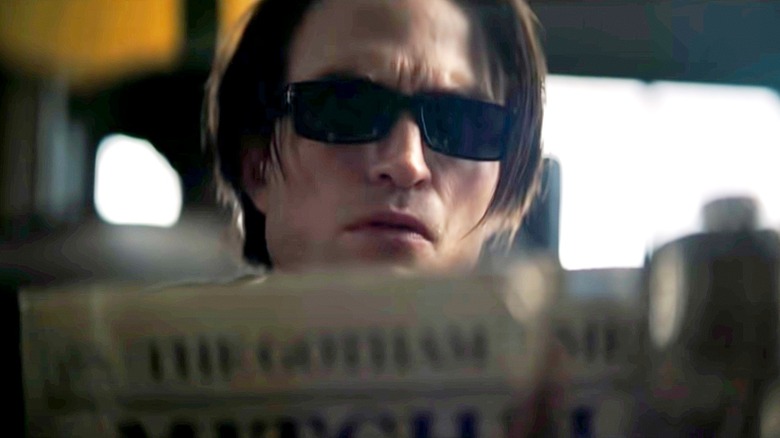 Warner Bros.
In news that should come as no surprise to anyone, a superhero movie is flying high at the box office while most other non-franchise films struggle to find an audience in theaters. This particular movie (can you feel the suspense of the name-drop building?) is flying, not on web wings, as "Spider-Man: No Way Home" has been since December, but rather, on bat wings. That's right: "The Batman" is set to pass the $400 million-mark in its second weekend of release worldwide.
While "The Batman" opened in most countries on Friday, March 4, 2022, there were a couple of big stragglers in Asia. The movie just hit theaters in Japan on Friday, March 11, and it will open in China on Friday, March 18. China is the world's biggest movie market, so that should give "The Batman" an even bigger bump at the box office.
In the meantime, Forbes reports that "The Batman" "should pass $200 million domestic and $400 million worldwide" on its second Saturday "as it races toward $235 million domestic and over/under $470 million worldwide" by Sunday, March 13. If these projections play out, it will mean "The Batman" comes away with a global haul that is closer to half a billion dollars in its first ten days. 
One place where "The Batman" won't be screening anytime in the foreseeable future is Russia. As we previously reported, Warner Bros. pulled "The Batman" from Russia at the last minute due to the country's ongoing invasion of Ukraine, with a studio spokesperson saying, "We will continue to monitor the situation as it evolves. We hope for a swift and peaceful resolution to this tragedy."
Riddle me this: how does this compare to other Bat-films?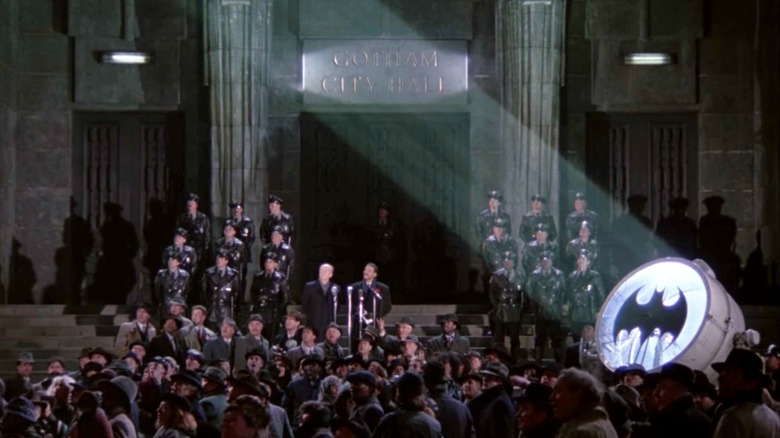 Warner Bros.
As Forbes notes, "The Batman" looks to be about on par with "Batman Begins" in terms of its Week Two drop-off (it has already surpassed the total box office gross of "Batman Begins," which finished its theatrical run with $373.7 million worldwide). "The Batman" raked in $18.7 million on its second Friday, only $1 million short of the $19.7 million that the eight-legged "Spider-Man: No Way Home" brought in on its eighth day. As we all know, "No Way Home" would continue its long, spidery crawl of box-office domination and cultural-phenom status for weeks to come.
"Batman Begins" itself bested in five days (from Wednesday to Sunday) the previous franchise record for a Bat-debut, which "Batman Forever" had carved out in six days (from Friday to Wednesday) back in 1995. If "The Batman" ends up with a similar multiplier to "Batman Begins," it could even approach the commercial level of "The Dark Knight" on its second weekend in 2008. That's a pretty mean feat considering the current Covid situation and the fact that "The Dark Knight" had the Joker behind it, along with Heath Ledger's tragic death, which drummed up interest for the movie even more as his James Dean-like legend grew in the public's imagination.
The only downside to all of this is that moviegoers seem to be subsisting on a diet of one major blockbuster per month right now. Thanks to the pandemic, it's harder than ever to lure people out to theaters. The only surefire bet is superheroes, and in the long run, that model isn't tenable for the movie business as a whole. If anything, it only harkens back to a prediction Steven Spielberg once made about how Hollywood could be headed for "an implosion where three or four or maybe even a half-dozen megabudget movies are going to go crashing into the ground, and that's going to change the paradigm."
Let's hope it doesn't come to that. For now, we'll just have to look to the ceiling for the Spider-Signal and look to the sky for the Bat-Signal as movies like "Spider-Man: No Way Home" and "The Batman" keep the industry afloat.