Steven Spielberg And George Lucas Predict Hollywood "Implosion;" Look Towards TV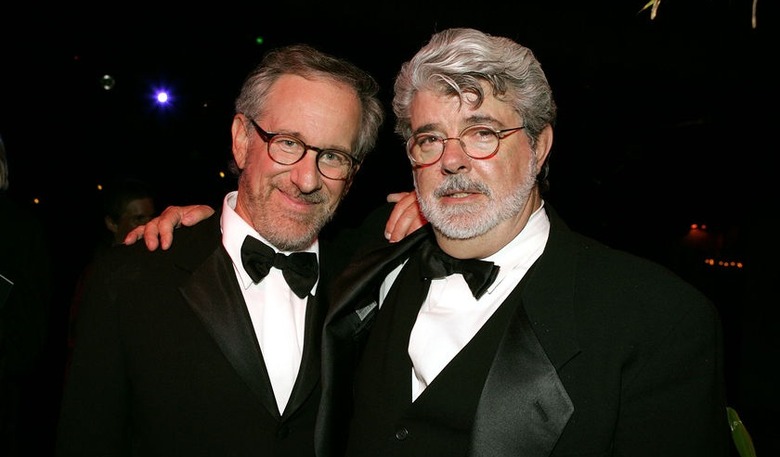 When two of the most successful and revered filmmakers of all time have trouble getting their movies made, you know the system is broken. Steven Spielberg and George Lucas were among the speakers at a University of Southern California event this week and both addressed the sad state of business in Hollywood, with Spielberg predicting an inevitable "implosion."
There's eventually going to be an implosion — or a big meltdown. There's going to be an implosion where three or four or maybe even a half-dozen megabudget movies are going to go crashing into the ground, and that's going to change the paradigm.
Spielberg and Lucas cited the fact they both struggled mightily to get Lincoln and Red Tails into theater  because the ideas weren't traditional or easily marketable. Lincoln, apparently, was "this close" to becoming an HBO project according to Spielberg, and Lucas thinks TV is "more adventurous." Read more and check out a video below.
The Hollywood Reporter was on the scene at the event.
Spielberg predicted, if this implosion happens, movies could adapt more of a Broadway model: "You're gonna have to pay $25 for the next Iron Man, you're probably only going to have to pay $7 to see Lincoln." Lucas added, if that happens, the bigger movies will play in theaters much longer and smaller projects will go towards TV.
"I think eventually the Lincolns will go away and they're going to be on television," Lucas said. Spielberg added "As mine almost was. This close — ask HBO — this close."
Lucas continued: "We're talking Lincoln and Red Tails — we barely got them into theaters. You're talking about Steven Spielberg and George Lucas can't get their movie into a theater." Then Spielberg added: "I got more people into Lincoln than you got into Red Tails."
Later, Lucas said "The pathway to get into theaters is really getting smaller and smaller."
You can read more at the above link but it is worth noting one of Spielberg's upcoming projects is with XBox to produce original content.
Lots to chew on here, including the fact that this weekend's number one movie was a $3 million film that made ten times that. Plus, the filmmakers are aware they more or less started this trend in the Seventies, right? Are Spielberg and Lucas being overly-dramatic?
UPDATE: CNBC has the video: