Lord And Miller Are Making A Western Comedy For IMDB TV
Rodin Eckenroth/Getty Images
As if they didn't have enough on their plate, beloved "Jump Street" and "The LEGO Movie" directors Phil Lord and Chris Miller have boarded yet another project. The duo is backing "Western," a comedy series that has set up shop at IMDb TV. Michelle Morgan, who made her feature writing and directing debut on the mostly well-reviewed 2017 comedy "It Happened in L.A.," is penning and will executive produce the show with Lord and Miller. This isn't Morgan's first time working with the pair, either, having also been credited as a "creative consultant" on "The LEGO Movie 2: The Second Part" (which Lord and Miller co-wrote and produced only).
According to The Hollywood Reporter, "Western" takes place in the 1800s and centers on Polly, "a high-society young woman who travels West in search of a husband only to discover that she has been catfished by a teenage boy." Stranded in a remote town with no real options, Polly and her fellow residents "must find their place in the ever-changing new world where they confront and defy all expectations society has of them along the way."
The Lord and Miller-Verse is expanding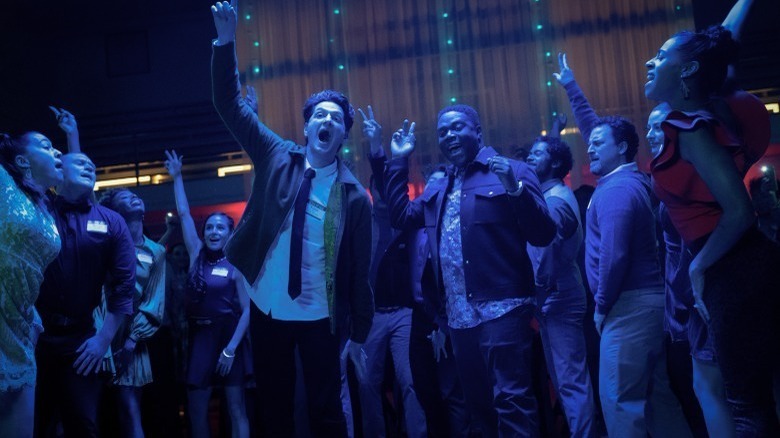 Apple TV+
"Western" is but one of the many pies that Lord and Miller have their fingers in right now. They're coming off the successful launch of their Apple TV+ murder-mystery comedy series "The Afterparty," which was only just renewed for a second season. They're also in the middle of reviving their cult animated sitcom "Clone High" for HBO Max and are producing a variety of Marvel TV shows as part of their five-year deal with Sony, including a "Spider-Man" off-shoot based on the Korean-American superhero Cindy Moon (who's better known as Silk).
And speaking of web-slingers — 2022 will see the release of "Spider-Man: Across the Spider-Verse – Part One," the first of a two-part sequel to the animated film "Into the Spider-Verse" that Lord and Miller also co-wrote, on top of producing. Still, as busy as the duo may be, they seem to have a firm grasp on how to delegate their projects. That is to say: It looks like Morgan will be leading the charge on "Western," with Lord and Miller lending a hand as producers only. Admittedly, the celebrated duo's track record is a little spottier when it comes to aiding other storytellers in realizing their visions on the small screen, resulting in both hits ("The Last Man on Earth") and short-lived misses ("Son of Zorn," "Hoops"). Time will tell what happens with "Western," but its premise has potential, so here's hoping for the best.
"Spider-Man: Across the Spider-Verse – Part One" will reach theaters on October 7, 2022, with "Part Two" due to follow in 2023.