Clips Round-Up: Batman And Me Collects, Topic's Arctic Circle Trailer, & More! [Exclusive]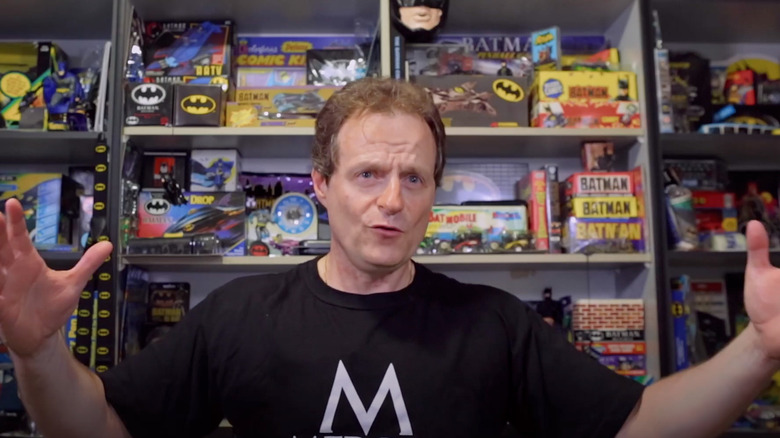 Freestyle Digital Media
(Welcome to SlashClips, a series where we bring you exclusive clips from hot new Digital, Blu-ray and theatrical releases you won't see anywhere else!)
In this edition:
"Batman and Me"
"Arctic Circle"
"Sin Eater"
Batman and Me
Our first clip this week comes riding in on the new wave of Batmania sweeping the nation with the amazing box office performance of Matt Reeves' "The Batman." What we have is an exclusive clip from a new documentary titled "Batman and Me (Pity Me, I'm a Batman Collector!)," which focuses on Australian Darren Maxwell who has amassed a rather extreme collection of Batman memorabilia. It began as a hobby in the late '80s but soon grew out of control. However, the hobby became so endemic to his identity that, despite recognizing its utter insanity, he cannot seem to part with these things. The movie is now available on-demand and digital. 
Here is the official synopsis:
Darren Maxwell became addicted to collecting Batman merchandise in late 1980's Australia as a way to be a part of nascent geek culture. Decades later, Darren's stuck with a room full of collectables and an identity he no longer recognizes. Yet a supportive partner, a fanboy best friend and a persistent need to belong make him unable to let go.
Arctic Circle Season 2 Trailer
Next up from Topic we have the exclusive trailer for the second season of crime thriller series "Arctic Circle," which is set to stream on March 17, 2022. The first season of the show was a hit on Topic, and this second season arrives with great anticipation. The show stars Iina Kuustonen, Maxim Busel, Phihla Viitala, Susanna Haavisto, Mikko Leppilampi, Taneli Mäkelä, Inka Kallén, Kari Ketonen, and Venla Ronkainen.
Here is the official synopsis:
Co-produced by Topic, "Arctic Circle" Season 2 continues the original, complex crime thriller set in exotic Lapland, combining the tensions of crime investigations and the personal relationships in detective Nina Kautsalo's life. Season 2 takes Nina back to Russia and through the actions of a Russian secret order (Ordo Paritet), opens a view to the human mind, a twisted sense of justice and a vigilante posse who condemn released criminals to death. Nina's own sense of justice is tested when it turns out her own father is guilty of murder and an innocent man is on the killing list of Ordo Paritet. Nina's personal life is full of twists that challenge Nina to find a new meaning for her existence in a situation where the actions of her loved ones have excluded her from her own life.
Sin Eater
Finally, we have a clip from "Sin Eater," a thriller that will be available on DVD and on-demand from Indican Pictures on March 15, 2022. From director, writer, and producer Carmelo Chimera ("After Masks"), the supernatural horror film stars Jessie Nerud ("She Walks The Woods"), Bill Moseley ("Texas Chainsaw Massacre 2"), Danny Bohnen ("The Last Son"), Scotty Bohnen ("The Last Son"), and Scott Moore ("After Masks").
Here is the official synopsis:
Inspired by the horrifying Sin Eater folklore, the creepy thriller of the same name follows Christine (Jessie Nerud, She Walks The Woods) a young woman who is on the run from her shadowy past. After suffering a terrifying injury, she finds herself alone and stranded in a remote town harboring a dark secret. As she tries to recuperate, she slowly begins to discover an intense, bizarre religious phenomena occurring around her. With no one to trust and her time running out, Christine realizes that she will have to fight her inner demons as well as the actual demons who are trying to take her soul in order to make it out alive.