Mitchell Ryan, Lethal Weapon And Grosse Pointe Blank Actor, Dies At 88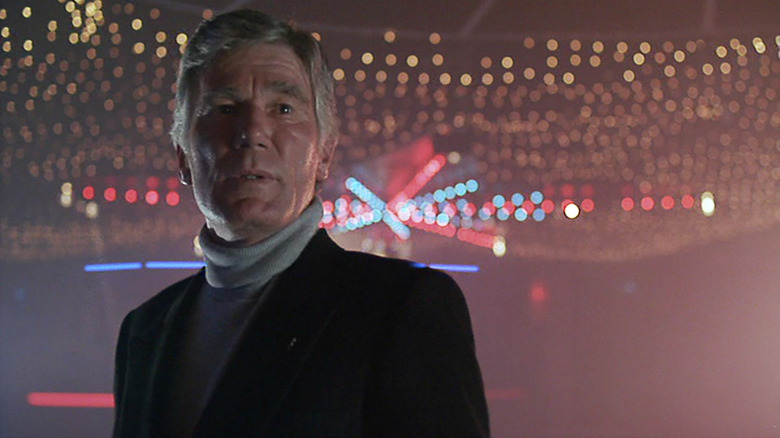 Warner Bros.
At 88-years-old, beloved character actor Mitchell Ryan has died. The film, television, and stage performer had a career that spanned over six decades, delivering iconic performances as Burke Devlin on the original run of "Dark Shadows," Thomas Gibson's father Edward Montgomery on "Dharma & Greg," the ranch hand Shorty Austin in "Monte Walsh," and the mega-villain Peter McAllister in "Lethal Weapon." Ryan died of congestive heart failure at his home in Los Angeles as reported by his stepdaughter Denise Freed. Additional survivors include his wife, Barbara, and grandchildren Ashley, Jacqueline, Olivia, Kaila, and Noah.
Ryan was born in Cincinnati, Ohio, and raised in Louisville, Kentucky by his mother, a writer, and his father, a novelty salesman. After serving in the United States Navy during the Korean War, Ryan made his screen acting debut in the film "Thunder Road" alongside Barter Theatre founder Robert Porterfield ("Sergeant York"), where Ryan also studied acting. "If you are [young] and have no feelings of your own, the theater has a fatal attraction," he once told TV Guide. "I became totally involved, worked for nothing, 20 hours a day. Playing at being somebody else took me out of myself and gave the illusion of meaning and worth."
A legacy of character favorites
Ryan enjoyed a successful start with his career on Broadway, having performed in "Wait Until Dark," "Medea," and "The Price." In his own words, he "studied Shakespeare like you would study the Bible — that is, with great interest and diligence." After his stint on "Dark Shadows," Ryan starred on three different TV series throughout the 1970s: "Chase," "Executive Sweet," and "Having Babies." A character actor with the commanding skill of a leading man, Ryan popped up in film and television across a multitude of genres. Western, drama, comedy, slapstick, and even horror, Ryan could truly do it all. It's likely why he was at one point the president of the Screen Actors Guild Foundation.
Ryan effortlessly captured the role of Hugh Hefner in "Hugh Hefner in Death of a Centerfold: The Dorothy Stratten Story," the memorable role of Minnie Driver's father in "Grosse Pointe Blank," and became a horror fan-favorite as the leader of the Druid-like cult in "Halloween: The Curse of Michael Myers." Other films of note include "Two-Minute Warning," "Midway," "Hot Shots! Part Deux," "Speechless," "Judge Dredd," "The Devil's Own," and the hilarious Mr. Allen in "Liar Liar," the head of the law firm that Jim Carrey brutally roasts in the middle of an important meeting. Boasting 136 credits on IMDb, Ryan has worked alongside countless casts and crews who will surely miss him. Our screens and stages were better for having witnessed his gifts.