Here's What To Expect From The The Boys: Diabolic Episode From Rick And Morty's Justin Roiland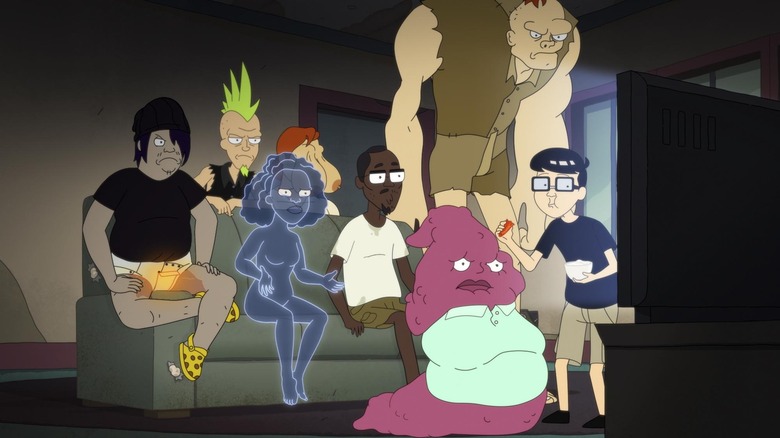 Amazon Studios
Amazon's irreverent and occasionally (okay, usually) gory "The Boys" made its reputation as a more adult-oriented superhero property; one that stands out against the onslaught of more traditional media produced by Marvel and DC. By all accounts and as fans would expect, "The Boys Presents: Diabolical" is cut from the exact same cloth. In her review for /Film, Danielle Ryan praised the animated spin-off series as,
While it's not required viewing, "The Boys Presents: Diabolical" is a lot of fun for "The Boys" fans. The wide variety of creatives means that no two episodes feel alike, and the stories told touch on almost every aspect of "The Boys" universe. Some are funny, some are sad, but they're all deliciously diabolical.
As an anthology series in a totally different medium altogether from the live-action "The Boys," the creative team behind "Diabolical" was able to play fast and loose with the style, tone, and overall goals of every episode. Accordingly, a different group of writers and directors took charge of each episode, with all the various artists for each respective episode listed here, in full. But one episode in particular, straightforwardly (and hilariously) titled "An Animated Short Where Pissed-Off Supes Kill Their Parents," blatantly took its cue from the beloved "Rick and Morty" and, fittingly, was actually written by co-creator Justin Roiland. Running for only 12 minutes, the episode was also described by /Film's Danielle Ryan as,
...exactly what you'd expect based on the title, and follows a bunch of superheroes with terrible powers as they kill their parents after discovering they were injected with Compound V as babies. If you ever wanted to see "Rick & Morty" meets "The Boys," this is your chance. It's also pretty satisfying to see some of these parents who took their children's bodily autonomy away from them punished.
Entertainment Weekly unveiled a brief look at this specific episode and further details on the series in general. Check it out below!
'You're not gonna see a character with a speaker for a head in the actual The Boys series'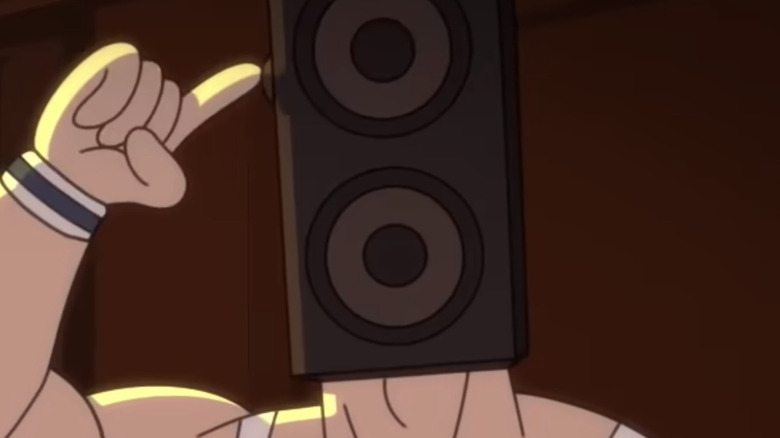 Amazon Studios
From writers Justin Roiland and Ben Bayouth and director Parker Simmons, "An Animated Short Where Pissed-Off Supes Kill Their Parents" is set at the Red River Assisted Living For the Gifted Child and narrated by a character (voiced by "Mr. Robot" actor Christian Slater) whose powers involve, well, narrating things. How fitting! Entertainment Weekly debuted a brief clip from the 12-minute episode that you'll want to click through to see for yourself, but otherwise teased the episode accordingly:
"What happens when these kids find out the truth about their situation, that they weren't actually born with powers but were made this way when their parents agreed to inject them with the superpower-generating serum known as Compound V? You'd probably be pretty angry, especially if you were stuck with, say, a crotch that generates molten lava-like heat for the rest of your life — which is another actual character from the episode."
Supes who narrate, a character with a boombox for a head (and, uh, more NSFW things), these are just a few of the zany, outside-the-box concepts that the "Rick and Morty" co-creator brought to this episode of "The Boys Presents: Diabolical." The report goes on to tease that this very location in the episode is actually being set up for an appearance in the live-action "The Boys" series ("presumably in season 3," according to EW), proving even more of a close connection between the shows than fans may have assumed. That said, the question of whether the series remains 100% in canon with the original series is somewhat up for debate. As showrunner Simon Racioppa puts it,
"They're almost all alternate-reality versions of things that could happen in the world. Like Justin Roiland's episode, probably you're not gonna see a character with a speaker for a head in the actual 'The Boys' series."
Too bad, although that'd probably be a step too far for the (relatively) grounded live-action series. Still, this just goes to show how much free rein the creators and writers had with "Diabolical." All 8 episodes are streaming on Amazon Prime Video as of today.