How Justin Roiland Came Up With The Idea For Rick And Morty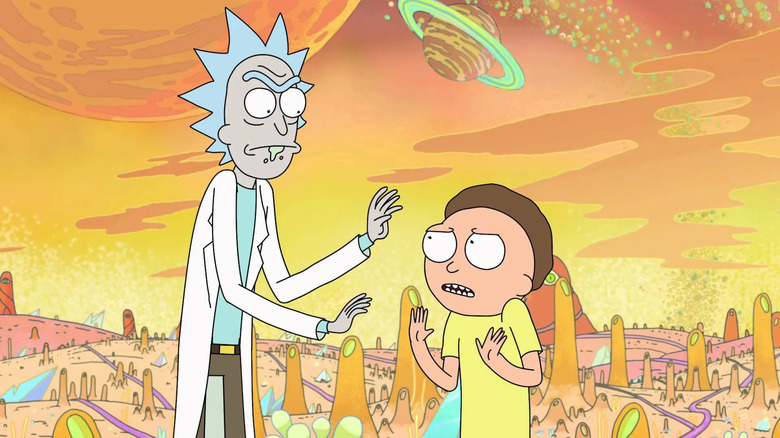 Adult Swim
Eight years ago, "Rick and Morty" debuted on Adult Swim as an oddity that seemed pulled straight from the wacky programming of interdimensional cable that appears in the show's episode "Rixty Minutes." Yet contrary to what you might think, the hit show created by Justin Roiland and Dan Harmon didn't just emerge one day from a green portal fully-formed, nor did its two titular characters.
Centering on the sci-fi misadventures of its grandfather and grandson duo, "Rick and Morty" walks a tight-rope of existential and extraterrestrial terrors, balancing it all through the black humor of Rick's nihilistic tendencies and Morty's optimistic naïveté. With the release of the show's fifth season in June of this year and plans for a sixth season already confirmed, not to mention a spin-off "The Vindicators" series, Rick and Morty are doing pretty well for themselves in this reality as the stars of their animated sitcom. But the duo's origin story as creations of Roiland's is just as sordidly comical and bizarre as the show itself.
From Doc and Mharti To Rick and Morty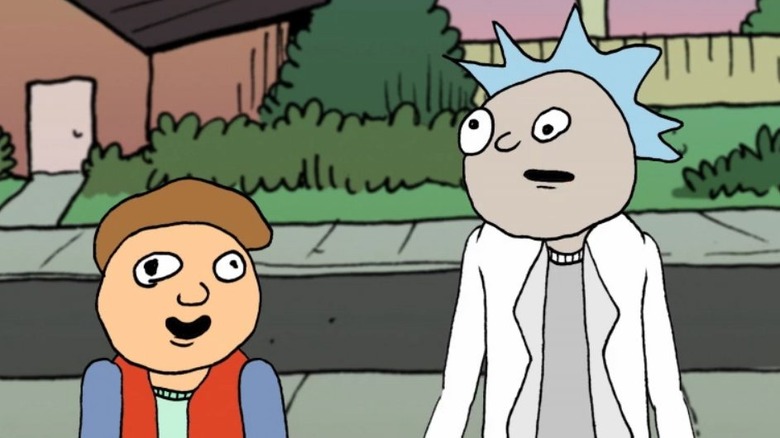 Justin Roiland
If Rick's lab coat, hair, and knack for creating awe-inspiring inventions didn't give it away, Roiland's inspiration for the character comes straight from the original cinematic offbeat scientist: Doc Brown. Which makes Morty by association Marty — or Mharti, the name Roiland gives the red puffer vest wearing sidekick in his short "The Read Animated Adventures of Doc and Mharti." The not-so-subtle "Back to the Future" reference wasn't the first time Roiland used parody as a jumping off point for his shock-value animations, as the year before he'd developed a cult hit in "House of Cosbys," which also starred Harmon and a rotating cast of guest stars. The success was short-lived however and the show ended prematurely when Roiland received a cease-and-desist letter from Cosby's lawyers — although that was probably for the best in retrospect.
Which is why when Roiland submitted his perverse and hilarious short in 2006 Channel 101 short film festival, he changed the names of his duo to Doc Smith and Mharti McDonalds to avoid more letters. Though a rough-edged precursor to the beloved flawed characters you know today, both Harmon and the audience found themselves rolling in laughter at its twisted punchlines. Roiland created close to 15 minutes worth of shorts for the two characters, but ultimately Doc and Mharti shared the same fate as Rick, Morty, and Summer in "A Rickle in Time": trapped in a quantum-uncertain state with the rest of Schrodinger's cats. It would take years and perfect timing before Rick and Morty would begin to remotely resembled what they are now.
Harmon Hand-Picked Roiland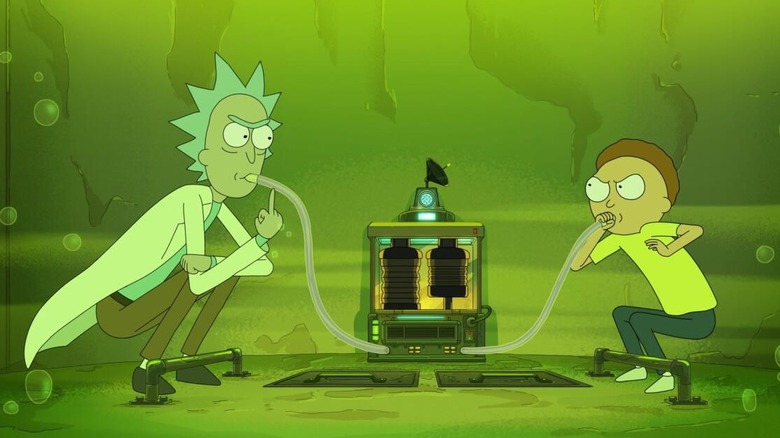 Adult Swim
If "Rick and Morty" has taught us anything, it's that at the center of every great story is an odd-couple duo. The same can be said for the show's creators Roiland and Harmon. After meeting at Channel 101, which Harmon helped co-found, Roiland started making an impression with his gruesome but potent humor. It wasn't long before they started collaborating, first on "House of Cosbys," and years later in 2012 when Harmon got a call from Adult Swim to create a new primetime show. Harmon, who was tentative about the whole thing because he felt unsuited creating what the channel was looking for and lacked animation experience, called Roiland for help. Meanwhile Roiland himself was stuck in a rut, having just come off three failed animated pilots for Fox, and he jumped at the chance to redevelop Doc and Mharti into Rick and Morty.
It's almost inconceivable to think that without Roiland and Harmon's burgeoning friendship and professional collaborations, the world would be so deprived of such gems as Rick's szechuan sauce or vat of acid bits. But fans can take comfort knowing they live in a reality where Roiland went on to create "Rick and Morty" with Harmon, a show with as many fourth-wall breaks as burps, and not — say — six seasons of an early 2000s series about Bill Cosby.