The Daily Stream: West Side Story 1961 Makes A Fine Double Feature With Spielberg's Update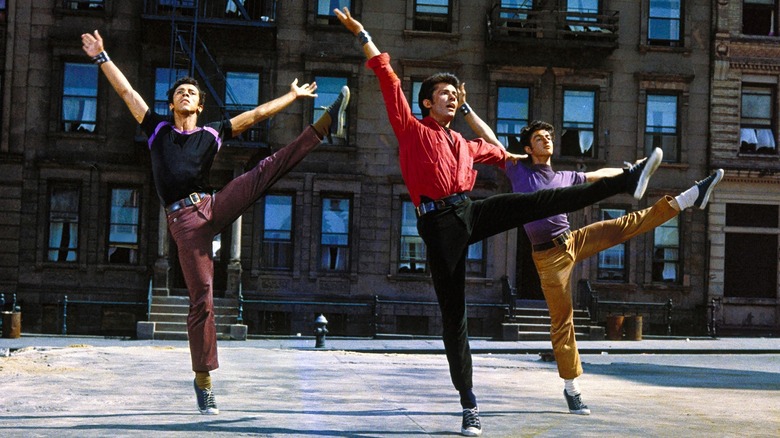 United Artists
(Welcome to The Daily Stream, an ongoing series in which the /Film team shares what they've been watching, why it's worth checking out, and where you can stream it.)
The Movie: "West Side Story" (1961)
Where You Can Stream It: HBO Max
The Pitch: There are those who scoffed when news broke that legendary filmmaker Steven Spielberg would be re-imagining one of the greatest movie musicals of all time. "West Side Story" was first a stage musical conceived by Jerome Robbins with music by Leonard Bernstein and lyrics by Stephen Sondheim, with a book by Arthur Laurents. A 1961 feature adaptation directed by Robert Wise and Jerome Robbins brought the story from stage to screen, and HBO Max happens to have it available for your viewing pleasure. As a retelling of "Romeo and Juliet," the 1961 "West Side Story" is both swirling romance and a pure expression of unrest in its tale of star-crossed lovers Tony and Maria (Ansel Elgort and Rachel Zegler), each on either side of a turf war between rival street gangs — the white Jets and the Puerto Rican Sharks — in the Upper West Side of 1950s Manhattan. Since then, Spielberg's adaptation has blown critics away, including /Film's Chris Evangelista, who calls it, "one of the best movies of the year, and one of the best movies of the acclaimed filmmaker's career." Those in the mood to catch the earliest feature swing at the Broadway musical can head to HBO Max to catch "West Side Story" '61 alongside the 2022 version, which arrives on the streamer on March 2, 2022. Who doesn't love a double feature?
Why it's essential viewing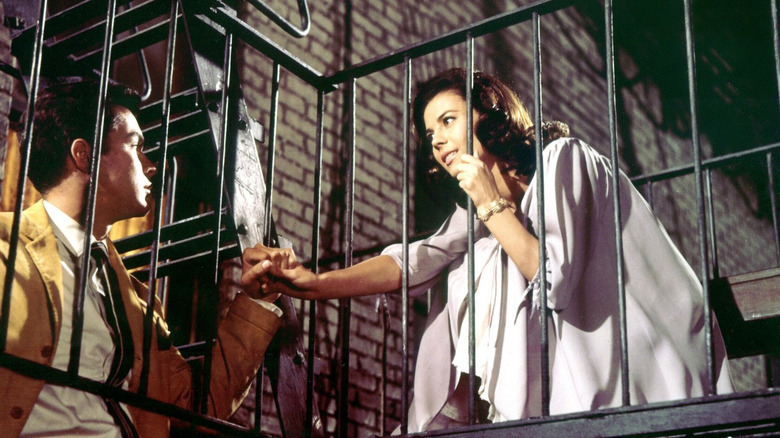 United Artists
The story of Juliet and her Romeo is a tragic one, so no one should go into "West Side Story" expecting a happy ending. The subject matter is heavy, concerning itself with the fallout from a volatile landscape that speaks with its fists — a body count rises in both the '61 and '22 retellings, as well as on the Broadway stage. But what's interesting to observe is how deftly Wise and Robbins navigate the challenges of translating the best elements of the theater medium and its methods to the movie realm — and those elements aren't always easy to carry over. What was a sharp spotlight onstage is now a soft-focus accent onscreen. The hierarchies and dynamics of the gangs are given space in the composition from the jump, with sharp snaps and crisp axel turns to unite and divide them. 
The energy, fire, and passion of these mixed-up youths finds expression in the unparalleled musical contributions of Leonard Bernstein and Stephen Sondheim, leading to numbers like "America" where the interplay between competitive men and playful women is never said, but thoroughly shown in their choreography. Add in the vibrant textures given by costume designer Irene Scharaff, the incredible movement of cinematographer Daniel L. Fapp's lens, and a cast of multi-talented performers, the result is the stuff movie magic is made of.
Speaking plainly, there is plenty to update from the 1961 version. Blatant brownface stains the screen, and its conversations about race seem unfinished when the power imbalance between the white-dominant Jets and the brown-skinned, Spanish-speaking Sharks are more or less put on an even playing field of both sides-ism, an element that Spielberg evolved into more nuanced territory in his retelling (the 2022 version, penned by dramatist Tony Kushner, has the Sharks less of a street gang and more of a community trying to repel xenophobic attacks). 
In each version lies an insistence that carries with it an exhausting relevance even today, which makes both films, worth watching: we have got to figure out how to live together. It's always good to stretch those muscles that want to say, "You could never make this film today!" by considering how conversations have changed, and the talk around immigration, assimilation police presence in minority communities, and who gets access to the American Dream has certainly undergone some changes. What did that conversation look like in 1961, and how palatable was it made for audiences? Head to HBO Max and find out.