Live Step Up Dance Show Coming From Lionsgate And Channing Tatum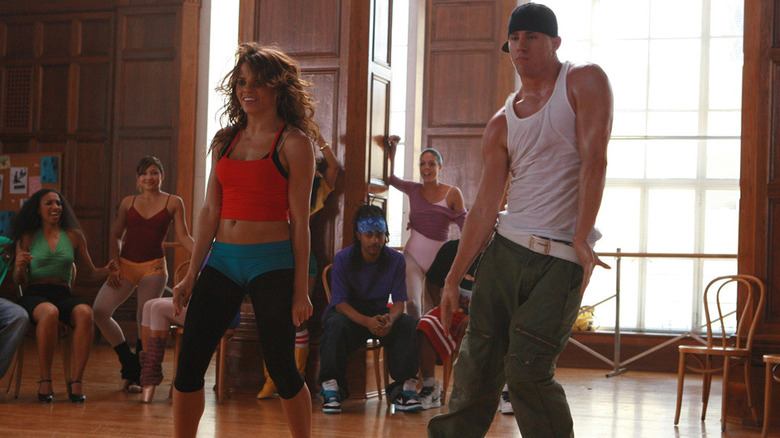 Buena Vista Pictures
Still grooving to the success of his dog comedy "Dog" and the glistening glory of the "Magic Mike Live" show in Las Vegas, Channing Tatum is waltzing over to Lionsgate. Tatum's Free Association label has launched a new live entertainment division, FA Live, with Free Association principal Peter Kiernan taking the role of CEO. FA Live's first project will be working with the studio to put together a live dance show inspired by the magnificent dance film franchise "Step Up." The franchise began with the 2006 film of the same name, starring Tatum as troubled hip-hop dancer Tyler Gage, who backflips off cars, falls for a ballerina, and backspins his way right into America's heart. Check out the clip below and watch this absolute gem of early-aughts fashion, this time capsule of cringe, a simpler time when we had to pay for ringtones. Four sequels and box office millions later, the "Step Up" franchise currently has a series streaming on Starz and now has more to celebrate with the live show, which aims for a mid-2023 debut.
Watch Channing Tatum cut a rug in 2006
Recruitment from the "Magic Mike Live" team fulfilled several key roles in the new "Step Up" live project, so that's the kind of energy to expect — though "all you lawbreakers" should know that it's not offering the same content. The "Step Up" show is said to be a family-friendly one that "aims to showcase artistry and athleticism to young audiences." In a statement, FA Live CEO Peter Kiernan said:
 "After building out five productions of Magic Mike Live on three continents since 2017, our FA Live team is excited to now turn their creative talents to Lionsgate's beloved dance franchise Step Up."
Jenefer Brown at Lionsgate had her own statement:
 "We are thrilled to be working with Free Association as they venture into the live entertainment space with this theatrical expansion of the Step Up franchise."
Creative appointments include "Magic Mike Live" worldwide executive producer Vincent Marini, who will be serving as COO and president of production while Don Gilmore acts as head of physical production. "Magic Mike" franchise choreographers Alison Faulk and Luke Broadlick have been named as directors of dance, so the moves will be tight and the vibe will be right in the latest of live shows on the Lionsgate roster. The studio has already done live productions pulling from its vast collection of film and TV properties, including "La La Land in Concert," "Dirty Dancing—The Classic Story on Stage," and "Now You See Me Live."