Dog Review: A Feel-Good Tale Of A Man And His Dog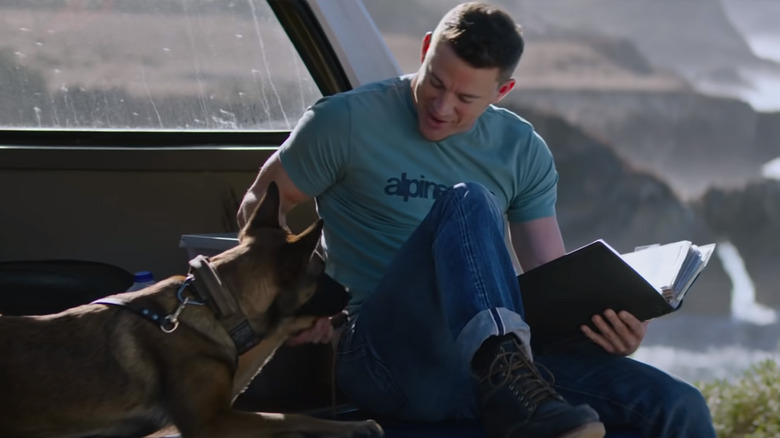 United Artists
"Dog," the directorial debut of Channing Tatum and "Magic Mike" franchise screenwriter Reid Carolin, is exactly what you'd expect from a feel-good road trip buddy comedy about a man trying to befriend a very difficult dog. There's something to admire in the film's beautifully crafted simplicity; it's as if the film is nostalgic for the family-friendly dog flicks of the 1980s and '90s — "Beethoven," "Homeward Bound: The Incredible Journey," "Turner & Hooch," and so on. It's occasionally predictable, but that predictability is often easy to forgive because it's all handled with such a steady hand, both narratively and visually. "Dog" is funny, heartfelt, and absolutely gorgeous. 
Tatum plays Briggs, an army ranger who has been put on leave indefinitely due to a traumatic head injury sustained in action overseas. He begs his commander to let him prove himself, and he's given an unusual task: take Lulu, a retired Belgian Malinois who worked as an Army Ranger in the Middle East, to her handler's funeral across the country. Her handler was Briggs's best friend and he died by suicide just before the events of the film. Lulu suffers from intense Post-Traumatic Stress Disorder (PTSD), and loud noises or certain behaviors can trigger her fight or flight reflexes. She's a heroic dog, but her experiences have left her a danger to just about everyone. As such, the military plans on retiring her once and for all after the funeral by euthanizing her. 
Briggs thinks the whole thing is a little silly but agrees to take the job — and initially underestimates his new four-legged detainee. No one should ever underestimate a Belgian Malinois. The breed is extremely high energy with impressive intelligence and a high prey drive — think of them as the expert mode for pet parenthood. Because of their intelligence and work ethic, they're currently the breed of choice for the military and many police forces. They can scale buildings, cross bridges, and they have incredible jaw strength and razor-sharp teeth. So Lulu is essentially a live grenade that could go off at any time, and it's up to Briggs to get her all the way down the Pacific coast. As you might expect, Lulu has other ideas. 
Lulu and Briggs depart in Briggs's beat-up 1984 Ford Bronco, with Lulu muzzled and kenneled while Briggs does his best to stay positive about the situation. Before long, the dog has escaped and begins wreaking all kinds of havoc. Every attempt Briggs makes to restrain her only ends up with another escape, although he does have some decent luck sedating her with antihistamines hidden in a nice snack. Briggs joyfully sings "The Lion Sleeps Tonight" as she dozes peacefully in the back for the first time, and it's kind of hard to blame him. Lulu manages to get Briggs in trouble at every turn, and no amount of explaining the situation can help after she's scared the living daylights out of more than a few random civilians. Among them are some ridiculously aggressive cannabis farmers and a pair of hot lady tantricas (practitioners of tantric sex), and the scenes of Lulu causing a ruckus reminded me most of "Turner & Hooch." When Lulu and Briggs meet a pet psychic named Tamara (Jane Adams) and her husband Gus ("Magic Mike" alum Kevin Nash), everything changes. Tamara helps Briggs see the softer side of his canine companion, and opens up to truly communicate with her. The movie never puts its faith entirely in Tamara's explanations for Lulu's feelings, but just thinking about what Lulu might be feeling instead of reacting helps Briggs see the whole situation differently. 
Eventually, Lulu and Briggs form an unlikely bond, and they help one another grow into better versions of themselves. It's a tough road full of many challenges and more than one tantrum, but the journey ends up being more than worth it. And of course, as Tatum reassured viewers on Kimmel, the dog doesn't die.
A simple story told well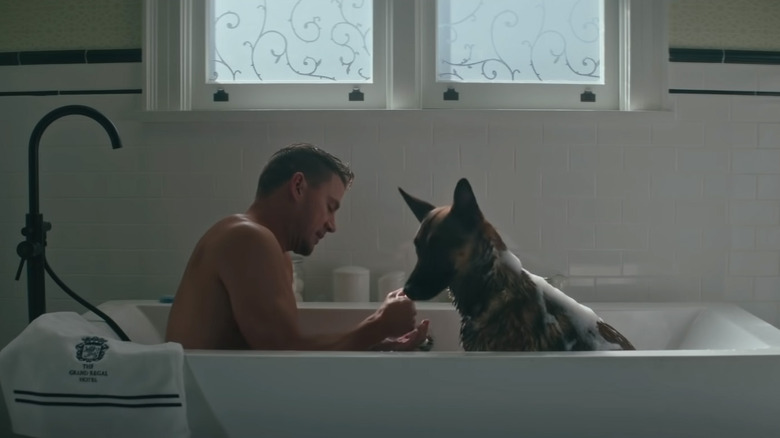 United Artists
The story in "Dog" is simple, but every element is delivered upon exquisitely. Though there are a number of side characters that appear throughout the film, including a turn by comedian Bill Burr as a racist cop, the movie rides on Tatum and his doggy costar's shoulders. Many of the best scenes are just Tatum and the dog interacting, and it's clear that Tatum really loves canines. Lulu, the dog in the movie, is named after his own dog, a Catahoula-Pitbull mix who died in 2018. (Tatum added a Dutch Shepherd named Rooklin to his family in 2020.) Tatum's performance is effortless, playing the sort of affable characters we've grown to know and love throughout his career. His dialogue delivery is perfect, in part because he's working from a screenplay by Reid, whom he's worked with several times before. The partnership between Reid and Tatum feels seamless, and this road-trip film feels like a perfect culmination of their efforts together thus far. It's occasionally difficult to tell if certain bits of dialogue are scripted or improvised, but it often feels entirely natural and unforced. 
"Dog" has quite a bit in common with "Magic Mike XXL," also written by Reid and starring Tatum. In both films, Tatum gets caught up in a road trip he doesn't really want to be a part of, but realizes along the way that it was exactly what he needed all along. My biggest complaint with "Dog" is that a subplot with Briggs's daughter feels a little tacked-on, but otherwise, the film delivers on every emotional beat. Reid's script, based on a story by himself and newcomer Brett Rodriguez, feels authentic to the military experience without being overly patriotic or overly critical. I grew up in a military family, and a lot of the humor between Briggs and his fellow soldiers rang true to my dad, grandfathers, and cousins joking around. Dog-lovers will feel similarly represented because Lulu is a complex character in her own right who never does anything completely outside of the realm of possibility. She's still a dog, but also a fully-formed character with motivations, fears, and personality traits, and the three canine performers who played her do an excellent job.
The film isn't afraid to delve into some difficult subjects, including chronic illness and PTSD. Briggs has a medical condition that he explains to Lulu as "If I get stressed out I'll have seizures and die," and we do see at least one depiction of him having an episode. Some of the characters that Briggs meets have their own opinions about the military, and one of the tantricas even asks him when he realized he was a "pawn of big oil." While the military, U.S. involvement in the Middle East, trauma, and the abandonment of veterans are all elements that exist within the film, they exist tangentially to the tale of two broken souls finding healing through one another. "Dog" doesn't have a political statement to make, nor is it pro-military propaganda. While this could've felt like a cop-out, it feels authentic to Briggs's reality here. He loves the camaraderie and structure of the military but has suffered as a consequence of being part of it as well. It sits in the gray area, as life often does, and allows the viewer to make their own judgments. The only thing it clearly condemns is racism, as Burr's character is painted in a very poor light. 
The score from "1917" composer Thomas Newman is understated and lovely, and the cinematography from Newton Thomas Sigel ("Da Five Bloods") is absolutely stunning. Many of us have been stuck indoors and in our own neighborhoods for the past few years as a result of the pandemic, and seeing the Pacific coast in all of its glory felt as close to a real road trip as one can get. Sigel's use of natural light is lovely, giving the movie a warm glow that feels like sunbathing on the hood of an old truck. There's something old-school Americana about the look and feel of "Dog" that hearkens back to "simpler times," all the while reminding us that life is never simple. 
"Dog" is a little sentimental and travels down well-trodden paths, but its gorgeous execution and charming performances make it the feel-good film we could all use in the depressing doldrums of February. 
/Film Rating: 8 out of 10