Hey All You Lawbreakers, 'Magic Mike' Live Is Coming To Las Vegas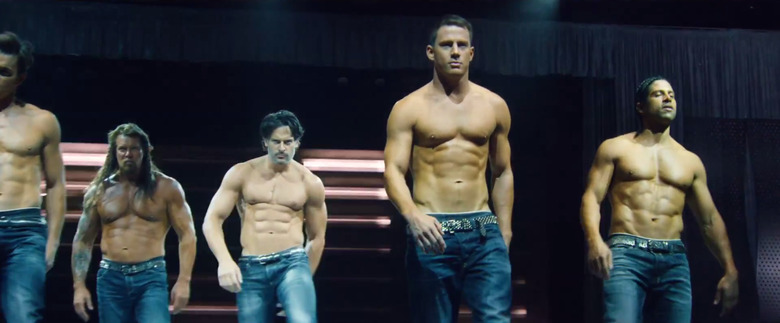 Sadly, we've yet to hear much news regarding a potential Magic Mike XXXL. Despite the fact Magic Mike XXL was slightly less successful than its predecessor at the box-office, it was every bit as entertaining as Steven Soderbergh's film. If for some awful reason we never see if Mike makes it big as a custom furniture designer, then at least we have Magic Mike Live to look forward to, which will make its debut in Las Vegas next year.
Learn more about Magic Mike live below.
Actor and producer Channing Tatum isn't done with the world of male strippers just yet. Tatum is directing Magic Mike Live with Magic Mike choreographer Alison Faulk and assistant choreographer/actress Teresa Espinosa. The Hard Rock Hotel & Casino in Las Vegas will serve as the show's home. According to THR, Cosmopolitan, who's behind the show, has a year-long content partnership with the Hard Rock. Cosmopolitan's plans go beyond just the live show, including two possible reality TV shows — one about male strippers, the other about turning "ordinary Joes" into "Magic Mikes".
During announcement, Channing Tatum had this to say about Magic Mike Live:
Magic Mike' has been a special and very personal project for me, and this show is a natural extension of that. So while I won't be on stage as Mike, Magic Mike Live Las Vegas is my vision and I'm looking forward to spending a lot of time in Las Vegas creating something that will give women what they really want.
We want to change what male entertainment has been for years. For 40, 50 years, it hasn't changed, and we want to make it better. We got to do some different stuff and have some fun in different ways and make it more of a conversation instead of just men going up there and trying to tell you what you should think is sexy. We need to know. We're not mindreaders, so please leave your comments and let us know what you want, and we're gonna create it for you.
While Tatum himself won't appear in the show, he mentioned if he was ever up for it maybe he would stop by for a show or two, and hopefully in-character as Magic Mike. This character has to continue to live on in some form, whether in theaters or back in Rome's (Jada Pinkett Smith) Club Domina, which is what they're calling the venue at the Hard Rock. Club Domina will fit up to 450 guests, in addition to plenty of these shirtless men featured in this video Tatum posted on Twitter.
#ICYMI: @MagicMikeLive's headed to @HardRockHotelLV. #puppies #shirtlessdudes @cosmopolitan https://t.co/4OyGGz8HJ0https://t.co/msBNfoyBb9

— Channing Tatum (@channingtatum) May 5, 2016
Beginning in March of 2017, there will be preview shows of Magic Mike Live from Wednesdays through Sundays. The shows will start at 7:30 pm and 10:30 pm. Ticket information and prices are currently unavailable.