Turning Red Featurette Showcases The Film's Real-Life Origins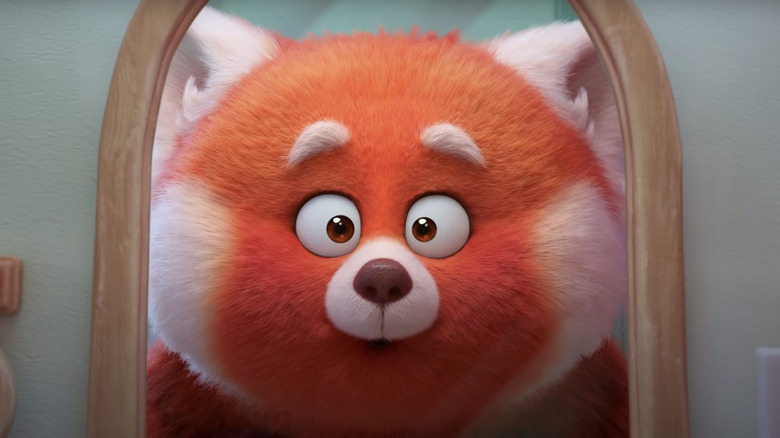 Pixar
"Turning Red" is turning heads already for a number of reasons, over and above the metamorphosis of its central character, Mei Lee (Rosalie Chiang), into a giant red panda whenever she gets too worked up. It's the next Pixar film, the first one to feature an all-female leadership team, and the third one to bypass theaters altogether and go straight to the Disney+ streaming platform.
The movie hails from Domee Shi, writer and director of the acclaimed short film, "Bao," and was co-scripted by Julia Cho. Ludwig Göransson provides the musical score, and there are also songs on the soundtrack written by Billie Eilish and Finneas O'Connell. The in-universe, animated boy band 4*Town will perform those songs in the film.
"Turning Red" is coming your way in two weeks, and in the meantime, Disney has released a new featurette, in which Shi, Eilish, and O'Connell all appear, with Eilish noting how much the film resonated with her. See for yourself in the featurette below.
Turning Red Featurette: 'It's a Little Autobiographical'
In the featurette, "Turning Red" producer Lindsey Collins says:
"The challenge we always set for ourselves at Pixar is, we want it to feel like our films are grounded in stories that are specific and unique, but also universal. The goal is to have it be based on personal experience, and I don't know if Domee has come clean, but it's a little autobiographical, this story."
Shi herself goes on to explain that the inspiration for "Turning Red" comes from her own background, "growing up as a dorky Chinese-Canadian girl in Toronto." She then anchors it back to something people can relate to on a universal scale, saying, "It really taps into that awkward, cringey time in all of our lives when we were 13." 
Collins adds, "Some of the craziest moments in the film are based on things that happened to Domee." So while it may involve a girl hulking out into a red panda, clearly, "Turning Red" is a movie that is coming from a personal place for Shi.
Here's Disney's official synopsis for "Turning Red:"
Turning Red introduces Mei Lee, a confident, dorky teenager torn between staying her mother's dutiful daughter and the chaos of adolescence. Her protective, if not slightly overbearing mother, Ming, is never far from her daughter—an unfortunate reality for the teenager. And as if changes to her interests, relationships and body weren't enough, whenever she gets too excited, she "poofs" into a giant red panda!
"Turning Red" drops exclusively on Disney+ on Friday, March 11, 2022.