Turning Red Is Pixar's First Feature With An All-Female Leadership Team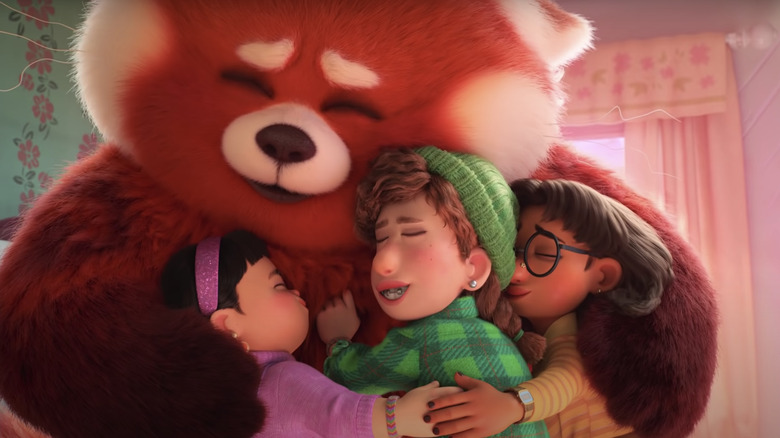 Pixar
With "Turning Red," Pixar is delivering its first animated film with a creative team led by women. The movie is helmed by Domee Shi, who wrote and directed the short film "Bao" and contributed as a story artist to "Inside Out" and "Toy Story 4," among other Pixar films. Julia Cho serves as co-writer, while Lindsey Collins is the producer.
"Turning Red" puts a bear-y (I'm so sorry) fun twist on the old anthropomorphic animal formula that we've seen in so many other Disney and Pixar animated films. The movie features the voice of Rosalie Chiang as Mei Lee, a 13-year-old girl who wears what she wants and says what she wants — until she suddenly hits that age where kids manifest the ability to turn into red pandas. Then, she becomes self-conscious of what a "gross red monster" she is.
As Mei's mother, voiced by Sandra Oh, reveals in the trailer for "Turning Red," the Lee family's ancestors have a mystical connection to red pandas and, "Any strong emotions will release the panda" in Mei. Talking animals have long been a feature of Disney and Pixar's films, but this time, it's a girl who's coming of age and is capable of hulking out into a loquacious panda.
In addition to Shi, Cho, Collins, Chiang, and Oh, "Turning Red" also features women in several other key positions behind the camera. Patty Kihm is the film's lead supervising animator and Rona Liu is its production designer. According to a press release from Pixar, Danielle Feinberg — who worked as the director of photography-lighting for "WALL-E," "Brave," and "Coco" — serves as visual effect supervisor and is the first woman to hold that position at the studio in 20 years.
Moving the Needle in the Former Boys' Club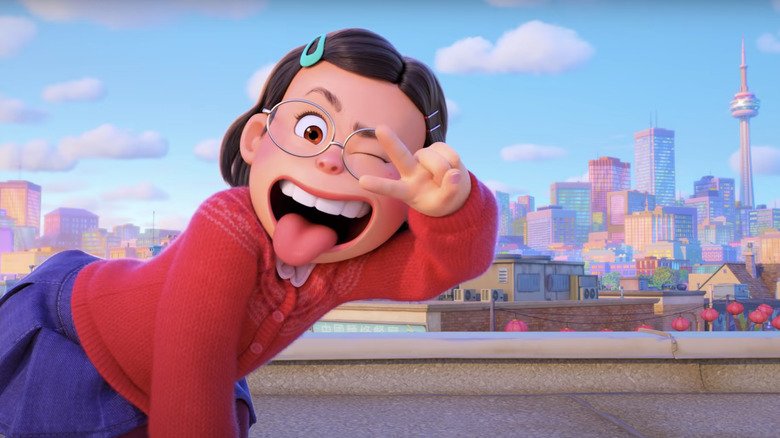 Pixar
In November 2017, following the exit of Pixar's longtime chief creative officer, John Lasseter, under a cloud of sexual misconduct allegations, a Vanity Fair article was published detailing the studio's boys-club legacy. Up to that point, Pixar had released 19 films since its debut feature, "Toy Story," in 1995, but just three of them utilized female protagonists: "Brave," "Inside Out," and "Finding Dory." Moreover, "Brave," released in 2012, was the first film in the studio's history to be directed by a woman, Brenda Chapman. Yet the studio fired Chapman over creative differences and brought in Mark Andrew as a co-director, despite the fact that Chapman had developed the story of a Scottish princess and her mother-turned-bear (sound familiar?) based on her own life experiences and relationship with her daughter.
In a New York Times essay after the release of "Brave," Chapman wrote:
"This was a story that I created, which came from a very personal place, as a woman and a mother. To have it taken away and given to someone else, and a man at that, was truly distressing on so many levels."
With "Turning Red," Pixar is attempting to redress some of its history as a one-time boys' club and let women thrive in positions of leadership on a high-profile project. The only caveat to all of this comes in the form of Disney's release strategy for the film. Because of the pandemic, it is foregoing a theatrical release for "Turning Red" and sending it straight to Disney+, as it did with the last two Pixar features, "Soul" and "Luca." This has led to some concern that Disney is diluting the Pixar brand, using it to prop up its streaming service, while giving its own movies, "Raya and the Last Dragon" and "Encanto" (both produced in-house at Walt Disney Animation Studios) a Premier Access release and/or limited theatrical engagement.
"Turning Red" hits Disney+ on March 11, 2022.