The Boys Season 3 Trailer: Billy Butcher Fights Laser Eyes With Even More Laser Eyes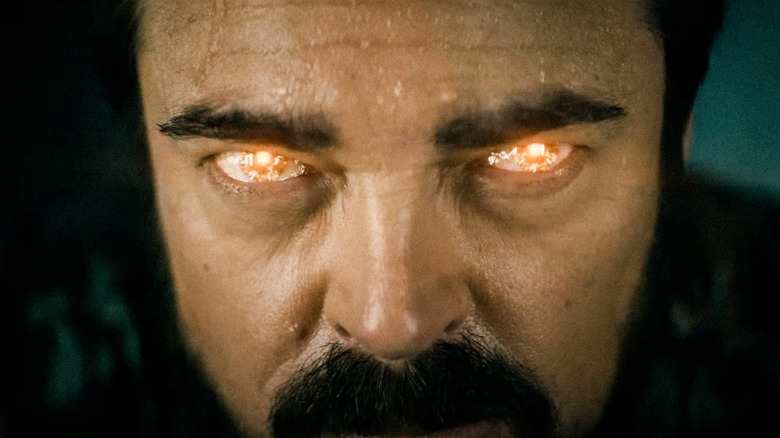 Amazon Studios
We don't traffic in hyperbole here at /Film, but let me put it this way: if you aren't watching "The Boys," you should hang your head in shame and never show your face in public ever again. Okay, so maybe we traffic in a little hyperbole every now and then, but hopefully, you all can forgive me of my vices just this once. In all seriousness, the popular Amazon superhero series established itself in just two seasons as one of the most entertaining, gory, and unapologetic genre shows out there. Based on Garth Ennis and Darick Robertson's original comic book, "The Boys" tackles surprisingly nuanced topics such as the inherent issues of viewing superheroes as celebrities/religious figures/political leaders, America's rather alarming tendency to fawn over fascists and Nazis, and various racial and social issues plaguing the country to this day. Yes, "The Boys" is not afraid of marketing itself as what you might call "very political" and if that upsets you, the creators (and characters) of the show would probably respond with something along the lines of ... I don't know, too bad?
In any case, fans of the series have waited since October of 2020 to see how the rest of the story unfolds. At the very least, creator Eric Kripke kept viewers occupied during the long hiatus with various installments of in-universe talk show sketches revealing juicy nuggets of background information and character teases. Finally, after Kripke himself dropped some hints about the trailer not so long ago, Amazon has gone ahead and dropped our first official look at footage from the upcoming third season. Check it out below, in all its violent and sometimes disturbing glory!
The Boys Season 3 Trailer
Boy, it's good to be back, huh? I wouldn't go so far to say that fans have been surviving on mere scraps in the long months since "The Boys" last graced our airwaves — we're just about to get a new animated spin-off series to help tide us over even more, for crying out loud! — but it's certainly nice to see some actual footage from the next batch of episodes. Season 3 of "The Boys" first began filming back in early 2021 and officially wrapped later that September. Aside from rolling up their sleeves and diving deep into the post-production process, the creative team and cast have spent the time since doling out a steady drip of teases and hints about what fans can expect in the next season, calling it the "most messed up" so far or promising to deliver on one of the source material's most notoriously controversial storylines. In more normal news, at least we know that the series is set to dive into the origins and past history of the sinister Vought Corporation, which is behind the creation and weaponization of the uber-powerful "Supes" and their manufactured villains.
Well, hopefully, this trailer will help make the last stretch until the season premiere that much easier to endure. "The Boys" stars Karl Urban as Billy Butcher, the no-nonsense leader of the eponymous Boys, along with Jack Quaid as Hughie Campbell, Antony Starr as the psychopathic Homelander, Erin Moriarty as Starlight/Annie January, Laz Alonso as Mother's Milk, Tomer Capone as Frenchie, Karen Fukuhara as Kimiko, Dominique McElligott as Queen Maeve, Colby Minifie as Vought PR person Ashley Barrett, Giancarlo Esposito as the villainous Vought CEO Stan Edgar, Jessie T. Usher as A-Train, and Claudia Doumit as the mysterious politician Victoria Neuman. A batch of new additions to the cast includes Jensen Ackles as Soldier Boy, Laurie Holden as Crimson Countess, Sean Patrick Flanery as Gunpowder, Kristin Booth as Tessa, Nick Wechsler as Blue Hawk, Jack Doolan as Tommy, and many more.
Season 3 of "The Boys" will premiere on Amazon Prime Video on June 3, 2022.