The Boys Season 3 Has Officially Wrapped Production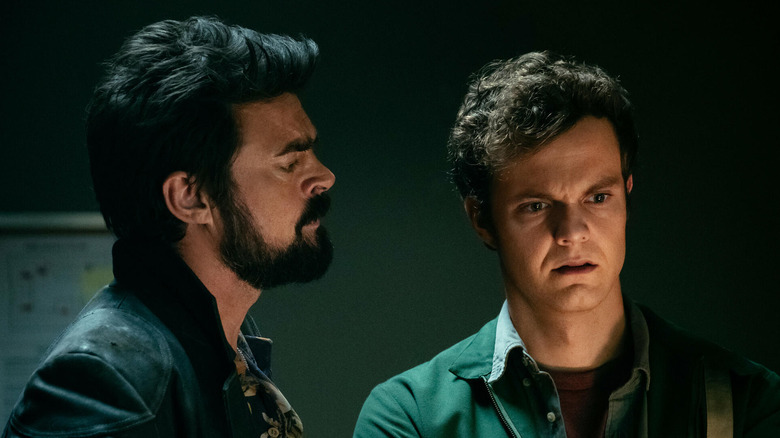 Amazon Studios
"The Boys" are back in town ... almost. The third season of Amazon Prime Video's streaming series has finished shooting, with both Karl Urban and Jack Quaid taking to Instagram to announce, "That's a wrap."
Based on the Garth Ennis and Darick Robertson comic, "The Boys" is set in a world where superheroes are corrupt corporate mascots, not above accidentally — or intentionally — killing innocent bystanders. Urban plays Billy Butcher, who involves Quaid's character, Hughie, in his anti-superhero vigilante activities. The series is boisterous and bloody and not for the faint of heart or the sensitive of ears.
Urban and Quaid channeled some of its salty language in their Instagram posts, with Urban calling the next season "bat s**t crazy" and Quaid saying, "We f**kin' did it, y'all!" Both of them were masked up, rather like superheroes, but they were on planes, which also brings to mind certain supervillains (Bane, is that you?), not to mention Anthony Starr's Homelander and something he once did on a plane.
You can see the full context of what Urban and Quaid wrote on Instagram, below.
It's been just over a year since season 2 of "The Boys" dropped. While there's no release date yet for season 3, this production wrap puts us closer to it, obviously.
The first season of "The Boys" premiered in July 2019 and season 2 premiered in September 2020, so if the series follows the same gap between releases, we could be looking at a November 2021 date for season 3 (but that's purely speculation, based on the show's short production history).
What to Expect in Season 3
Showrunner Eric Kripke recently teased that season 3 of "The Boys" would be returning to issues of "racism, white supremacy, violence, and sexual predation." Over the summer, we also saw the above teaser, with a Fox News-like segment from the Vought News Network—an arm of Vought International, the fictional conglomerate that manages the public image of the heroes in-show.
If you haven't seen season 3 of "The Boys," read no further, as we'll be delving into a few spoilers in the next couple of paragraphs.
Season 2 of "The Boys" saw the closet Nazi, Stormfront, played by Aya Cash ("Scare Me"), relieved of her arms and legs by Stormfront's young, super-powered son, Ryan (Cameron Crovetti). Cash gave a standout performance in season 2, but the finale left her villain charred and limbless, not in the best condition to return. She herself told Entertainment Weekly: "My contract for 'The Boys' was only for a year so, who knows? Maybe they can CGI my face in."
Stormfront may be gone, but knowing "The Boys," it's not exactly blue skies ahead for season 3, especially not after Butcher discovered that Becca, his long-lost love (and Ryan's mother), was still alive, only to lose her for real this time.
We'll keep you posted on the release date for "The Boys" season 3 as soon as it becomes available.