Toy Story 3 Teased A Pixar Movie We'll Probably Never See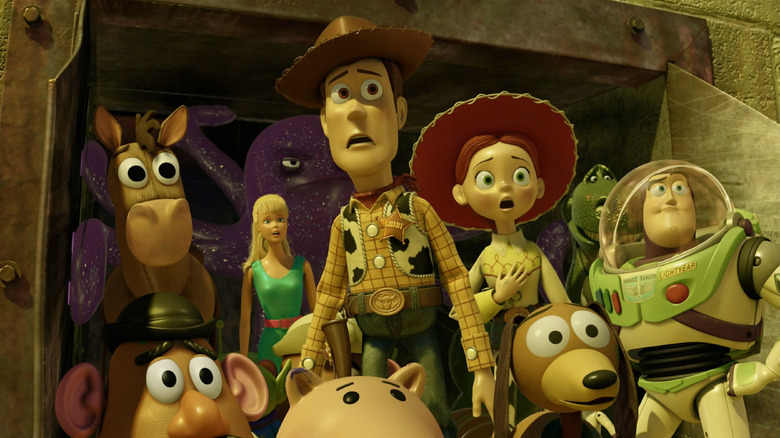 Disney/Pixar
When Disney Animation officially canceled the movie "Gigantic" — a retelling of the "Jack and the Beanstalk" fairy tale that had been announced in 2015 — it came as a real shock. In the modern world of filmmaking, big-budget animated features that simply aren't coming together the way a studio would like (as was the case with "Gigantic") are usually scrapped long before the public is formally made aware of their existence. 
There are, of course, other exceptions to this rule besides "Gigantic," with Pixar's "Newt" being one of the better-known examples. "Newt," for those who don't recall, was announced in April 2008 and was set to serve as Pixar's major film release in the summer of 2011. Seven-time Oscar-winning sound designer Gary Rydstrom, who's now in the running to land his eighth Oscar for his work on Steven Spielberg's "West Side Story," was slated to make his feature directorial debut on the movie, drawing from a script he had co-written with Leslie Caveny ("Penelope"). Had it moved forward, the film would have centered on Newt and Brooke, "the last remaining male and female blue-footed newts on the planet [who] are forced together by science to save the species," but with one not-so-small problem: They can't stand each other.
As is the studio's tradition, there were even Easter Eggs for "Newt" in other Pixar movies. Specifically, there's a scene in 2010's "Toy Story 3" where viewers can spot a "Newt Crossing" sticker on the door to Andy's bedroom (via Coming Soon). There's also a scene in Pixar's 2012 animated film "Brave" where the nameless Witch adds a newt to a potion she's brewing (via Hypable). In that case, though, it's hard to tell if the salamander is of the blue-footed variety or if this was just an accidental nod.
Why Newt didn't happen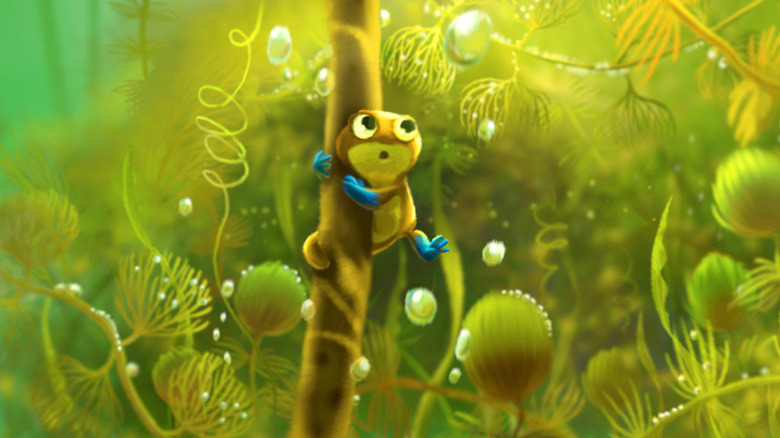 Disney/Pixar
If you read the "Newt" logline and immediately thought, "Wait, didn't 'Rio' have more or less the same plot, only with birds instead of newts?" then 1) Your teammates probably let you take the lead on most movie-related questions when playing trivial pursuit, and 2) You're right! For those who've either forgotten or never seen Blue Sky Studios' 2011 animated film, "Rio" centers on Blu, the last-known male Spix's macaw who is transported from his comfy home at a U.S. bookstore to Rio de Janeiro and the jungles of Brazil to mate with the last-known female member of his species, Jewel.
In May 2011, almost exactly one year after "Newt" was formally canceled, ex-Pixar Chief Creative Officer John Lasseter commented on its similarities to "Rio" while, surprisingly, indicating that "Newt" was abandoned for unrelated reasons (via IndieWire):
"Its story was very similar to a movie that's out in theaters right now with a blue parrot. Oh my! Wow, we were like ... no, there was no ... great minds think alike, I guess. It was really pretty similar."
Three years later, as part of a 2014 interview with Fast Company, Pixar co-founder Edwin "Ed" Catmull shed more light on the behind-the-scenes events that led to "Newt" being canned. "'Newt' was another unlikely idea that wasn't working," he explained. As a result, Pixar's current CCO Pete Docter — who, at the time, was hot off co-directing the studio's celebrated 2009 animated film "Up" — was brought in to oversee the movie. (Rydstrom would instead go on to make his feature directing debut on Lucasfilm Animation's 2015 jukebox musical "Strange Magic.") However, Docter was more interested in fleshing out the concept for what would ultimately become the wildly-successful "Inside Out," which Catmull said he and the other top creatives at Pixar agreed "was better" than what they had in mind with "Newt."
Will Pixar ever revive Newt?
Historically speaking, it's not unheard of for a major studio to shelve an animated feature then revisit the project years later. That was famously what happened in the late 1930s when Disney's animation studio began developing its classic 2D animated "Alice in Wonderland" movie, only for Walt Disney himself to halt pre-production (due to his dissatisfaction with the film's original tone and visual style), and then revive it shortly after WWII ended. More recently, Guillermo del Toro was forced to move his stop-motion animated "Pinocchio" re-telling to the back-burner for essentially a decade before Netflix came aboard to fund the movie in 2018.
Keeping that in mind, it ought to be noted that both those movies and other animated films that took a similarly long time to happen (like "Strange Magic," which was based on an idea that George Lucas had come up with 15 years before its release), were passion projects that only made it to the finish line thanks to the commitment of the filmmakers behind them. "Newt," on the other hand, is a movie that Pixar's leaders never expressed any real interest in revisiting back in the 2010s. Its ties to Lasseter make a revival all the less likely now, as the studio continues to take steps to leave its disgraced former CCO firmly in the rearview mirror. No, the odds are "Newt" will only ever exist through concept art that has leaked online over time — for better or for worse.