John DiMaggio On Not Returning As Bender For Futurama Revival: 'It's About Self-Respect'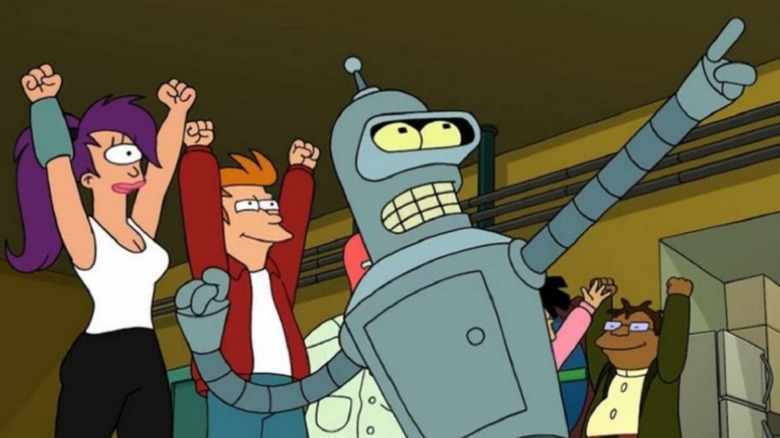 20th Television Animation
Hulu announced last week that the beloved adult animation series "Futurama" was set to return, and fans were immediately thrown into a celebratory frenzy. That is, until we all read the fine print and realized that the voice of the iconic Bender "Bending" Rodríguez, John DiMaggio, was notably absent from the cast list. Bender is synonymous with "Futurama" and once word got out that DiMaggio was not going to return, the excitement quickly turned into disappointment. If we're not getting Bender back, then why bother? Well, John DiMaggio has finally spoken up, and took to Twitter to make his stance publicly known.
Update: #bendergate pic.twitter.com/tBG7d9hQ3R

— John DiMaggio (@TheJohnDiMaggio) February 16, 2022
"Bender is part of my soul and nothing about this is supposed to be disrespectful to the fans or my Futurama family," he wrote along with the hashtag #bendergate. "It's about self-respect. And honestly, being tired of an industry that's become far too corporate and takes advantage of artists' time and talent."
DiMaggio is currently the only major cast member not returning, with Billy West, Katey Sagal, Tress MacNeille, Maurice LaMarche, Lauren Tom, Phil LaMarr, and David Herman all already confirmed. When it was first made known that DiMaggio was possibly going to be recast, it came with the information that DiMaggio was still "in negotiations" with Hulu, which many assumed to mean "he's holding out for more money." Based on his statement, we can confirm that assumption is true.
'Everyone has a different strategy and different boundaries'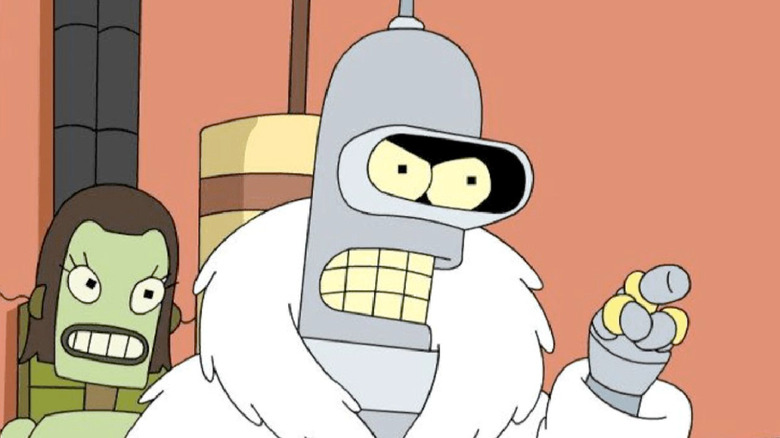 20th Television Animation
DiMaggio noted in his Twitter post that money was definitely the reason he's yet to return to the revival. "Just to be clear, I don't think that only I deserve to be paid more, I think the entire cast does," DiMaggio wrote. He continued by acknowledging that negotiations are normal in the business, and that "everyone has a different strategy and different boundaries," AKA their "price." He also acknowledged that some people accept offers while others hold their ground, implying that the rest of the cast had no problem saying yes to what Disney/Hulu was offering, but that he wasn't going to agree so quickly.
Unless the actual dollar amount is made public, there's no way for any of us to know whether or not Disney/Hulu provided an insultingly low offer or if DiMaggio is being "greedy," as plenty of people in his Twitter mentions have implied. Regardless, DiMaggio has made a very good point and even wrote, "Look, I wish I could give you every detail so you would understand, but it's not my place," reminding fans that we don't know the full story and likely won't unless things get even messier.
Voice-over artists are some of the hardest working performers in the industry, and frequently have to fight for respect or else be replaced by Hollywood A-listers with name recognition. Hopefully Hulu will do the right thing and provide wages that the entire cast deserves to bring DiMaggio in the fold, because "Futurama" without Bender is like "The Simpsons" without Homer. It's just not right.