The Book Of Boba Fett Features The Busiest Actor In Hollywood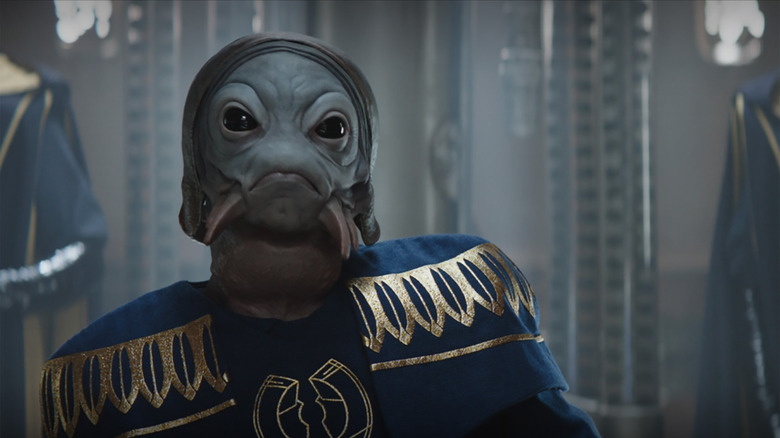 Disney+
This week's episode of "The Book of Boba Fett" introduced some exciting characters played by beloved actors like Stephen Root and Danny Trejo. But one role in particular feels most exciting, and it's one you may have missed. During the episode, Boba Fett visits the Pyke Syndicate where he meets the Pyke boss, a fish-faced humanoid from Oba Diah. While the character is live-action, the elaborate effects and makeup on the actor's face has completely eclipsed their identity, but a keen ear may have been able to clock that the Pyke boss was played by the busiest actor in Hollywood, Phil LaMarr.
For the uninitiated, Phil LaMarr boasts over 500 credits on IMDb, and has a career spanning nearly four decades. He's an Ivy League graduate, one of the original cast members of "MADtv," had a featured role as Martin in "Pulp Fiction," and has one of the most inexhaustible voice-over careers in history. In just the world of "Star Wars" alone, LaMarr has played a multitude of different characters, and is implied to have been the replacement voice for Jar Jar Binks under the pseudonym BJ Hughes.
I appreciate your comment. This was at a time where doing Jar jar was very painful for me. Thankfully my good brother @phillamarr held down the role until I was able to return. Love you @phillamarr. Thanks for being a great friend. https://t.co/W08cXsjj7a

— Ahmed BEst (@ahmedbest) January 29, 2020
Across the "Star Wars" universe of films, shows, shorts, and video games, he's voiced Orn Free Taa, a ​​Stormtrooper Commander, an Antiques Dealer, Bail Organa, Zinn Paulness, Clu Lesser, Chieftain Pieter, Kit Fisto, Brother Lemcke, Master Syo Bakarn, Darbin Sull, Agent Ottau, Captain Riiken, Peragus Administration Officer, Gadon Thek, Warleader Garn, Loremaster Gjarshi, and even Darth Vader.
Actor, Comedian, Impressionist, Voiceover God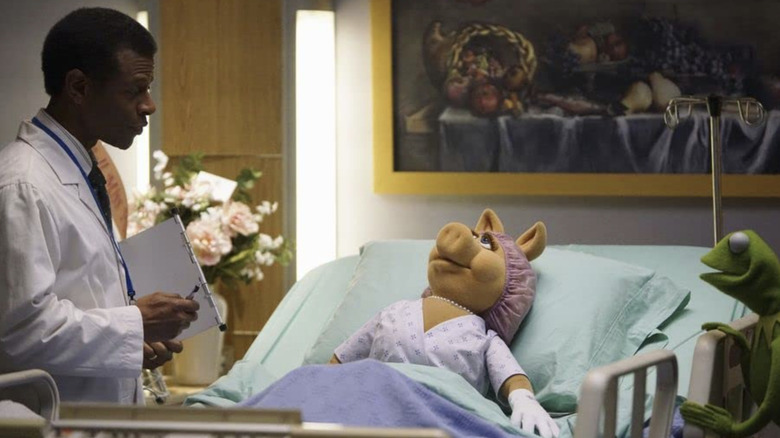 ABC
LaMarr is an in-demand performer, and the team behind "The Book of Boba Fett" should consider themselves lucky that they were able to nab such a talent. We play a game at my house called "That you, Phil LaMarr?" where we try to determine if the voice actor of a character is Phil LaMarr, or someone trying to capture his similar style. Nine times out of 10, it's actually Phil LaMarr, but on the off-chance the voice actor is not Phil LaMarr, it's a great way to learn more about some of the most under-appreciated performers in the business. Disney, Pixar, DC, Marvel, Hanna-Barbera, Nickelodeon, Cartoon Network, Adult Swim, and plenty more have all been made better by LaMarr's work on their shows. 
The decorated actor is pretty identifiable as a live-action performer, but his voice-over work is what has made him an icon. He's the titular "Samurai Jack" and "Static Shock," Green Lantern on the animated "Justice League," Ollie Williams the weatherman on "Family Guy," and like, 500 other things. However, one of his biggest claims to fame is voicing Jamaican bureaucrat and Planet Express accountant Hermes Conrad on "Futurama." For seven seasons and four movies, LaMarr dealt with intergalactic hijinks from aliens and humans alike, so becoming a Pyke boss is absolutely within his wheelhouse. The Pykes seem to play a major role in "The Book of Boba Fett," so there's a high probability we'll see more of LaMarr throughout the season. In the off chance we don't, we've got over 500 other options for further enjoyment.