The Book Of Boba Fett Gives Danny Trejo The Perfect Star Wars Role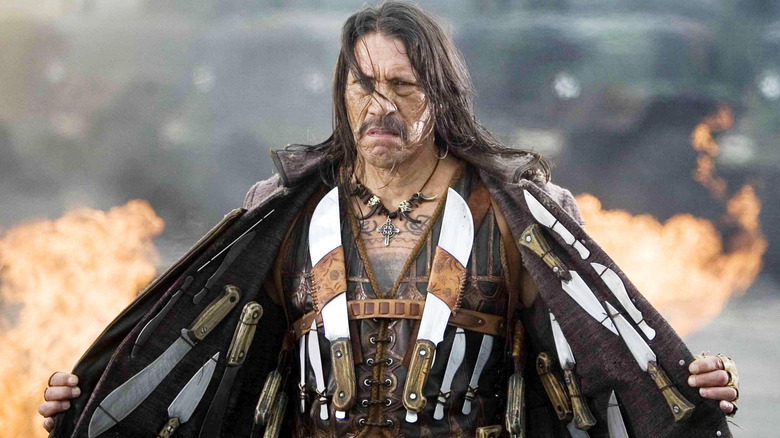 20th Century Fox
This article contains spoilers for the new episode of "The Book of Boba Fett."
Watch enough Robert Rodriguez films, and you will quickly realize that Danny Trejo is the Michael Caine to his Christopher Nolan. The director and actor first joined forces on 1995's "Desperado" prior to learning they're actually second cousins. They would go on to reunite a year later for "From Dusk Till Dawn," in which Trejo played a vampiric bartender name Razor Charlie, and again for 2000's "Spy Kids," where Trejo played the similarly named Isador "Machete" Cortez, an ex-federale who helps the film's young heroes, his niece and nephew Carmen and Juni, rescue their super-spy parents after they're captured during a mission.
Trejo has since reprised his role as Machete in Rodriguez's "Spy Kids" sequels while also portraying the character in the decidedly R-rated fake "Grindhouse" trailer of the same name and the two feature-length films it spawned ("Machete" and "Machete Kills"), all of which were also directed by Rodriguez. In fact, even when he's not working with Rodriguez, Trejo still tends to oscillate between starring in violent adult genre fare and wholesome family movies. (He even got to sing and dance in "Muppets Most Wanted" and made a second trip to Muppet World for last year's "Muppets Haunted Mansion.") Trejo has now joined Rodriguez in a galaxy far, far away on "The Book of Boba Fett," a show that's found the perfect "Star Wars" role for his talents.
Looks Tough, But Is Really a Cinnamon Roll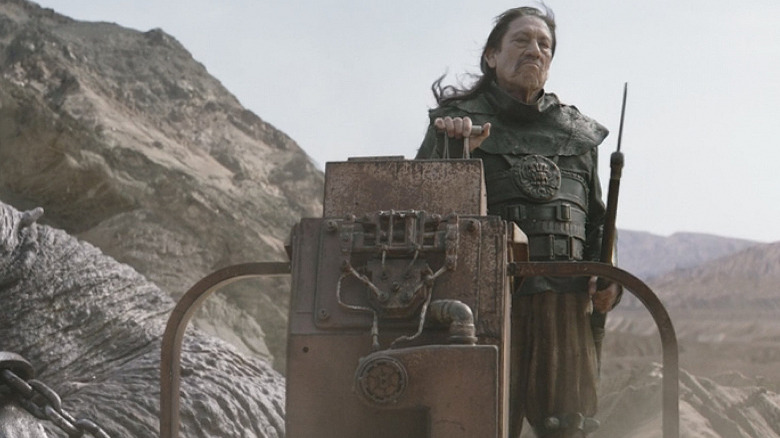 Lucasfilm
"The Book of Boba Fett" episode 3, "The Streets of Mos Espa" (which Rodriguez directed), introduces Trejo to the "Star Wars" universe as the unnamed, tough-looking rancor keeper who teaches Boba all about training the rancor he's been gifted by the Hutt twins. However, rather than telling Boba to break its spirit or assert his dominance over the creature, Trejo's character informs him that rancors are only aggressive when threatened and are far more emotionally complex than most individuals assume. He then guides Boba through the process of gently bonding with the rancor and encourages him to spend more time with it before revealing that, one day, the creature might even willingly allow Boba to ride them (as Boba hopes to do).
In many ways, Trejo the actor is a lot like the rancor trainer: He may look intimidating, yet he's capable of great emotional depth and is really just a big ol' softie at heart. It's why he's just as convincing slicing and dicing his enemies in the "Machete" films as he is singing his heart out to Kermit the Frog. There's both a playfulness and sensitivity to Trejo as a performer that's not only endeared him to audiences, it's allowed him to avoid being typecast and portray characters that defy the toxic stereotypes associated with the tough guy image they project. It's no surprise that his good buddy Rodriguez knew he was the right man for the job when it came time to cast the rancor's keeper.
"The Book of Boba Fett" episode 3 is now streaming on Disney+.