How The Dark Knight Rises Changed Tom Hardy Forever
Warner Bros.
Christopher Nolan's Dark Knight trilogy was a game-changer for the genre, ushering in the era of dark comic book adaptations and proving that superhero flicks could also be prestige pictures. The series also had a lasting impact on its stars. Tom Hardy, who played masked villain Bane in "The Dark Knight Rises," has gone on the record about the ways his physical transformation for the role took its toll on his body.
The actor spoke to The Daily Beast in 2017 about putting on weight to play both Bane and his character in the film "Warrior." "I've probably damaged my body too much," he admitted. "I'm only little! If I keep putting on weight I'll collapse like a house of cards under too much pressure." He told Men's Health that he gained 30 pounds for the role, using a specialized workout to gain muscle quickly.
Hardy is open about the toll of physical transformation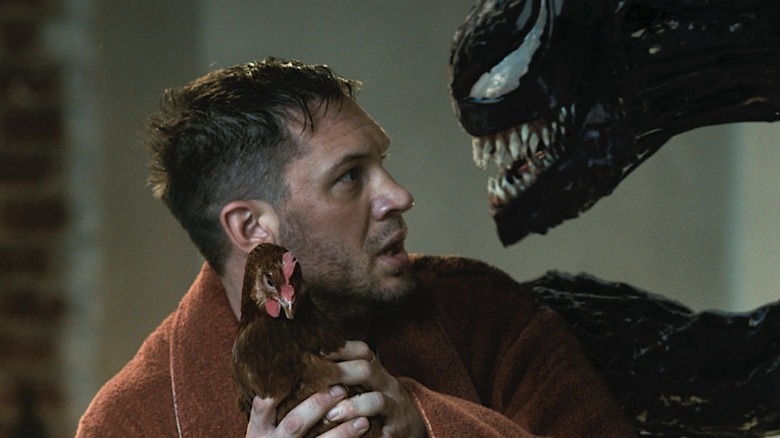 Sony
It's great to see Hardy being open about the lasting effects of bulking up for a role. Hollywood has rewarded actors who physically change their bodies for performances, giving out Best Actor Oscars for roles like Gary Oldman's portly Winston Churchill in "Darkest Hour," or Matthew McConaughey's AIDS patient Ron Woodruff in "Dallas Buyers Club."
Often, conversations about the dangers of radically changing one's body are overlooked. Press tends to also glorify actors' physical commitment without explaining that massive weight changes aren't usually possible for anyone who doesn't have a top-of-the-line personal trainer and nutritionist. Recently, conversations about unrealistic physical expectations for actors have begun to open up, with "Eternals" star Kumail Nanjiani speaking openly about the way his physical transformation for the role of Bollywood star Kingo impacted his self-image.
Hardy is upfront about the downsides. "I think you pay the price with any drastic physical changes," he told The Daily Beast. He also stated the process may be okay for a younger person, but that:
"As you get into your 40s you have to be more mindful of the rapid training, packing on a lot of weight and getting physical, and then not having enough time to keep training because you're busy filming, so your body is swimming in two different directions at the same time."
The actor admits that the expected Hollywood style of rapid training for a role seems to have had a negative impact on his body, making him achier than he once was. He says that it's not as easy as it once was to carry his children, and that "I certainly have joints that click that probably shouldn't click."
Though Hardy hasn't gone through such extreme body transformations for roles since speaking about the drawbacks of the process in 2017, he has since taken on the role of Eddie Brock in the "Venom" series. The actor reportedly trained five times a week for the role, practicing mixed martial arts, boxing, and jiu-jitsu according to Men's Health. Hopefully, he's found a middle ground he's happy with. And with the most recent Best Actor Oscar going to Anthony Hopkins as a guy who simply looks like Anthony Hopkins for "The Father," hopefully Hollywood's unhealthy obsession with making actors put their bodies through hell will finally go by the wayside.
If you are struggling with an eating disorder, or know someone who is, help is available. Visit the National Eating Disorders Association website or contact NEDA's Live Helpline at 1-800-931-2237. You can also receive 24/7 Crisis Support via text (send NEDA to 741-741).