The 16 Best Tom Hardy Movies Ranked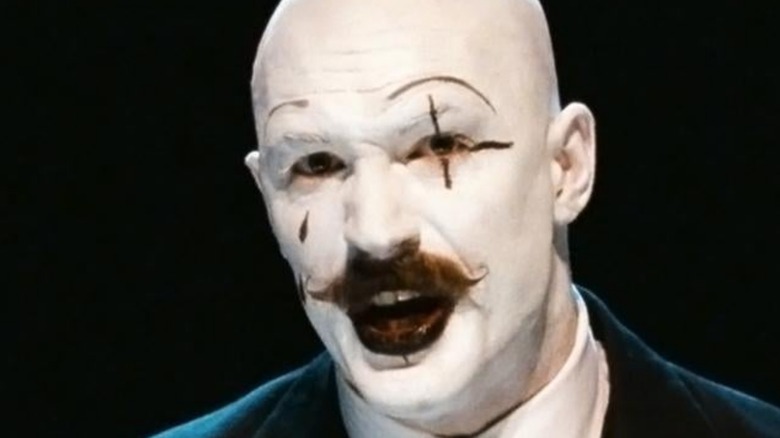 Vertigo Films
Tom Hardy is one of the most popular actors working today, and with good reason: He's also one of the best. Hardy is known for innovation and originality — whether he's masking his face, trying out a new voice, physically transforming his appearance, or navigating between different genres, Hardy takes chances that his contemporaries simply don't.
Hardy first made an impact in two intense war projects: "Band of Brothers" and "Black Hawk Down." Among large ensembles, Hardy's originality stood out, and he became a darling of independent cinema by working with emerging filmmakers and appearing in influential indie gems. As Hardy's star power began to skyrocket, his collaborations with Christopher Nolan bolstered his appeal with broader audiences.
After "The Dark Knight Rises" saw Hardy take on the unthinkable challenge of playing the Batman villain who followed Heath Ledger's Joker, Hardy became the face of franchises of his own. "Mad Max: Fury Road" saw him step into Mel Gibson's shoes. The comic book adaptation "Venom" became a surprise hit thanks to Hardy's wacky performance. He's frequently cited as a fan favorite to play James Bond. 
Like any dynamic performer, Hardy excels in more than one medium. He returned to television to play a memorable character on "Peaky Blinders," and led his own adventure series, "Taboo." He has also appeared frequently on the London stage. Still, he's best known as a movie star, and has appeared in some of the most critically acclaimed films of the 21st century. Here are his best films, ranked.
16. Legend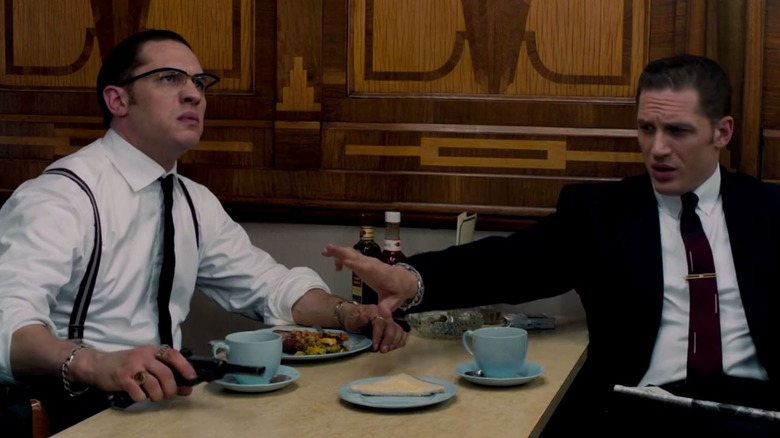 StudioCanal
No, this isn't the 1985 fantasy film starring Tom Cruise, as much as it would have been fun to see Hardy playing in the world of swords and sorcery. "Legend" is a 2015 biographical crime drama that tells the wild true story of the Kray twins, two legendary gangsters who dominated London in the 1960s. Hardy gives one of his most impressive performances ever as both brothers, capturing the fraught dynamic between the slick career criminal Reggie and his eccentric brother, Ronald.
Hardy's dual roles could easily have been a gimmick, but the actor does a fantastic job distinguishing the two very different characters. It's one thing for an actor to play twins, but Hardy actually has to brawl with himself when the two Kray brothers get into a hectic fistfight. "Legend" isn't a subtle film, and Hardy leans into the story's inherent theatricality. Reggie's scenes with his wife, Frances Shea (Emily Browning), are unabashedly romantic, and Ronald's violent outbursts are darkly amusing.
"Legend" also benefits from the precision of writer-director Brian Helgeland. Helgeland clearly knows his way around crime stories; he's written such classics as "L.A. Confidential," "Mystic River," "Man on Fire," and the 2009 remake of "The Taking of Pelham 123." Helgeland captures the ways in which various crime organizations vie for power. He's also not afraid to throw in a little humor. At some points, the Krays' activities get so absurd that you have to just sit back and laugh.
15. Marie Antoinette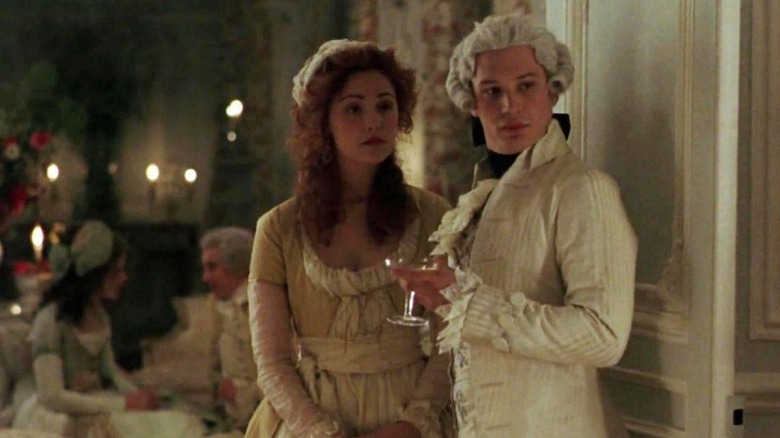 Sony Pictures
"Marie Antoinette" is a masterpiece, and one of the best films of Sofia Coppola's entire career. The off-kilter period piece chronicles the reign of the titular Queen of France (Kirsten Dunst), who is trapped within a loveless marriage with the future king, Louis XVI (Jason Schwartzman), in order to satisfy her family's political ties. If these types of historical stories generally bore you, "Marie Antoinette" may be a welcome alternative. Coppola incorporates modern music into the film, including new wave bands such as New Order, the Strokes, Adam and the Ants, The Cure, and Bow Wow Wow. This could have easily been distracting. However, Coppola uses the untraditional music choices to capture the extreme depravity of the French upper class.
Dunst does a fantastic job at bringing the complex lead character to life. She's utterly detestable in some moments, but Coppola makes it clear that it is the pre-existing political state that is to blame for the common people's suffering. It helps that Coppola stacks the ensemble with a fantastic supporting cast, including Danny Huston, Asia Argento, Steve Coogan, Rip Torn, Rose Byrne, Molly Shannon, and Jamie Dornan.
The powerhouse ensemble makes it even more impressive that Hardy is one of the standouts. He briefly appears as the aristocrat Raumont, and wears an incredible wig. Raumont plays a strange guessing game with the attendees of a royal party and speculates about the Queen's love life, adding a touch of humor to what is already an eccentric and unconventional story.
14. Star Trek: Nemesis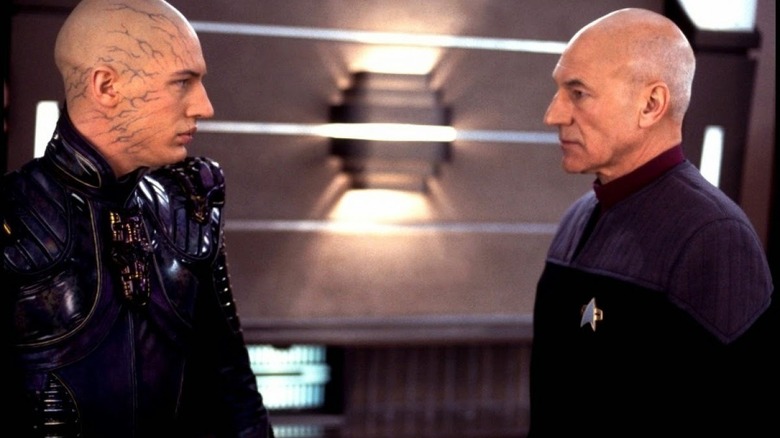 Paramount Pictures
2002's "Star Trek: Nemesis" is among the worst "Star Trek" films, but that doesn't mean that Hardy isn't incredible in it. Unfortunately, the cast of "Star Trek: The Next Generation" never got the film franchise that they deserved. 1994's "Star Trek: Generations" hit theaters shortly after the series had wrapped on television, and as a result, all four films felt like overstuffed television movies. The franchise hit a low point in 1998 with "Star Trek: Insurrection," a convoluted mystery with an outdated Fountain of Youth metaphor.
While "Insurrection" was simply dull, "Nemesis" is completely bonkers. The film follows the "Next Generation" crew as they deal with the impending threat of the Reman rebel leader Shinzon (Hardy), a younger clone of Captain Jean-Luc Picard (Patrick Stewart). This confrontation forces Picard to look back at his past in a new light, and Shinzon makes the crew uncomfortable. How are they supposed to respond to a villain that looks exactly like the man that they've admired for so many years?
Stewart is naturally a very mannered actor, and Hardy brings a delightfully twisted elegance to Shinzon. Shinzon taunts Picard, and leans into the eccentric nature of the character. "Star Trek: Nemesis" lacks the intelligence and patience of the best of Star Trek, though, and Hardy is easily the most interesting part of the film. Hardy has given great performances in genuine masterpieces, but with "Star Trek: Nemesis," he proved that he could redeem a film (partly, anyway) that would have been unwatchable without his presence.
13. Venom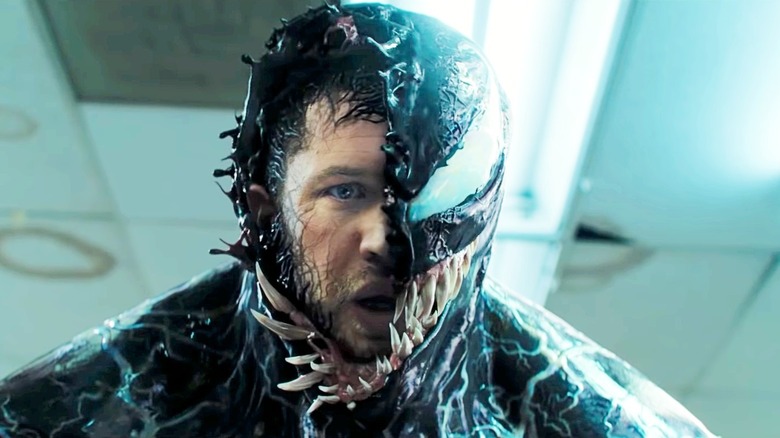 Sony Pictures
Hardy's turn as Eddie Brock is nowhere close to his best performance, but it is one of his most impressive. The film simply would not have worked without him. "Venom" tells a very familiar anti-hero origin story, and it is hard not to compare it to countless other comic book films that have done it better. However, Hardy's offbeat comedic take on the character somehow makes the film enjoyable regardless.
Hardy was facing an upward battle when he was cast as Eddie Brock. Previously, Topher Grace had played the same character in "Spider-Man 3," and the film was a complete disaster. While Grace made Brock into an unlikeable snob, Hardy emphasized his dedication to journalism. Hardy's Brock isn't afraid to get his hands dirty if he suspects that a greedy corporation is committing villainous acts. Making a "Venom" film without Peter Parker should have been impossible, but Hardy transformed Brock into a compelling lead character for a new franchise.
The best part of "Venom" is easily the relationship between Brock and the symbiote. Hardy turns their relationship into an odd buddy cop adventure. The 2021 sequel, "Venom: Let There Be Carnage," leans into the comedy even more, essentially becoming a love story between Eddie and the symbiote. There are enough dark, serious superhero movies out there. It's nice to see a film that doesn't take itself too seriously.
12. Lawless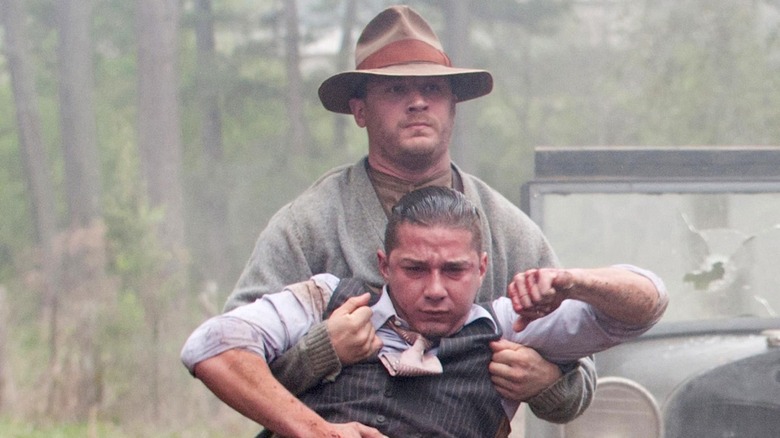 Annapurna Pictures
"Lawless" is one of the most underrated crime films of the past decade. This prohibition-era thriller follows the exploits of three brothers who operate a bootlegging business in '20s Virginia. The domineering Howard (Jason Clarke) and naïve Jack (Shia Labeouf) are counterbalanced by the middle child, Forrest Bondurant (Hardy), who frequently puts himself in harm's way to protect his family. Not long after their actions catch the attention of savage Special Deputy Charley Rakes (Guy Pearce), Forrest proves his loyalty at great personal cost: He's brutally tortured and his throat is cut, leaving his voice raspy for the rest of the film.
Forrest is a good bridge between his brothers, and Hardy makes him empathetic through his concern for his siblings. Forrest also romances the local dancer Maggie (Jessica Chastain) and shows her kindness, bringing out Hardy's romantic side. However, Forrest is still a menace to anyone who threatens the family business. There are lots of gunfights in "Lawless," and Hardy dominates most of them; seeing him wield old-fashioned revolvers is just plain cool.
"Lawless" pays close attention to recreating the period in which it's set, and Hardy makes his Southern accent and mannerisms feel authentic. Fans of Hardy who enjoyed his memorable run on the period crime drama "Peaky Blinders" may also enjoy "Lawless."
11. Bronson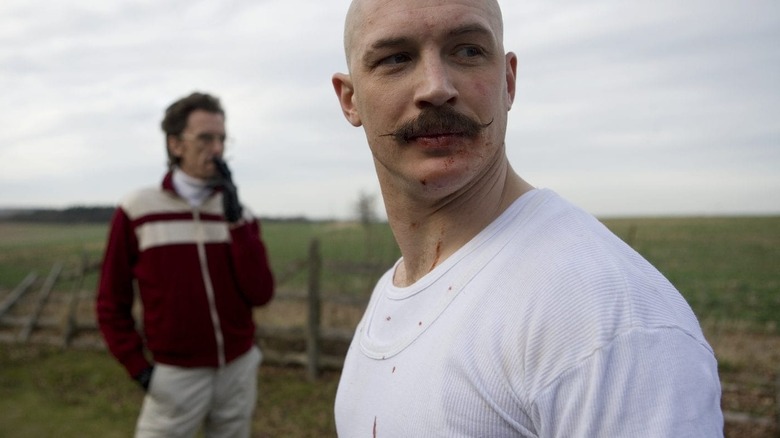 Vertigo Films
Although Hardy had an impressive filmography before "Bronson," Nicholas Winding Refn's unusual biopic was his breakout leading performance. In the titular role of Charles Bronson, the infamous English thug who was put in solitary confinement for decades, Hardy showed his signature ability to transform into strange yet fully-realized characters.
Bronson's upbringing was largely traditional, but his life became anything but. Incarcerated for the first time at a young age, Bronson developed a reputation for brutality by fighting bare-knuckled with cellmates. Few dared to cross him, and those who did were generally brutalized by Bronson's savagery. Due to his unstable nature and the threat he posed to other prisoners, Bronson was kept in solitary confinement, going insane as he was left to his own devices.
As Bronson's mental instability grows, he develops different personalities. Hardy plays each persona differently, giving each one distinct and memorable quirks. "Bronson" is both surreal in its humor and horrific in its brutality, and Hardy turns in a daring performance. He's strange, funny, tragic, and destructive all at once; Bronson is one of the most complicated roles of Hardy's career, and it's little wonder that he rose to prominence shortly after audiences saw what he was capable of.
10. Layer Cake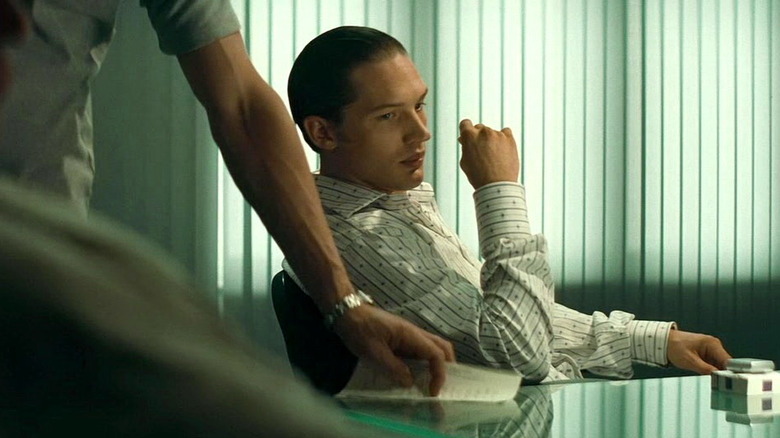 Columbia Pictures
"Layer Cake" is best known as the launching point for both writer-director Matthew Vaughn and its star Daniel Craig. With "Layer Cake," Vaughn announced himself as a filmmaker with a distinct, frenetic style. Following his first major leading role, Craig landed the role of James Bond. However, many others contributed to making "Layer Cake" an instant classic, and including Hardy, who delivers a memorable performance as the drug dealer Clarkie.
"Layer Cake" revolves around the exploits of career criminal XXXX (Craig), whose planned retirement from the smuggling business is cut short when he's caught in a conspiracy involving a mob boss' daughter and several missing shipments. Like XXXX, Clarkie also wishes to exit the violent world. In Clarkie's case, though, his failure to do so is played for dark comedy.
Even though his screen time is relatively brief, Hardy is captivating, helping to find the unique blend between action and humor that defines Vaughn's style. Hardy keeps up with both the frantic gunfights and the sharp dialogue, remaining charismatic throughout. Craig is a magnetic performer, but Hardy never seems overshadowed, and their interplay adds further tension to the already-hectic world of "Layer Cake."
9. Black Hawk Down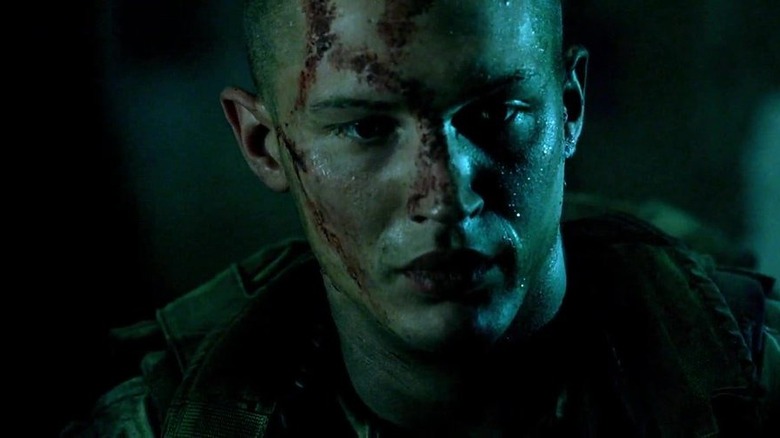 Sony Pictures
"Black Hawk Down" helped launch the careers of many young actors, as the Somalian war epic boasted a massive ensemble made up of both established and up-and-coming performers. Hardy made his cinematic debut in the film as Lance Twombly, a soldier who sees combat for the first time when he and his partner Nelson (Ewen Bremmer) are caught behind enemy lines.
There are many acts of heroism in "Black Hawk Down," and one of the reasons why the film is so immersive is because every storyline is engaging. The exploits of Lance and Nelson are particularly exciting, as they're cut off from the rest of the men and forced to rely on each other to survive. Hardy and Bremmer have terrific chemistry, and their brotherhood feels very realistic.
There is also some light comedic banter between the two, as Nelson is deafened by a gunshot early on, and Lance is forced to shout at him for the rest of the film. In so doing, Hardy shows that he could add humor without sacrificing the gravity of the subject material. Giving personal touches like this to every one of the soldiers is an example of why "Black Hawk Down" is better than other, similar movies; we get to know these characters as people, and that makes us care.
8. Tinker Tailor Soldier Spy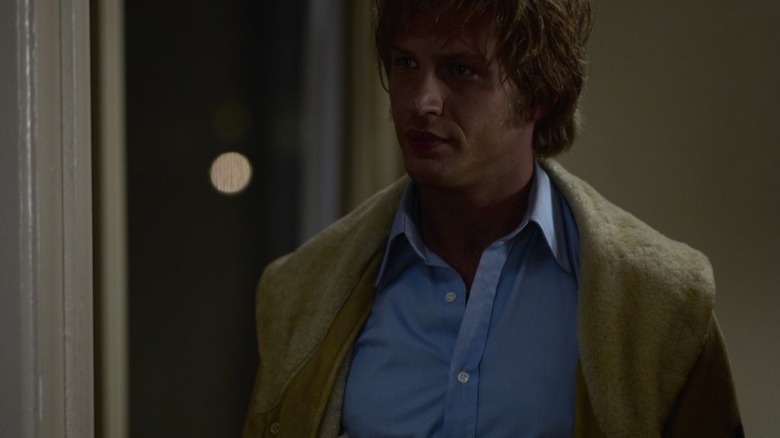 Focus Features
Although the work of spy novelist John le Carre has inspired many films, 2011's "Tinker Tailor Soldier Spy" is among the best. The intricate Cold War story has a stacked cast, with Gary Oldman playing master intelligence officer George Smiley, who is called out of retirement in order to uncover a turncoat. Among Smiley's allies in investigating the case is the lethal assassin Ricki Tarr (Hardy), who is framed for an intelligence breach.
The story is loaded with characters, but Tarr stands out. Hardy disappears into the role of a field agent who is so consumed by work that he doesn't understand what a normal life looks like. In "Tinker Tailor Soldier Spy," Oldman delivers one of his greatest performances ever, but Hardy manages to keep up with him whenever the two share the screen.
Hardy also gives Tarr a sympathetic side, as he chooses to help an abused woman even when the mission doesn't call for it, giving some heart to a character who's defined largely by violence.
7. Warrior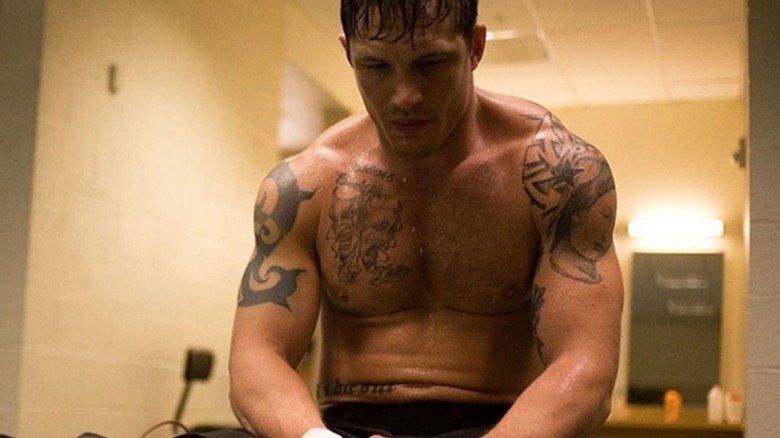 Lionsgate
Although framed as an inspiring sports story, "Warrior" is anything but traditional. It's an emotionally devastating examination of a family that's forced to reckon with their past sins, and that can only reconnect through combat. Writer-director Gavin O'Connor created a beautiful, honest film about estrangement and coping with buried emotions, and his story required performers who could sell intimate drama while undergoing intense physical challenges. The entire ensemble rises to the occasion, but Hardy is a standout.
Brothers Tommy (Hardy) and Brendan Conlon (Joel Edgerton) haven't seen each other since childhood, as the abuse of their alcoholic father, Paddy (Nick Nolte), made them both leave home at an early age. In the years since, both brothers pursued mixed martial arts in their spare time, becoming strong athletes. Brendan works a day job as a teacher and only reluctantly enters a tournament, where he realizes his brother is also a participant. Following an act of wartime heroism, Tommy suffers from intense PTSD, and has taken up professional fighting again under the tutelage of his father, who unexpectedly reentered his life aiming to make amends.
The film builds to the final match, in which the brothers face each other. Seeing both Tommy and Brendan succeed individually is captivating, and once they're matched against each other it's hard to pick a side. Both characters need the win for different reasons. Hardy and Edgerton are equally sympathetic, and "Warrior" delivers a tear-jerking conclusion to their confrontation.
6. Locke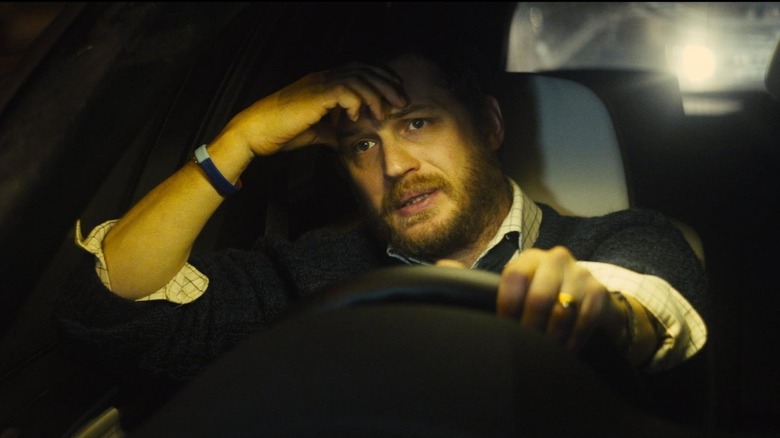 A24
It's hard to claim that any one film is Hardy's most challenging to date. He frequently takes on roles that many actors would be afraid to tackle. He's known for physically transforming his body, wearing extensive makeup, and using odd voices, but for "Locke," Hardy didn't have to change his appearance at all. Instead, he was cast as an average working man stuck in a driver's seat for the film's entire runtime. And yet, somehow, "Locke" features Hardy's most vulnerable performance so far.
Ivan Locke is a construction supervisor driving home after a grueling day of work. He receives calls from his wife (Oliva Colman) and son (Tom Holland), begging him to come home. Eventually, Locke admits that he's not coming back anytime soon. Instead, he's going to witness the birth of his child by another woman, revealing his infidelity to his family under the worst circumstances imaginable. Locke receives more calls throughout his stressful trek, pushing him to the breaking point as he contemplates what his life will look like when he stops driving.
It's a dialogue-heavy performance that requires Hardy to keep the audience's attention as the only face onscreen, and he's so successful that "Locke" never lets up on the suspense. A film that uses such a novel storytelling structure needs a leading man who's flexible and innovative. Once again, Hardy was the perfect man for the job.
5. The Dark Knight Rises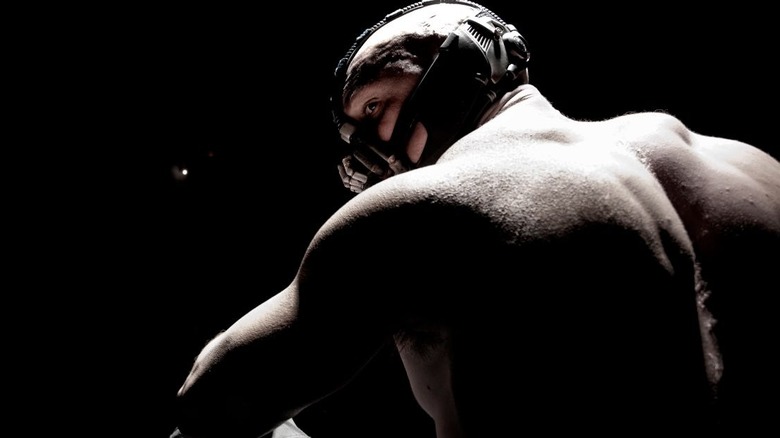 Warner Brothers
Hardy took on an unthinkable challenge when he was cast as Bane in "The Dark Knight Rises." Not only was he joining a beloved series for its final installment, but he was the first major Batman villain after Heath Ledger's Joker, a character that is frequently called one of the greatest cinematic villains of all time. Hardy successfully lived up to those near-impossible expectations with a terrifying performance that helped "The Dark Knight Rises" end Nolan's Batman trilogy on a high note.
Bane commands the League of Shadows after the death of Ra's Al Ghul (Liam Neeson), and is tasked with completing their takeover of Gotham City. Bane relishes the chance to face off against Bruce Wayne (Christian Bale), and puts together a complex scheme to pit Gotham's inhabitants against each other, isolating the city in the process. He lures Batman into a trap and breaks his back, then ships him across the sea to the underground prison where Bane was raised. With Gotham's chief protector immobilized, Bane's reign begins, as he detonates a football stadium and frees the city's convicted criminals.
Bane is both a physical and psychological threat to Batman. While his brutal torture shows Hardy's overwhelming physical dominance, it's Bane's decision to let Wayne linger in suffering instead of killing him outright that makes him so cruel. Bale's Batman's needed a menacing villain for his final adventure, and Hardy more than delivered.
4. Dunkirk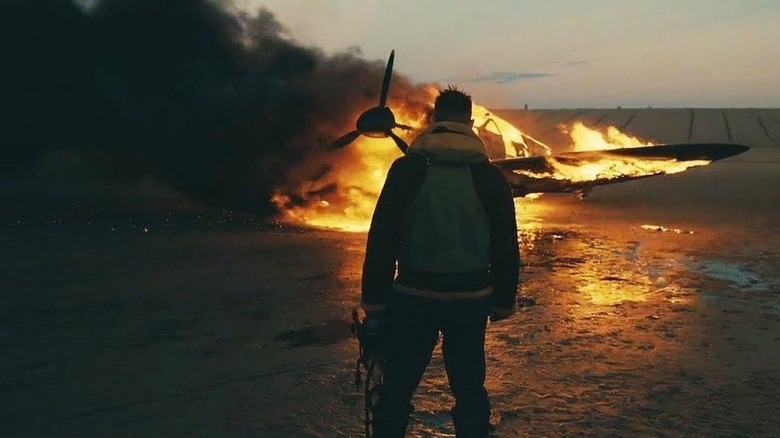 Warner Brothers
Hardy returned to the genre that began his career with another emotional performance as a soldier facing a highly dangerous scenario. This time, however, instead of playing a novice placed in the heat of combat, Hardy took the part of an experienced soldier who had already seen his fair share of action. "Dunkirk" features a stacked cast full of great British actors, but Hardy is isolated from them. He has the unique challenge of carrying one of the three storylines in "Dunkirk" entirely on his shoulders.
In the final hour of the British evacuation of France, dogfights ensue in the skies above Dunkirk. A spitfire pilot named Farrier (Hardy) is tasked with leading the charge to protect the ships coming through the English Channel. Farrier's men are outnumbered, and, in a mostly non-vocal performance, Hardy serves as a commanding presence as he develops a strategy for survival. His lines are sparse, but Hardy is able to make Farrier an engaging character through body language and expressions. He's become desensitized to violence, and contemplates a mission he suspects is doomed.
"Dunkirk" plays with the idea that survival is the ultimate victory in war, a theme that Farrier embodies as his plane's fuel runs out, forcing him to land in enemy territory. "Dunkirk" is such a novelty among World War II movies because it's so meditative, lacking grandiose emotional moments. Hardy is integral to making that conceit work.
3. Inception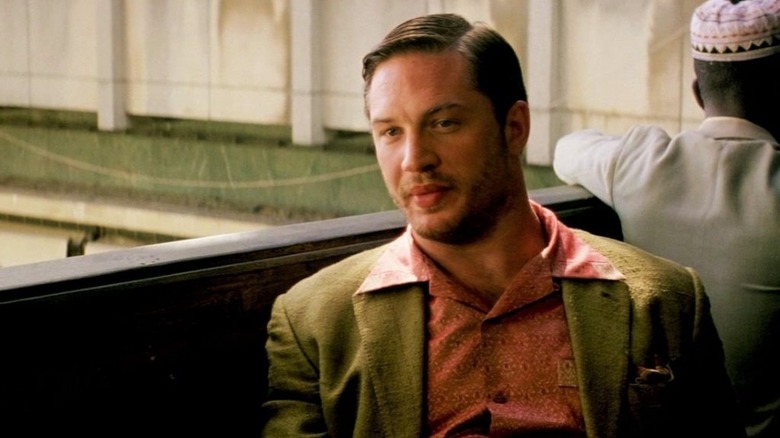 Warner Brothers
Hardy's first collaboration with Christopher Nolan established a long and fruitful partnership. After all, Nolan's storylines can be complex, particularly those with high concepts like "Inception," and memorable characters are one of the ways the director keeps audiences interested in stories that demand lots of attention. "Inception" has a compelling emotional through line at its center, as Leonardo DiCaprio's dream thief, Dominic Cobb, aims to pull off an impossible heist in order to return to his children. However, the dose of humor that Hardy adds saves the film from becoming melodramatic.
Cobb recruits Hardy's character, Eames, an impersonator who helps the team craft new identities as they enter different levels of the dream. Eames is instrumental in helping the team deceive their target, Fischer (Cillian Murphy), whose decision to break up his father's conglomerate will determine the success of the heist. However, Eames comes as a late addition to the team, and is skeptical that Cobb is ready to perform the complex procedure known as "inception." He frequently spars with Cobb's established crew, and enjoys teasing Arthur (Joseph Gordon-Levitt) in particular.
Hardy helps lighten the mood, and the banter he shares with Gordon-Levitt is frequently hilarious, even amidst the frantic action. Hardy is also very charismatic, playing Eames as a classic gentleman in the vein of Cary Grant or Steve McQueen; it's easy to see why he's been floated as a potential 007. He's essential in fleshing out the world of "Inception," and goes a long way towards making it more enjoyable.
2. The Revenant
20th Century Pictures
Although frequently cited as one of the best actors of his generation, Hardy hadn't been nominated for an Academy Award until he received a best supporting actor nod for "The Revenant." Alejandro Gonazles Inarritu's laboriously crafted masterpiece may be best recognized for its lead performance by Leonardo DiCaprio, who finally won an Oscar for pushing his body's limits. However, a story this epic requires a truly memorable villain, and Tom Hardy provides one of the most truly despicable characters in recent film history.
Hugh Glass (DiCaprio) is a member of a group of trappers that travels across the winter forests of the Dakotas in the 1820s. After a vicious bear attack brutalizes him, Glass' men mark him for death and decide to leave him behind. Glass builds back his strength after he sees the coward John Fitzgerald (Hardy) murder his son, and embarks on a grueling journey across the wilderness to get revenge. Fitzgerald masks his villainous deeds by claiming that both father and son died naturally.
Hardy is terrific playing an unlikeable man whose cruelty drives DiCaprio's quest. He's abhorrently savage, and while Glass claims that he's nothing but a coward, Fitzgerald is no easy opponent to defeat. The bone-smashing finale that pits the two mortal enemies against each other allows both DiCaprio and Hardy to engage in a remorseless battle where chivalry is left behind. Hardy should have many more Oscar nominations by now, but his first was for a very deserving performance.
1. Mad Max: Fury Road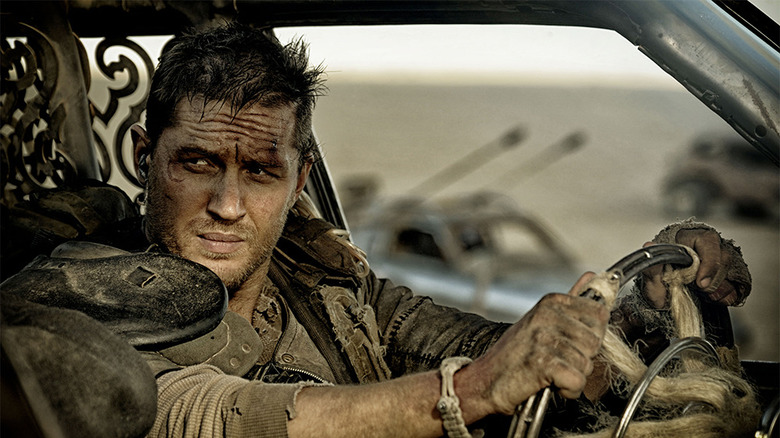 Warner Brothers
Although it's now considered one of the greatest action movies ever made, "Mad Max: Fury Road" was no guaranteed success. It had been three decades since the debut of previous film in the series, "Mad Max Beyond Thunderdome." It had languished in development hell for years, and the production was rife with troubles. Fans weren't sure about seeing a new actor step into the shoes of Max Rockatansky, and some feared that the aging Miller could no longer create a satisfying sequel after spending a decade making "Happy Feet" films.
Hardy and Miller proved the doubters wrong. "Mad Max: Fury Road" is a game-changing masterpiece that's responsible for some of the most innovative action sequences ever made, combining practical effects, real stunts, and idiosyncratic character designs into a distinctive, original work. The post-apocalyptic hellscape was brought to life in vivid detail, and Hardy's reluctant anti-hero is at the epicenter of the chaos.
While much of the acclaim focuses on Charlize Theron's performance as the feminist icon Imperator Furiosa, Hardy is equally as important to the success of "Fury Road." Max is a product of his environment, and he's grown bitter and selfish as a result of the cruel world. After being passed along by the minions of Immortan Joe (Hugh Keays-Byrne), Max chooses heroism and aids Furiosa in her journey to save the victims of Joe's cruelty. Hardy's blunt, physically draining performance makes this one a classic.