'Legend' Trailer: Tom Hardy And Tom Hardy Lead '60s Gangster Tale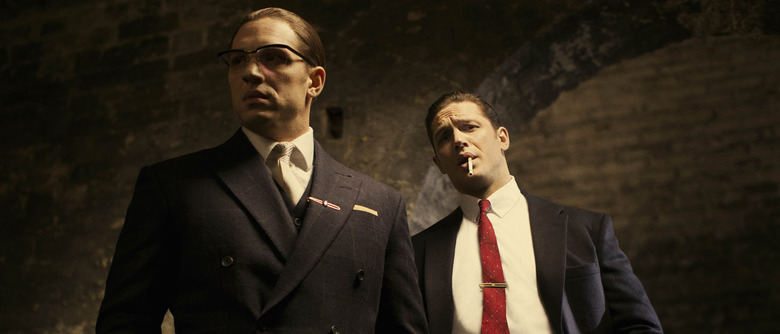 Tom Hardy is all over the place this year. There's so much of him to go around, in fact, that we're actually getting two of him in one movie. Legend stars Hardy and Hardy again as Reginald and Ronald Kray, real-life twin gangsters who ruled London in the 1960s.
It's the latest film from writer-director Brian Helgeland, who won an Oscar in 1998 for exploring similarly dark, stylish territory with the script for L.A. Confidential. Watch the first Legend trailer after he jump. 
Studiocanal UK unveiled the new Legend trailer. No surprise, Hardy looks just as good playing against himself as he does playing against other actors.
The first Legend trailer is more interested in setting a mood than telling a story. First we get a sense of 1960s cool, through sharply dressed characters, impeccably decorated interiors, and glittering city streets. But that calm gives way to bigger and bolder violence, making it clear some pretty messed up stuff is about to happen. And all of it is set to Roy Orbison's early '60s tune "Running Scared."
Legend opens September 11 in the U.K. Universal Pictures is releasing Legend in the U.S. but hasn't yet set a release date.
Also starring are Emily Browning, Christopher Eccleston, David Thewlis, Chazz Palminteri, and Taron Egerton (who is also everywhere this year).
From Academy Award® winner Brian Helgeland (L.A. Confidential, Mystic River) and Working Title (The Theory of Everything) comes the true story of the rise and fall of London's most notorious gangsters, Reggie and Ron Kray, both portrayed by Tom Hardy in an amazing double performance.
Together, the Kray brothers take over the city. But as their reign expands, power-struggles, fierce madness, and a woman weakens their bond – the weak link that could cause their empire to collapse. LEGEND takes us into the secret history of the 1960s and the extraordinary events that secured the infamy of the Kray twins.