Lawsuits And Late Night Take Over The Latest Pam & Tommy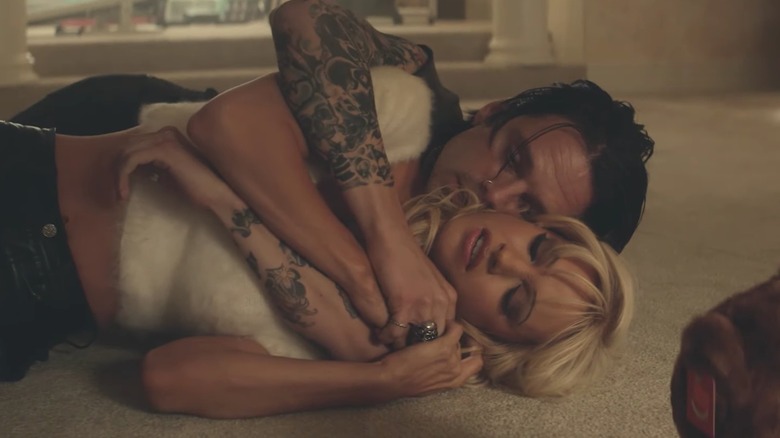 Hulu
After last week's super-personal episode of "Pam & Tommy," this week's pulls back to take a more informational look at the sex tape scandal. Seth Rogen's Rand Gauthier is gone entirely for the time being, while new characters — including Penthouse head honcho Bob Guccione — are introduced. This episode reminds me less of "Pam & Tommy" as we've come to know it and more of a headline-hopping episode of "American Crime Story," so I wasn't surprised to learn that episode director Gwyneth Horder-Payton also helmed a few hours of that series, too.
At only 33 minutes long including credits, this is the shortest episode of "Pam & Tommy" to date, but it gets a lot done in its swift run-time. The chapter has a two-pronged purpose. It tells us how the tape goes from an underground enterprise to a national punchline, and it shows an emotional gulf open up between Pam and Tommy as they have wildly different reactions to this new level of infamy.
The punchline pipeline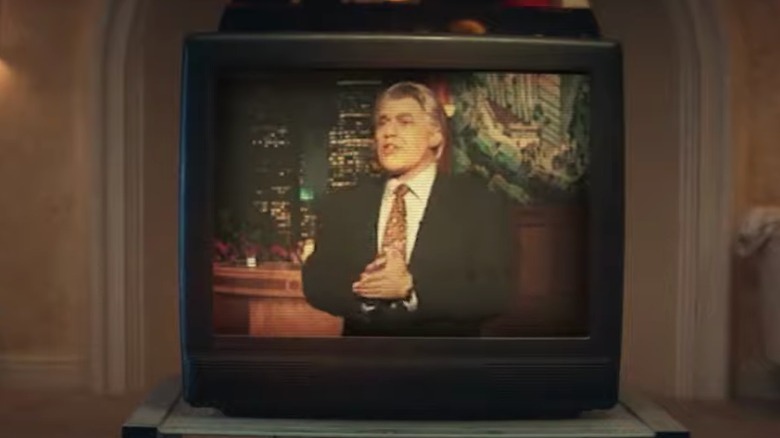 Hulu
"I get your reluctance given the admittedly tawdry nature of it all," an LA Times reporter tells her editor in this episode, and she may as well be talking to everyone watching. The opening seconds of this episode made me squirm as I realized I recognized the audio of the Pam and Tommy honeymoon tape immediately despite never having seen it. Once again, I'm bothered by the show's preoccupation with showing tidbits from their recreation of the tape. They're surely meant to underscore how unavoidable it was at the time, but it still feels too close to teasing promotion for the real unauthorized tape.
This episode is called "Uncle Jim and Aunt Susie in Duluth," after the clever framing device it uses to measure said sex tape's ubiquity. In the opening scene, Jay Leno's writer's room watches a clip from a bootleg, but decides they can't pitch it to the late night host because it doesn't have enough mass appeal. If Uncle Jim and Aunt Susie in Duluth don't know about it, one writer quips in a bad Leno impersonation, then it's not popular enough.
This is an interesting metric, one that I assume is practical on a legal level as well as a comedic one. If Leno (here played with uncanny accuracy by Adam Ray) makes a joke before the story's been written about, he would be breaking the news — but if he waits until it's made print, he's merely commenting on it. This is exactly what happens at the end of the episode, when Pam and Tommy sit in bed and witness the first of what would be many lazy "The Tonight Show" punchlines about the scandal. In the half-hour in between, the tape travels through official channels for the first time, with journalists and lawyers trying to figure out what precedent they have for handling something like this.
Fact Check: Did Penthouse really push the tape into the mainstream?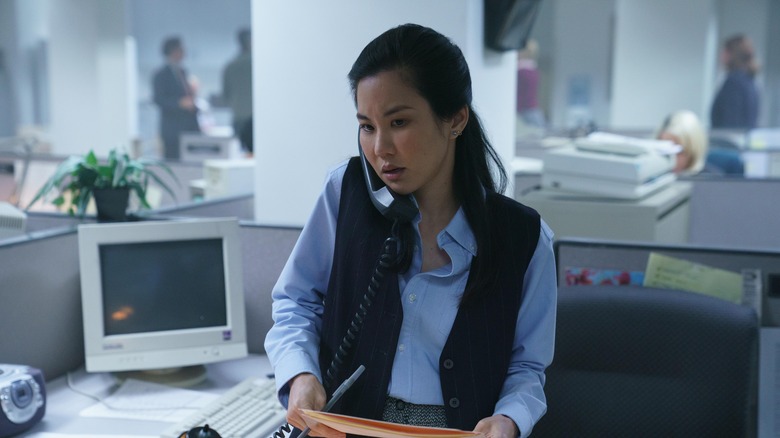 Hulu
Before this episode, the honeymoon tape was already popular, but now we see it become a capital-s Story. The shift occurs when Penthouse publisher Bob Guccione (Maxwell Caulfield) gets his grubby hands on a copy of the tape. Pamela and Tommy catch wind of this and worry that he'll publish pictures from it or otherwise make money off Pam's image — which is extra problematic for her as the face of Playboy, Penthouse's competitor. Tommy talks Pam into meeting with lawyers, finally breaking through her overly-optimistic sweep-it-under-the-rug strategy.
We see Pam in a room, the only woman at the end of a long table packed with men in suits. They encourage her to sue Guccione for invasion of privacy and put an injunction on the tape, but she explains that a lawsuit seems poised to backfire. If Guccione doesn't actually plan to publish, the suit may aggravate him into going for it anyway. "And it kills off any chance of the whole thing staying underground and just kind of fizzling out," she adds. Despite the lawyers' condescending stares, she's right. They do sue, and an incensed Guccione immediately starts spewing nonsense about his God-given right to free speech.
The episode accurately portrays the lawsuit as the final push journalists needed to start covering the tape. This seems to be true; brief news articles about the suit can be easily found online, including this short notice from the Buffalo News. While it's easy to unearth pop culture "commentary" sites grossly skewering the situation–like this somewhat snarky timeline from Entertainment Weekly, the suit notice from April 1, 1996, is a straightforward bit of journalism. It's clear that the couple still didn't know how far the tape had traveled yet at that point, as the Buffalo News piece says the couple is seeking "the original tape."
A house divided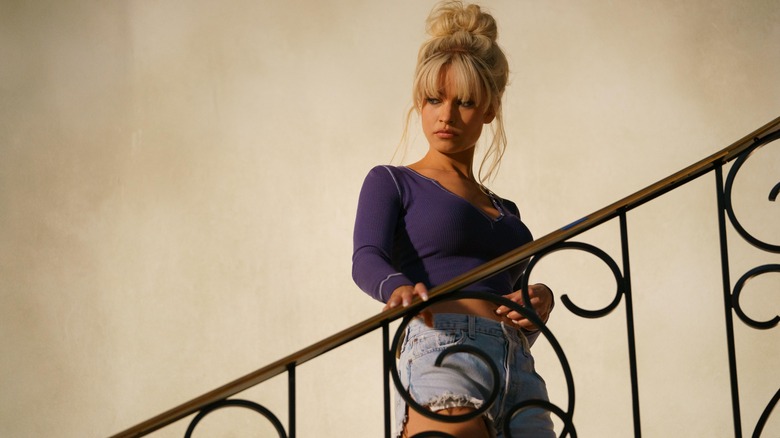 Hulu
As the tape goes mainstream, the Lees' personal life seems to be unraveling quickly. At the beginning of the episode, Pam does an interview for "Barb Wire," an action movie that's supposed to be her big break. By episode's end, her agent is calling about a Glamour feature that has presumably been canceled. Even before Pam's worst fears about the tape's influence on her career come to fruition, she and Tommy are deeply divided on the seriousness of the matter. In a tense bedtime argument, Pam accuses Tommy of liking the attention the tape is bringing him, to the point that he's blinded about what it's doing to her.
The series is careful not to show Tommy lean into the infamy, but Pam's conclusion is a perfectly valid one. His star is clearly falling as hers rises. While she's attending press events, he's scoffing about Alanis Morissette videos and frowning when a bartender says she loves Sleater-Kinney. He gets in a fight with some strangers who call the tape the best thing he's done in years, and he seems more bothered by the insinuation that he's untalented than by the inherent objectification of these statements. He also starts a beef with Third Eye Blind that's as hilarious as it is inexplicable.
This episode may be the closest Tommy ever gets to caricature, but Sebastian Stan's nimble performance keeps his arc from veering into heavy-handed territory. As Tommy mopes around, Pamela practices positive visualization and tells reporters there's no use dwelling on the bad stuff. The two clearly have wildly different attitudes and priorities. It turns out loving French fries isn't a good foundation for a marriage. We do see a little love from them early on, in a sweet, quiet scene where he admits to being sad about their miscarriage.
By episode's end, though, they're a house divided. Pam gets a deposition notice for the lawsuit, while Tommy doesn't. She's nervous, questioning, but he shrugs it off like he does with everything related to the tape. "It doesn't matter, we're in this together," he says, and somehow Pam's response — a microscopic scoff as she blinks hard against her blonde bangs — is all we need to see to know where they stand.