The New Episode Of Pam & Tommy Gets Up Close And Personal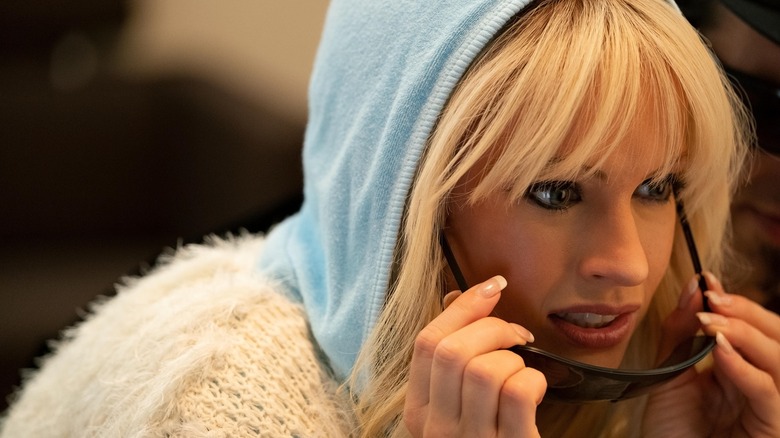 Hulu
Episode four of "Pam & Tommy," titled "The Master Beta," finally starts to dig at the sense of pain and invasiveness that rocked this couple's world in 1996. The internet has been afire this past week with conversations about whether or not "Pam & Tommy" should even exist — Anderson, after all, did not respond to the cast and crew's attempts to reach out to her (per Entertainment Weekly). The series will now always exist in the awkward position of being a half-authorized look at the fallout of an unauthorized tape.
Still, this episode is the best proof yet that "Pam & Tommy" has all the right intentions, even if it can't overcome the basic moral hurdle of its existence. Gone are the slo-mo love scenes and talking penises. Instead, the episode makes us feel the fresh sting of humiliation that Pamela (Lily James) felt when she learned about the tape, and the deep repercussions it had on her and Tommy's (Sebastian Stan) wellbeing. It also takes us further down the rabbit hole of Rand (Seth Rogen) and Miltie's (Nick Offerman) shady business venture. Director Lake Bell takes over for Craig Gillespie, and the result is the show's most grounded hour yet.
Making Babies and Enemies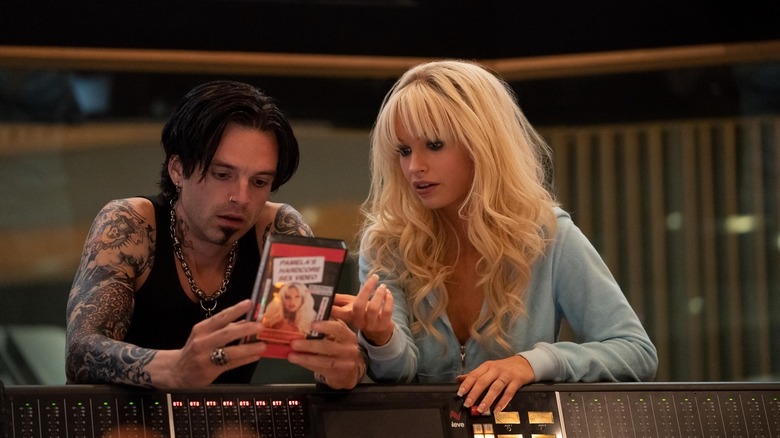 Hulu
When Pam and Tommy find out they're pregnant, the Mötley Crüe drummer reacts with his typical rockstar ridiculousness. "Guess what, f***ers?! I'm gonna be a dad — on purpose!" he yells as he bursts into the recording studio with an ultrasound photo. The show doesn't let Tommy off the hook for his bad behavior, but it embraces the side of him Pamela fell for, too. It's clear that dad-to-be Tommy Lee is one of the most endearing versions of Tommy Lee. He shouts "woo!" at Pamela's stomach and compares the heartbeat to a drum beat. Later, he giddily practices making Mickey Mouse waffles.
The joy doesn't last long, though. When Tommy goes to put the baby picture in his safe, he finally realizes the safe is gone. By now, it's been months since Rand stole it. Pam and Tommy speak with the police and only realize halfway through listing its contents ("a wedding bikini" Tommy says to baffled officers) that their honeymoon tape was among them. Pam is instantly anxious, but Tommy assures her that no one will care about a random hi8 tape among the jewelry and guns.
Still, the cops don't seem especially helpful, so the couple meets with a P.I. to help get the tape back. When asked if she has any enemies, Pamela says she has none. Tommy, on the other hand, rattles off a hilariously long list of names including Bret Michaels, Axl Rose, Gene Simmons, Mickey Rourke, and even John Stamos. This is the first major crack we see in the couple's relationship. Pamela seems to be a people-pleaser, while Tommy is, well, whatever the opposite of that is. The crack widens when he fesses up about the gnarly, threatening way he treated Rand.
Business is Booming--For Now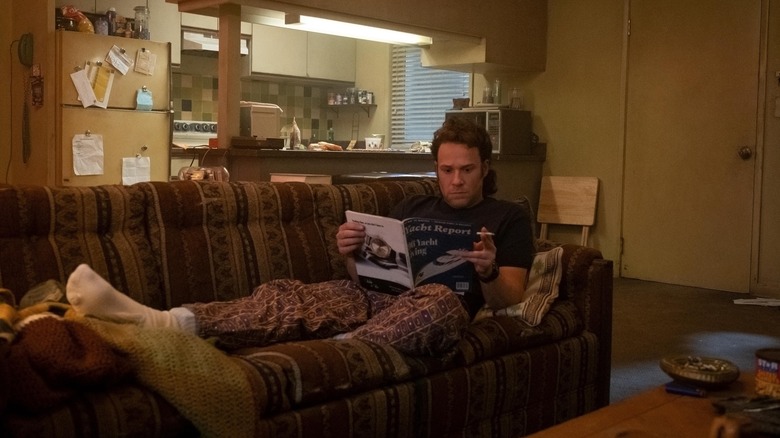 Hulu
Rand, meanwhile, is taking to the porn distribution business like a fish to water. He and Miltie put in a lot of legwork, setting up accounts in Amsterdam, making duplicate tapes to ship to customers, and handling everything via checks, landlines, and rudimentary internet. When Rand meets Seth Warshavsky (Fred Hechinger), a young businessman running camgirl sites from Seattle, he laments the amount of time it takes to even load a page online. Rand promises he's "harnessing the power of the web in a way that's never been done before," and carries that cockiness into a conversation with Erica where he pays her $400 he owed her from years before.
James and Stan deserve the praise they're getting for these gutsy performances, but Rogen's work here is so subtle and great. We know exactly the kind of guy Rand is, according to this show. If you give him an inch, he takes a mile. If Erica talks to him about Ann Rice books for thirty seconds, he thinks it's some sign he's on the right path and wants to work even harder so he can impress her and win her back. He doesn't care about women in any specific sense; he doesn't seem to think even once about how the tape may impact Pamela. He just cares about this one woman, because he worries she sees him as a loser and he refuses to be seen as such. So much of this comes from Rogen's expressions alone.
Fact Check: Did Tommy Send A Biker Gang After Rand?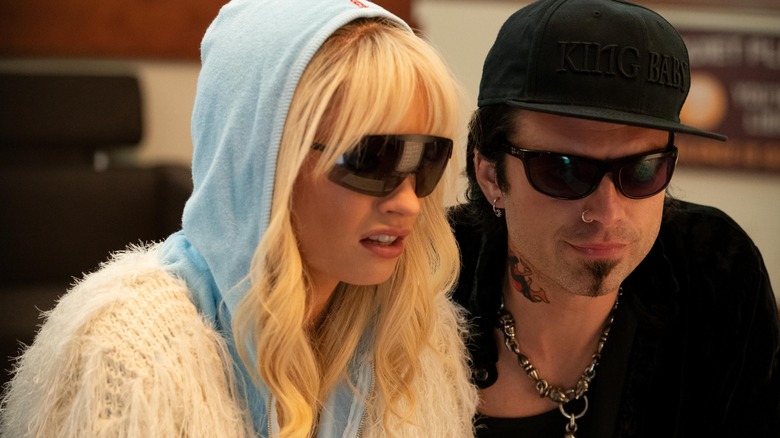 Hulu
His tentative confidence doesn't last long. The P.I. soon susses out what Rand is up to. He meets him at his apartment, where he punches him in the face the second Rand opens the door. Later, Tommy sets a biker gang on him. They come to the porn studio, where they mistakenly shake down the wrong guy. Rand slides out of their grip unscathed but seems to run into them all over town. He also runs into bootleggers, already selling his tape for cheaper than he is, and seems more annoyed by this than by the guys trying to break his kneecaps. Meanwhile, Miltie skips town under the guise of checking on the accounts in Amsterdam.
According to the Rolling Stone article that formed the basis for the series, Lee allegedly really did sic people on Gauthier and his associates. The private investigator character is based on a guy named Anthony Pellicano, who reportedly shoved Gauthier's coworker, interior designer Guerin Swing, onto the ground after hearing he might have the tape. Pellicano later went to prison for unrelated charges.
The Rolling Stone article also describes the scene at the porn studio, where an employee named Steve said he was confronted by a motorcycle gang after he started selling bootlegs of the tape. He says the bikers threatened to "blow somebody's balls off" if the tape wasn't returned, and that they came by as often as twice a day looking for Gauthier. Gauthier himself told the outlet a slightly different story, saying they were a Mexican gang called The Bandidos. Regardless, the message is clear: someone in Lee's corner was willing to go to great lengths to get the tape back.
Horror On The 'Baywatch' Set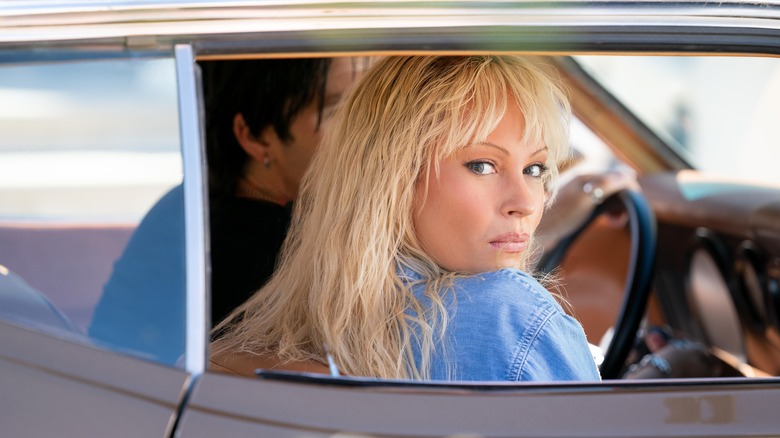 Hulu
Unfortunately, by the time Pam and Tommy found out the tape was stolen, this just wasn't possible. In one of the series' best scenes, Pamela is on the set of "Baywatch" when she hears a familiar sound. It seems like a greeting, and she looks around reflexively. Soon though, she places the familiar audio. The scene is shot like a horror movie, as if the sound of the sex tape is lurking right over her shoulder, waiting to snatch her away. When she realizes where it's coming from, she steps into a trailer and finds a nightmare. A half-dozen or more male crew members stand huddled around a small TV, passing the time by watching the most private moments from her honeymoon.
It's terribly ironic that the honeymoon tape is what puts an end to Pam and Tommy's honeymoon phase once and for all. But the two have an intense love for one another, and that love still pulses even when they're fractured by the scandal. The pair go to the Malibu Library to view the tape's website, since they don't have internet at home. The site, emblazoned "Pamela's hardcore sex tape," pretty much says it all. Her name is in bold, while Tommy's is nowhere to be seen.
Later, they argue at home, and she begins to chafe at his nonchalance about the whole thing. She tries to make him understand, saying he'll get high-fives about it while she gets glares. He clearly empathizes with her — he sent all those scary dudes after the tape to make her feel better, right? — but he can't seem to understand why she cares. "It's not like they're seeing anything they haven't seen before," he says, echoing the logic thousands of men probably applied when deciding to peek at the tape.
A Family Loss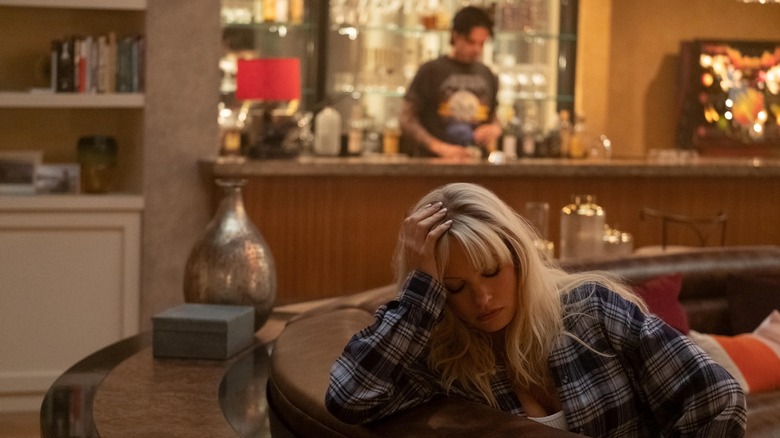 Hulu
The episode ends with a painful moment that once and for all narrows the emotional distance between viewers and the superstar couple at this story's core. We see Pam look in the mirror, and suddenly she's hit by a feeling that makes her start swallowing deep breaths. She calls for Tommy as the 4 Non Blondes song "What's Up," a standout needle drop in a sea of great song choices, starts to play.
The pair head to the hospital, where they're assured they did the right thing coming in. The assurances fall away, though, when we see the couple crumble in sorrow as a doctor gives them the news of Pamela's miscarriage. This is a raw moment made all the more poignant by the filmmakers' decision to keep the camera positioned outside the room, giving the couple the moment of privacy they never really had in the '90s.
Reality comes crashing back on the way home from the hospital. At a stoplight, the couple shares a kiss, a sigh, a quick moment of physical contact to remind them that they're both still there. At that moment, someone pulls up and tries to take a picture of them. Tommy jumps out to confront the rubberneckers, and after a moment, Pam joins in, slamming the car's windshield with the popular '90s steering wheel lock The Club. 
Though this exact incident may not have happened, Lee's memoir "The Dirt" explained that paparazzi really did follow the ambulance as he and Pamela rode to the hospital. If the primal love and pain of this story could be captured in one shot, it would be the moment when Pamela turns to Tommy in anguish after dropping the tool. He kisses her briefly, then grabs her, carrying her all the way back to the car in his tattooed arms. He looks like he's holding her as hard as he can, as if the only way to protect her from the world is by clinging to her so tight she can't breathe.