The Real Person Who Inspired Guinan On Star Trek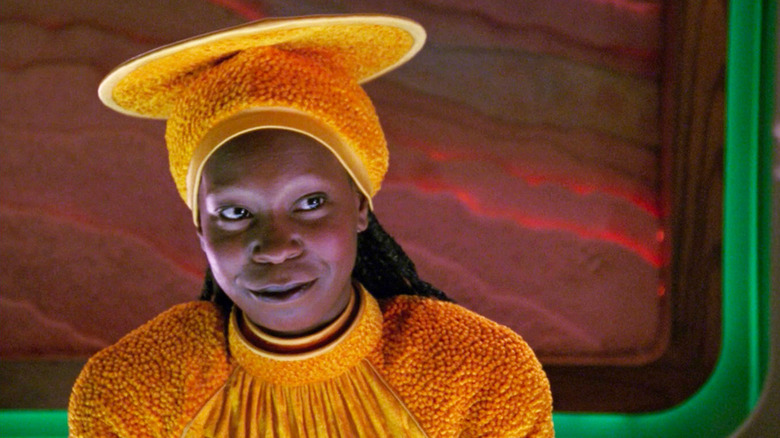 CBS
If you're a "Star Trek: The Next Generation" fan, you know the character of Guinan played by Whoopi Goldberg. She's the bartender and host of the Ten Forward aboard the USS Enterprise-D. Guinan is hundreds of years old, and from a race of "listeners" called the El-Aurian. It makes her the very best person on the Enterprise to go to for advice. Everyone has been in front of Guinan at some point, particularly Captain Jean-Luc Picard who considers her to be closer than family. She'll return in "Star Trek: Picard" season 2.
Goldberg got the job when her co-star LeVar Burton let the executives know that she was interested in being on the show. When she spoke to "Star Trek" creator Gene Roddenberry, he rewrote the role of the Enterprise bartender for her. 
What you might not know is that the role is based on a real bartender, actress, and entrepreneur named Texas Guinan. 
From Showgirl to Movie Star and Back Again
Texas Guinan was born Mary Louise Cecilia Guinan in Texas on January 12, 1884, and was set on becoming an actress. She grew up on a ranch, learned to shoot and rope and ride horses. She attended the American Conservatory of Music in Chicago for two years, and then joined a "Wild West" show. She married John J. Moynahan in 1904 — but it only lasted for two years. (Guinan on "Star Trek" was married 23 times.) 
Texas Guinan moved to New York City to pursue her dream of performing and was often in vaudeville's "Gibson Girl" shows. Though she performed a lot, she was lured away by a talent scout and moved to Los Angeles in 1917 to be a movie star. The nickname "Texas" had by then become the name she was known by.
In Hollywood, she did a few films, primarily playing a female gunslinger, and ended up starting her own production company, Texas Guinan Productions in 1921. Unfortunately, it only lasted a year. At that point, Guinan moved back to New York and ended up signing at the Beaux Arts Hotel, where she managed to become the emcee of ceremonies — something women rarely did at the time. 
Hello Suckers!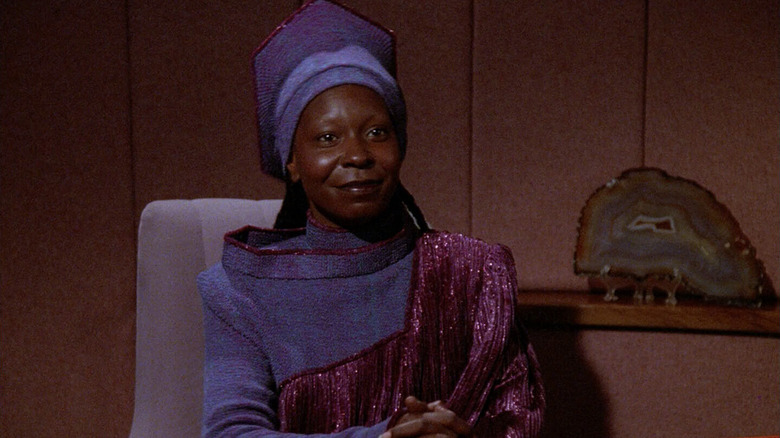 CBS
What Texas Guinan is really remembered for, however, is her work in speakeasy clubs in the 1920s. She'd already gotten a reputation for saying, "Hello suckers," when people came in — and became famous for that line in the process. She moved from club to club for a while, but after meeting bootlegger and racketeer Larry Fay, she joined his El Fay Club. There, she sat on a stool in the center of the room with a whistle. She coined another phrase during that time, calling someone from out of town spending big a "Big butter-and-egg-man." (We'd probably refer to them as "weekend warriors" today.) 
The police closed the El Fay, and Guinan ended up at the Del Fay, then the Texas Guinan Club, the 300 Club, the Club Intime, and Texas Guinan's Salon Royale. Hey, you've got to stay ahead of the law, right? She didn't always manage it, though — getting arrested more than once for working and operating a speakeasy, but nothing stuck. 
In an interview with MyHarto, Goldberg mentions one of her famous catchphrases. Goldberg says, "He [Gene Roddenberry] wrote my character, Texas Guinan, she's based on, who had a great bar in New York in the '20s and she greeted everyone by saying, 'Hello suckers' ... So we couldn't do that to the extraterrestrials."
Texas Guinan returned to the stage and had her own review called "Padlocks of 1927," and made two more movies before taking her review on the road. France wouldn't let her perform the show there, so she decided to call it "Too Hot for Paris," and toured the Western United States and Canada. Unfortunately, she eventually contracted amoebic dysentery and passed away at the age of 49 in 1933.
Texas Guinan's life may have been significantly shorter than the "Star Trek" version of Guinan, but oh my, did she make the most of her life.