Steven Soderbergh Wants 'GuyMax' Screenings Of Magic Mike 3, For Maximum Enjoyment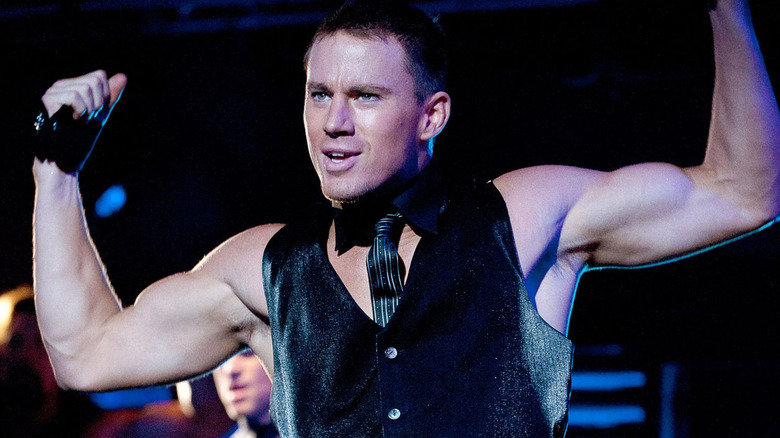 Warner Bros.
Channing Tatum's Michael Lane is coming back for one last dance in, uh, "Magic Mike's Last Dance." The third entry in the "Magic Mike" film series will feature "Magic Mike" director Steven Soderbergh back at the helm after his longtime assistant director, Gregory Jacobs, called the shots on 2015's marvelously-titled — and just plain marvelous — "Magic Mike XXL" (although Soderbergh still acted as the sequel's director of photography and editor). However, unlike the movies before it, "Magic Mike's Last Dance" will debut exclusively on HBO Max ... which doesn't mean it will skip theaters entirely, at least if Soderbergh has anything to say about it.
In an interview with Thrillist, Soderbergh revealed that "Magic Mike's Last Dance" is being made at "my demand," adding, "I was the one that said, 'I want to do this, and here's what I want to do.'" That's a little surprising; seeing as "Magic Mike XXL" made $117.8 million (via Box Office Mojo) in theaters on a $14.8 million budget, you might've expected Warner Bros. to be the one that pushed the hardest for another "Magic Mike" movie. Then again, the franchise has always been unique in that it's as much Tatum's brainchild (one inspired by his real-life experiences as a male stripper) as Soderbergh's or anyone else's. This is also why Tatum has been heavily involved creatively with each film in the series, as Soderbergh noted:
"Conversations with Channing about this universe are more complex than a typical actor, director, filmmaker relationship because we co-created this whole thing together. I'm not able to just unilaterally tell him what to do because he created it with me. It's a conversation. I may say, 'This is what I want to accomplish,' and he'll either go, 'Oh, I love that,' or he'll go, 'Oh, well, what if X?' I can't jam him on stuff, and he can't jam me on stuff. Except for the fact that I don't know what a sexy dance looks like."
Magic Mike's Last Dance Has 'Theatrical Potential'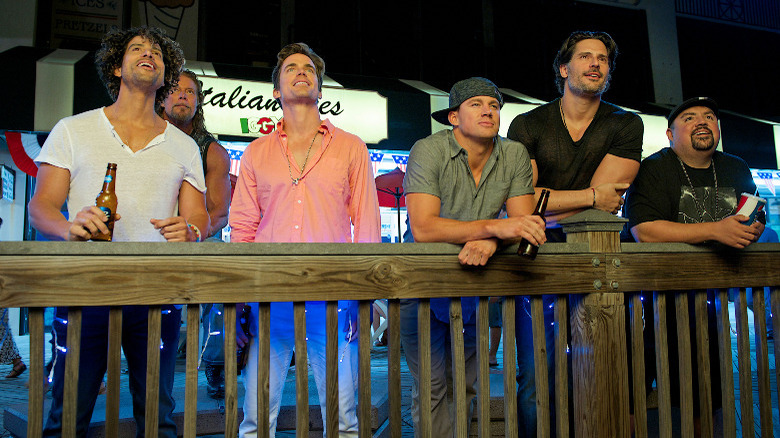 Warner Bros.
Since his (very brief) retirement from making movies in the early 2010s, the majority of Steven Soderbergh's directorial efforts have either been TV shows or films that went straight to streaming, with the exceptions of 2017's "Logan Lucky" and 2018's "Unsane." For now, though, the filmmaker is refusing to rule out the possibility of "Magic Mike's Last Dance" playing in theaters after it goes live on HBO Max:
"I think if I can execute what we're thinking, I know they're going to look at it and see that it has theatrical potential. There's nothing to say that you couldn't invert the sequencing. If the movie performs really, really well on the platform, do a limited 25-city tour in theaters. There's nothing that says you can't do that."
The shared experience of watching the first two "Magic Mike" films on the big screen with others was a big part of what made them so popular, and I can honestly say that catching "Magic Mike XXL" with a large, very excited crowd at a Thursday preview screening was one of the best times (if not the best time) I've had seeing a movie in a theater. So I'm all for "Magic Mike's Last Dance" getting some kind of theatrical run, especially if it's an IMAX or "GuyMAX" release like Soderbergh wants:
"Do a GuyMAX release, and put it on a giant screen."
"Magic Mike's Last Dance" has yet to receive a premiere date. Soderbergh's latest thriller, "Kimi," is now streaming on HBO Max.