The Daily Stream: Magic Mike XXL Is A Masterpiece About Women's Needs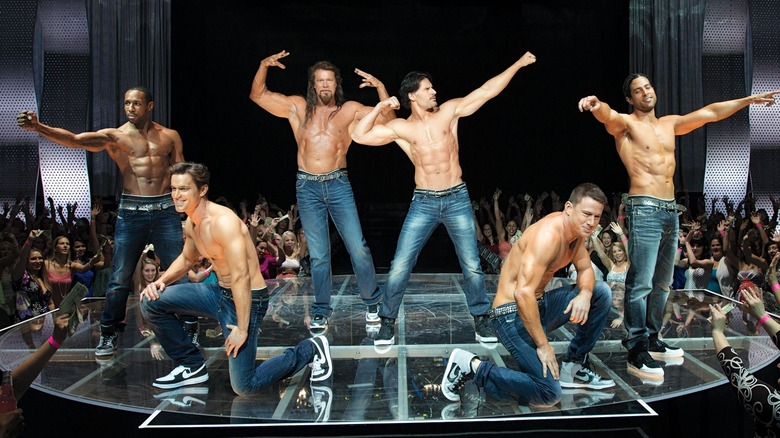 Warner Bros.
(Welcome to The Daily Stream, an ongoing series in which the /Film team shares what they've been watching, why it's worth checking out, and where you can stream it.)
The Movie: "Magic Mike XXL"
Where You Can Stream It: HBO Max

The Pitch: Three years after giving up stripping to focus on opening his own woodworking business, "Magic" Mike (Channing Tatum) agrees to join his former crew for one last big show at an exotic dancing convention in Myrtle Beach. The gang's all back, sans Matthew McConaughey's emcee character, Dallas, and this time they're going on a road trip. 
While many sequels don't live up to the original, "Magic Mike XXL" is one of those rare gems that seriously improves upon what came before. The adventures of Mike, Big D*ck Richie (Joe Manganiello), Tarzan (Kevin Nash), Ken (Matt Bomer), and Tito (Adam Rodrigez) on their way to Myrtle Beach are some of the funniest, sweetest moments ever committed to cinema. "Magic Mike XXL" is a sex-positive, body-positive, bisexual dream that crushes toxic masculinity while featuring some seriously talented and ridiculously attractive men having a blast. In other words? It's perfect.

Why It's Essential Viewing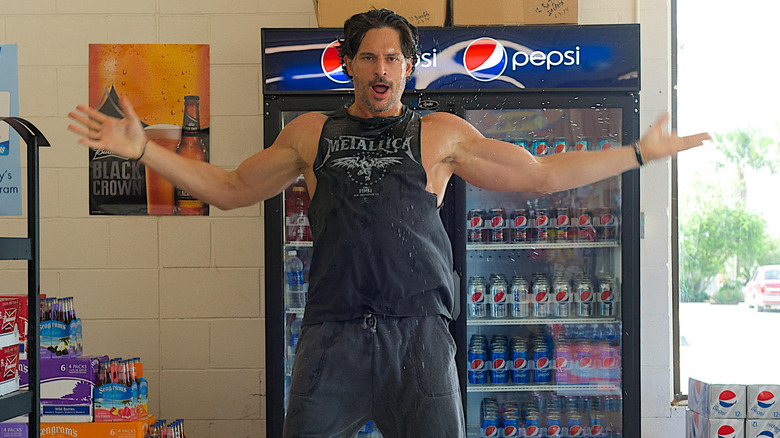 Warner Bros.
"Magic Mike XXL" is a joy. It's a movie that celebrates some of the simpler pleasures in life, an intentionally breezy and silly flick that looks deceptively shallow. The first "Magic Mike," directed by Steven Soderbergh, is a drama about the perils of the sex industry and giving up too much of yourself to work. It's sexy, but it's also a serious bummer. "Magic Mike XXL" was penned by Reid Carolin, the same screenwriter as the first film, but it's tonally completely different. The movie opens with Mike getting a call from his old buddies informing him that their former emcee, Dallas, is "gone." Mike shows up expecting a funeral and discovers an out-of-control pool party, which is a pretty apt metaphor for the change in tone from the first flick to this one. 
Mike agrees to go with the guys on a road trip for one final show, and it's a great look at their friendships. The conflicts in "Magic Mike XXL" aren't external. Instead, they focus on the issues each of the men struggles with inside. Mike proposed to his girlfriend and she left, Richie can't find a woman willing to be intimate with him because of his, er, endowments, and all of the guys are trying to figure out who they are apart from their stripper identities. Most road trip movies with a group of guys devolve into juvenile pranks, sarcastic ribbing, or worse. In "Magic Mike XXL," these guys build each other up and refuse to buy into the more toxic tendencies of their masculinity. 
When Richie tells the guys he doesn't want to strip anymore during an emotional molly trip, they encourage him to "dance from the soul." Mike dares him to try to make a dour-looking cashier at the gas station smile, and Richie performs a striptease with Cheetos and bottled water set to the Backstreet Boys "I Want it That Way." By the time she cracks a smile, the guys all burst into cheers, and it's impossible not to grin right along with them.
A Deep Dive Into Desire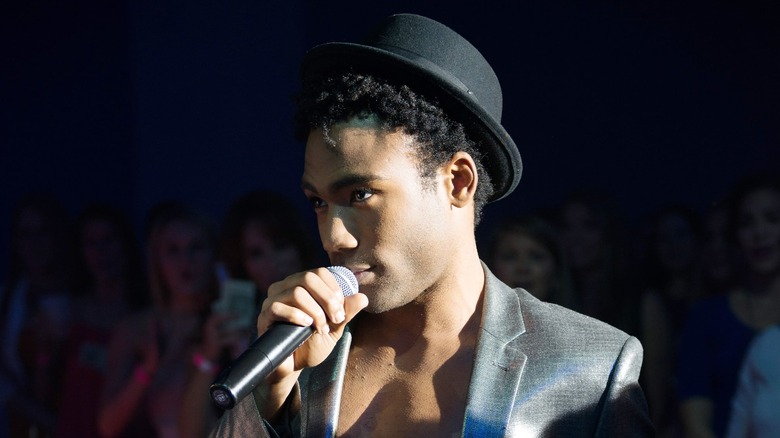 Warner Bros.
The main object of "Magic Mike XXL" seems to be to determine what it is that women really want. Sometimes it's to look at a hottie take off their clothes, but there's so much more to it than that. Donald Glover plays a new character in Magic Mike's world, and he drops some revelations on the guys:
"Girls have to deal with men in their lives who, every day, they don't listen to them. They don't ask them what they want. All we got to do is ask them what they want and when they tell you. It's a beautiful thing, man. We're like healers or something."
Glover also performs a striptease for a girl where he makes up a song about her on the spot, boosting her confidence because she's shy. The guys aren't just trying to "get laid" or look hot, they're trying to uplift the women they dance for. And it's a two-way street because all of that adoration from their customers definitely doesn't hurt their egos. 
What each of the men in "Magic Mike XXL" realizes is that the women in their lives are individuals and that they each want different things. Likewise, their own desires are worth celebrating, because that's part of the joy of being alive. 
Embracing the Female Gaze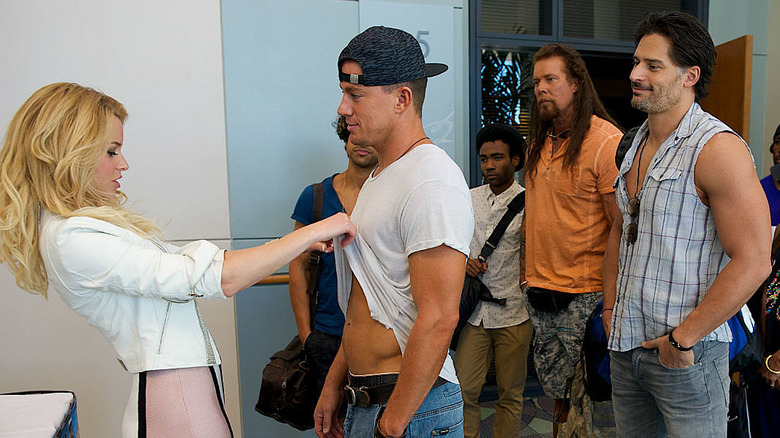 Warner Bros.
While Soderbergh didn't return to direct "Magic Mike XXL," he did work as the director of photography and editor under pseudonyms. His steady hand guides the cameras, and somehow this movie ended up being a perfect example of the female gaze. While the guys go to a drag club and there are some fun hints of gay male humor, this movie was made for femmes in almost every way. Everyone with real power in "Magic Mike XXL" is a woman, like the head of the convention, Paris, played by Elizabeth Banks, or Mike's tutor and emcee, Rome, played by Jada Pinkett Smith. Andie MacDowell shows up for a spell as a wealthy widow, and not only is she the queen of her roost, but she hooks up with Richie. 
It's a kind of wish fulfillment that doesn't really get made very often. Romantic comedies force budding couples through trials and tribulations. Hardcore romances are even worse. In "Magic Mike XXL," the women have agency. When Paris and Rome flirt upon reuniting in front of all of the guys, it's a glorious bisexual declaration of femme power. 
Soderbergh's cinematography is gorgeous, and not just when he's filming chiseled abs. There are some establishing shots of beaches, dance halls, and more that would work beautifully as paintings. 
Even if it seems like this might not be your thing, the sheer joy of "Magic Mike XXL" is contagious, and everyone should see this masterpiece at least once. Give it a try.