Ghosted: Adrien Brody Joins Chris Evans, Ana De Armas In Apple's Romantic Action Movie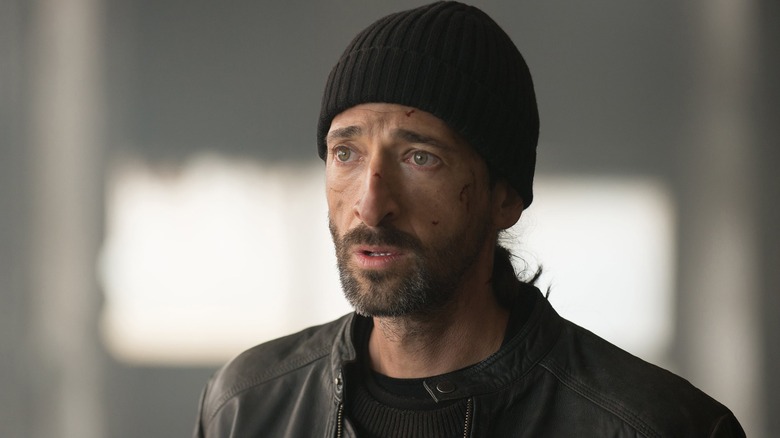 Lionsgate
Apple TV+ has movie star money and they're not afraid to prove it. Building out the cast of the upcoming Apple Original Film "Ghosted" is Hollywood heartthrob Adrien Brody, joining fellow superstars Ana de Armas and Chris Evans. Described as a "high-concept romantic action-adventure in the vein of 'Romancing the Stone,'" the film is set to be directed by Dexter Fletcher, the filmmaker known for "Eddie the Eagle" and the Elton John musical biopic "Rocketman." The "Zombieland" and "Deadpool" writing team Rhett Reese and Paul Wernick are credited screenwriters on the project and will also produce, along with David Ellison, Dana Goldberg, and Don Granger for Skydance Media.
Though we know very little about the actual pilot of this project, Brody is a welcome addition to any story mixing romance and action — plus, it continues the excellent streak he's had in the past few months. His scene-stealing guest role in the third season of "Succession" earned him plenty of praise, quickly followed by his reunion with Wes Anderson on "The French Dispatch." His upcoming slate includes yet another Anderson-directed film, "Asteroid City," along with a role in Showtime's Los Angeles Lakers series "Winning Time."
Reunited And It Feels So Good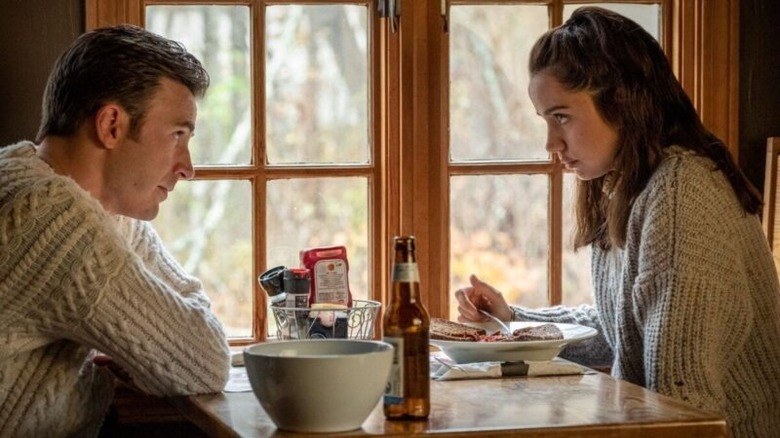 Lionsgate
Once upon a time, this film was set to reunite Chris Evans with his fellow MCU alum, Scarlett Johansson. But apparently Asian representation wasn't in the cards for "Ghosted," because the "Ghost in the Shell" actress stepped away from her role due to scheduling conflicts. Ultimately, everything worked out perfectly, because news soon followed that Evans would instead star alongside the "Blade Runner 2049" and "No Time To Die" scene-stealer herself, Ana de Armas.
As co-stars in the Rian Johnson murder mystery "Knives Out," this duo was previously at odds. De Armas' Marta Cabrera spent the film fending off the wealthy Thrombey family before striking up an uneasy alliance with Evans' Ransom, which gave us his memorable turn as a smarmy jerk with a love of fluffy knit sweaters. Evidently, it also set off some Hollywood alarm bells because the onscreen chemistry between Evans and de Armas continues to get the spotlight. Even before news of "Ghosted" dropped, the duo was set to reunite in the Joe and Anthony Russo-directed Netflix film "The Gray Man." Hilariously, the project also stars Ryan Gosling making it a reunion for de Armas and her "Blade Runner 2049" co-star. And thanks to the latest "Ghosted" casting news, yet another reunion is in the cards — Ana de Armas and Adrien Brody!
If you're racking your brain for when exactly Ana de Armas and Adrien Brody shared the screen, don't bother — though they filmed an entire movie together, we have yet to see a second of footage. I'm referring to "Blonde," the Netflix-produced Marilyn Monroe biopic from Andrew Dominik that may or may not be real. If not for all the set photos of de Armas with the iconic blonde haircut, I'd assume this film was just the universe playing a cosmic joke on us, but according to photos and Netflix itself, this movie does exist. Should "Blonde" ever actually make its way to our screens, we'll get to enjoy de Armas and Brody as one of Hollywood's most unlikely couples, Marilyn Monroe and Arthur Miller. This makes "Ghosted" a reunion for its lead performers in many different ways.