Ewan McGregor Promises That The Obi-Wan Series Will Satisfy Fans, So Take That, Boba Fett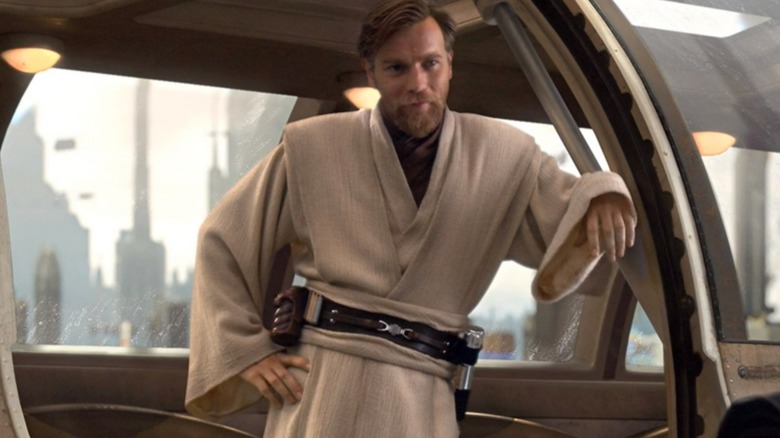 Lucasfilm
Who would've ever thought that nostalgia for the "Star Wars" prequels would become such a uniting force among the fandom? Even for those of us who grew up with George Lucas' much-maligned, "childhood-ruining" trilogy, it feels like it took until the last decade or so for sharing appreciation and fond memories of the prequels to became far more normalized and accepted. In any case, the powers that be at Lucasfilm clearly must have paid attention to the prequel fever and prequel memes sweeping the globe. That appears to be the predominant force (heh) behind the upcoming "Obi-Wan Kenobi" show, which will reunite Ewan McGregor and Hayden Christensen in their original respective roles as Obi-Wan and Anakin Skywalker/Darth Vader for the first time since 2005's "Revenge of the Sith."
For the most part, plot details and specifics have been kept under wraps ever since Lucasfilm and Disney first announced the highly anticipated series. In the time since, we've mostly relied on snippets of teasing comments from actors who've appeared in the series and the star of the show himself, McGregor. Well, now we have ... well, more teasing quotes from McGregor, but I'm sure we can all agree this is better than nothing! The Obi-Wan actor spoke to Forbes for these latest comments, sharing his feelings about returning to the famous role and his perspective on seeing the reevaluation of the prequels taking place right before his very eyes.
"Oh my gosh, well I loved playing him again. I mean it's quite interesting, after the experience of making the first three films and living through sort of their reception in the world, which wasn't always glowing, I have to say. And then now, meeting the generation who we made those films for, the children then — and now, people in their late teens or early 20s, those people who were kids who we made those films for, they loved them. To them, they're their 'Star Wars' films, you know? For us, it was the original films of the '70s, but for them, it was our films were their 'Star Wars.' So to step back into his shoes again now and do a series, a whole series about Obi-Wan Kenobi for those fans, it just makes me really happy."
'I Think It's Really Going to Satisfy Star Wars Fans'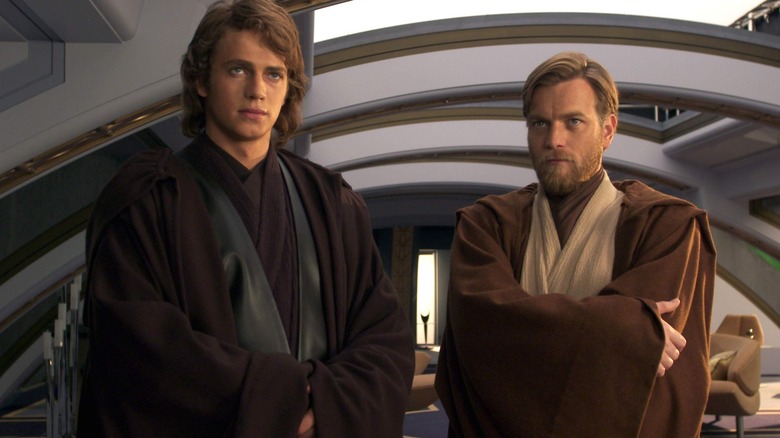 Lucasfilm
Although I can't personally jump on the "Actually, the prequels are misunderstood masterpieces" train, I do enjoy seeing actors like Hayden Christensen, Ahmed Best (who played Jar Jar Binks), and Jake Lloyd (young Anakin) embraced after they received nothing but vitriol from seemingly everyone in the wake of the prequels. Even if his performance remains one of the most celebrated aspects of the trilogy, it does the heart good to see Ewan McGregor get to enjoy this victory lap of sorts after the tide has continued to turn on the prequels.
McGregor goes on to describe the process of filming the "Obi-Wan Kenobi" series under the guidance of director Deborah Chow (who has previously directed episodes of "Mr. Robot," "Jessica Jones," "Better Call Saul," and "The Mandalorian"), while teasing his excitement for sharing the screen once again with Christensen.
"It was a great experience. Deborah Chow directed all the episodes and she's really good. She directed a couple [episodes] of 'The Mandalorian' and she's a really great director. She really knows the 'Star Wars world,' inside out, far more than I do [laughs]. We just had a great time. I think it's no secret that Hayden Christensen comes back and we got to play scenes together again as Obi-Wan Kenobi and Anakin Skywalker and it was just fantastic to work with him again. I'm not going to give away anything else about the storyline, only I think it's really going to satisfy 'Star Wars' fans. I always felt there was a story between 'Episode III' where I finished playing Obi-Wan in the movies and 'Episode IV' where Alec Guinness is Obi-Wan Kenobi. The ['Obi-Wan Kenobi' series] writers and Deb and I and everyone, I think we crafted or they crafted a very fine storyline. I think people are going to like it."
Eagle-eyed fans may have picked up on McGregor's potential slip that the series may incorporate flashbacks between Obi-Wan and Anakin in the Clone Wars (as opposed to present-day scenes of Christensen as Vader), but this otherwise sounds in line with what McGregor has teased in the past. More than ever before, pleasing the fans seems to be a big priority in these shows ... but let's hope it's proves to be a story actually worth telling, too.
"Obi-Wan Kenobi" will premiere on Disney+ in 2022.