The Cuphead Show!: Release Date, Cast, And More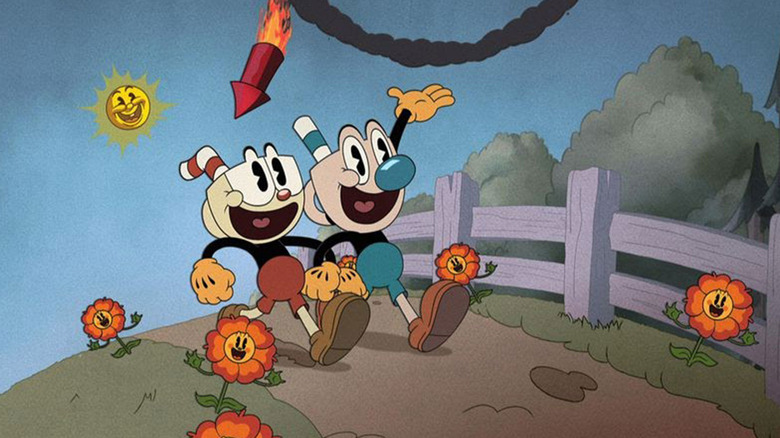 Netflix
(Welcome to ...And More, our no-frills, zero B.S. guide to when and where you can watch upcoming movies and shows, and everything else you could possibly stand to know.)
With its old time-y accents, classic animation style, and spooky flourishes, "The Cuphead Show!" is primed to deliver on all of the little quirks and callbacks that made the video game "Cuphead: Don't Deal With the Devil" so captivating. Whether you miss catching reruns of vintage cartoons late at night, or you're ready to dive into the world of rubber hose animation for the first time, this show is absolutely for you. 
It's wild to think that a video game that was released in 2017 would turn into a highly anticipated animated series in 2022, but it's a fun new world out there, folks. Considering Netflix is producing even more content based on and inspired by video games and is moving into the gaming industry world themselves, I think we can expect to see more crossovers in the future. Hell, if they're as charming and beautiful as "The Cuphead Show!" looks, we're all for it.
The Cuphead Show! Release Date and Where You Can Watch It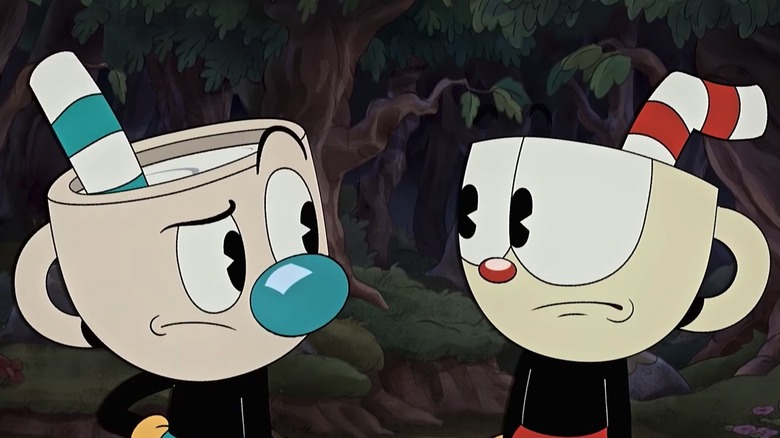 Netflix
As I alluded to up top, "The Cuphead Show!" is a Netflix affair. While the series was originally announced in 2020, it's taken a couple of years to hammer out all of those deals with the devil. Thankfully, we do have ironclad premiere date, and it's February 18, 2022. Right after Valentine's Day! Fall in love with a person and then fall in love with a couple of animated pieces of crockery. Or better yet, stock up on all that cheap candy on February 15 and save it all for a "Cuphead" premiere party. Either way, love and mayhem are in the air.
What Is The Cuphead Show!?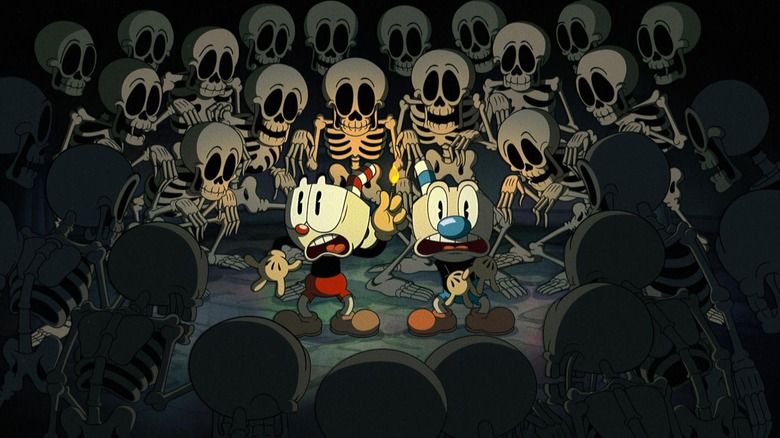 Netflix
Based off of the "run-and-gun" video game "Cuphead: Don't Deal with the Devil," "The Cuphead Show!" is a love letter to the golden age of animation and a continuation of Cuphead's, and his brother Mugman's, video game adventures. The game, which was created by Studio MDHR, is filled with surreal scenarios and slapstick violence, and it looks like the show has completely recreated the game's tone. If you've spent anytime watching old Disney shorts or Max Fleischer cartoons like "Betty Boop," "Popeye the Sailor" or "Mr. Bug Goes To Town," (which I had completely forgotten existed until this very moment), you know exactly what this show is going to look and feel like. In fact, it looks like the trailer has a reference to "The Skeleton Dance," which is a great short to start off with if you're not familiar with this style.
The Cuphead Show! Showrunners, Crew, and More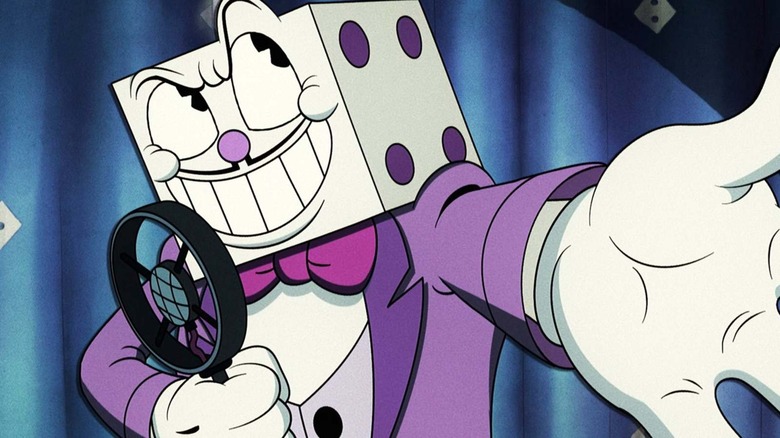 Netflix
The crew behind "The Cuphead Show!" includes a nice mix of industry professionals and folks who were involved with the video game. The executive producer list includes the brothers Chad Moldenhauer and Jared Moldenhauer, who created the "Cuphead" game, as well as CJ Kettler ("Carmen Sandiego"), Dave Wasson ("Star vs The Forces of Evil"), Cosmo Segurson ("Camp Lazlo"), and Melissa Cobb ("Kung Fun Panda"). Clayton Morrow ("Dexter's Laboratory," "The Powerpuff Girls") and Adam Paloian ("SpongeBob SquarePants") will be directing the series and sweet tunes will be provided by Ego Plum ("SpongeBob SquarePants").
The Cuphead Show! Cast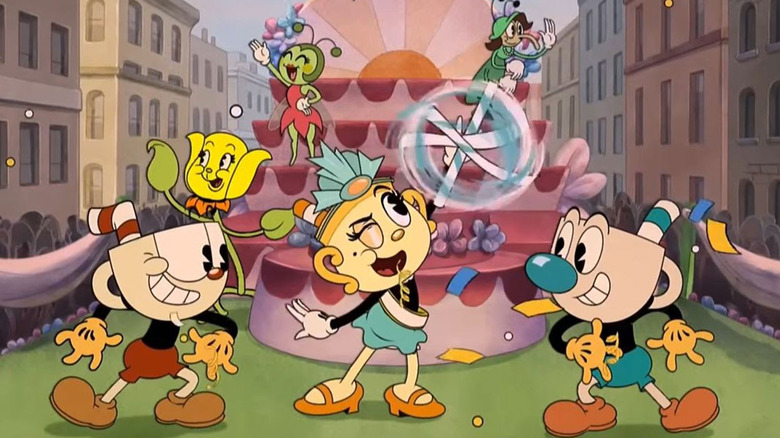 Netflix
As for the cast, Tru Valentino ("The Rookie") will be the voice behind the title character Cuphead and Frank Todaro ("Transformers: Prime Wars Trilogy") has been cast as his brother Mugman. Other cast members include Wayne Brady ("Whose Line Is It Anyway?") as King Dice, Grey DeLisle ("Avatar: The Last Airbender") as Ms. Chalice, Joe Hanna ("Robot Chicken") as Elder Kettle, and Luke Millington-Drake ("Best Friend Fix") as the Devil. As a long time "Whose Line" fan, I'm especially excited to hear Brady flex his voice acting prowess as a bad guy in the world of "Cuphead."
The Cuphead Show! Trailer
Interested? Confused? Both? Check out the trailer above and peep the synopsis below. Hell, you can even give the game a try. Just don't assume it'll be easy.
The Cuphead Show!" follows the unique misadventures of the impulsive Cuphead and his cautious but easily swayed brother Mugman. Through their many misadventures across their surreal home of the Inkwell Isles, they've always got one another's backs. The new series will expand on the characters and world of Cuphead, with an animation style inspired by the classic Fleischer cartoons from the 1930s.