Spider-Man: Into The Spider-Verse 2 Producer Teases Ties To The MCU Multiverse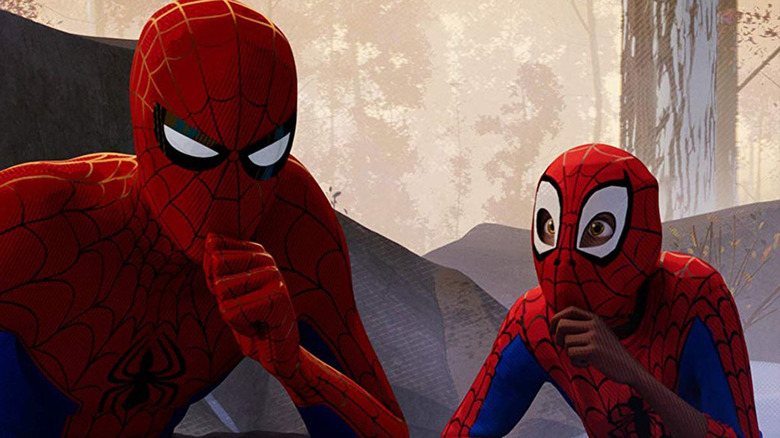 Sony Pictures
First, there were just regular ol' comic book movies. Then, there came crossover event movies, starring superheroes from various films within the same overall franchise. So how can you possibly one-up movies like "Avengers: Infinity War" or "Avengers: Endgame," the former of which singlehandedly inspired all those tongue-in-cheek, "'Infinity War' is the most ambitious crossover event in history" memes? Well, obviously you take this recent multiverse craze and triple down on it. It worked for "Spider-Man: No Way Home," resulting in box office receipts that undoubtedly had shareholders and studio executives dreaming about dollar signs for the foreseeable future. In all likelihood, "Doctor Strange in the Multiverse of Madness" will become the next film that attempts to capitalize on this growing trend to give fans as many cameos and surprise appearances as possible. But what about other superhero movies in entirely different mediums altogether?
"Spider-Man: Into the Spider-Verse" actually beat these more recent superhero movies to the punch in terms of exploring the multiverse, though it did so by prioritizing actual character work over shared-universe connections. The wildly successful animated film from directors Bob Persichetti, Peter Ramsey, and Rodney Rothman will pay off its final scene (and post-credits scene) with not just one, but two sequels in the pipeline. But if these latest comments by producers Phil Lord and Christopher Miller are any indication, perhaps fans can look forward to even more multiverse shenanigans — this time, perhaps some that hint towards connections with the Marvel Cinematic Universe.
While appearing on Josh Horowitz's "Happy Sad Confused" podcast (via The Direct), Lord and Miller touched upon their plans for the "Spider-Verse" films and, intriguingly, the possibility for some MCU connections. According to Miller:
"The Multiverse is big and wide. And all things grow. ... Why would you think a Multiverse, in which many things are possible, that [those things are] not related?"
As Lord quips in an amusing (but sarcastic) follow-up, "Everything's possible except for this one thing that everyone wants." Given the immense success of "No Way Home" combined with Sony's ongoing plans for "Venom," "Morbius," and even a "Kraven the Hunter" movie, it's probably a safe bet that "Spider-Verse" ends up getting roped into all this, too.
"It's a Bit of a Forced Collaboration"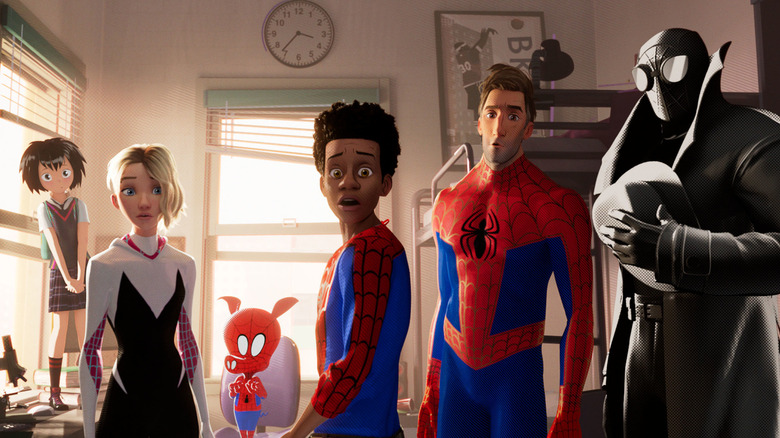 Sony Pictures
But aside from the teasing comments about how "Into the Spider-Verse" may just take place among the many multiverses glimpsed in "Spider-Man: No Way Home," perhaps Phil Lord and Christopher Miller's most eye-opening quotes involve their insights into the process of making these animated movies so far. In response to whether they knew what was going to happen in "No Way Home" and whether that knowledge affected their plans for "Spider-Verse," Lord had this to say:
" ... Amy Pascal, who was producer on 'Spider-Verse' and also on live-action 'Spider-Mans' ... she's been sort of our conduit to knowing exactly what's going on in the 'Spider-Verse' in various forms. The writers and director are all buddies of ours, so we sort of have been in the loop as far as what's going on. And we are always trying to make sure we're not stepping on each others toes and telling different types of stories and different themes and all that stuff, because people want an original story that feels new and interesting. It's our job to give it to them."
Miller piggybacked off this and went even further, summing up the nature of this collaboration while emphasizing how it brings out the best in all parties.
"It's a bit of a forced collaboration. You're collectively advancing this humongous mega-story, and you have total control over your little sliver of it. And everything else you just have to communicate as much as possible, make adjustments, and kind of treat what everybody else is doing as a sort of a provocation ... It's almost like a film school exercise where you're like, 'Okay, we were gonna do that but they did it first, so we're gonna have to do something different.' And often that makes you think of something you wouldn't have thought of otherwise, and it makes your thing better because you're having to come up with an off-speed pitch, and not do the obvious thing. The first 'Spider-Verse' was like that too. It's playing off of the canon and that gives you the freedom to do something else."
Although Lord and Miller put a positive spin on this, it sounds like an incredibly complex process that makes their jobs and those of sequel directors Joaquim Dos Santos, Kemp Powers, and Justin K. Thompson even harder. Here's hoping lightning strikes twice (and thrice!).