Spider-Man: No Way Home Closes In On Avatar's Domestic Box Office Record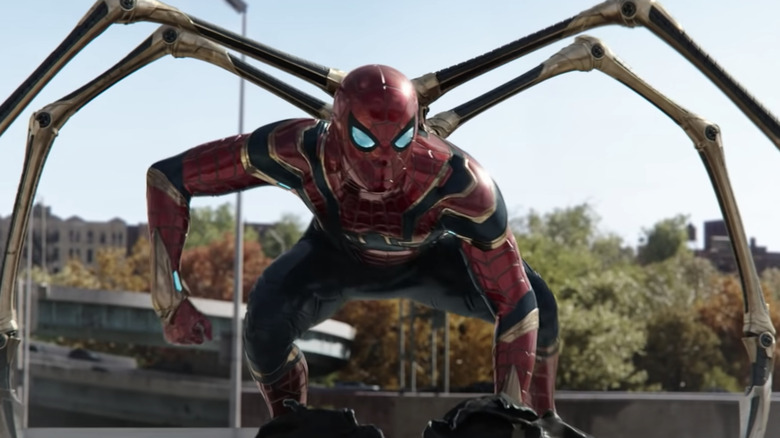 Marvel Studios
"Spider-Man: No Way Home" is web-slinging its way ever closer to the domestic box office record held by James Cameron's "Avatar." It seemed unthinkable that any movie would gross this much during the pandemic but spiders have legs, as they say, and so does "No Way Home" in theaters. According to Variety, the 27th film in the Marvel Cinematic Universe is only $25 million away from catching "Avatar," which raked in $760 million at the box office in North America.
That's an important distinction to make, since "Avatar" is still the highest-grossing film of all time globally. Box Office Mojo lists its worldwide gross as $2.7 billion, and it doesn't seem likely that Spider-Man will be swinging that high. However, it's still an impressive feat that the movie is now almost right up there with "The Force Awakens" and "Avengers: Endgame," which hold the top two positions in North America, with a gross of $936 million and $858 million, respectively.
"No Way Home" opened on December 17, 2021, in the U.S. so it's been out for six weeks already, but it's still going strong and has, in fact, topped the box office for all but one week. The new "Scream" movie dethroned it on its opening weekend, but then Spider-Man was right back on top of the box office the following week. Another important thing to note is that "No Way Home" has not even opened in China, the largest filmgoing market in the world. Yet it has already grossed over a billion dollars internationally.
The Reigning Monarchs of the Movie World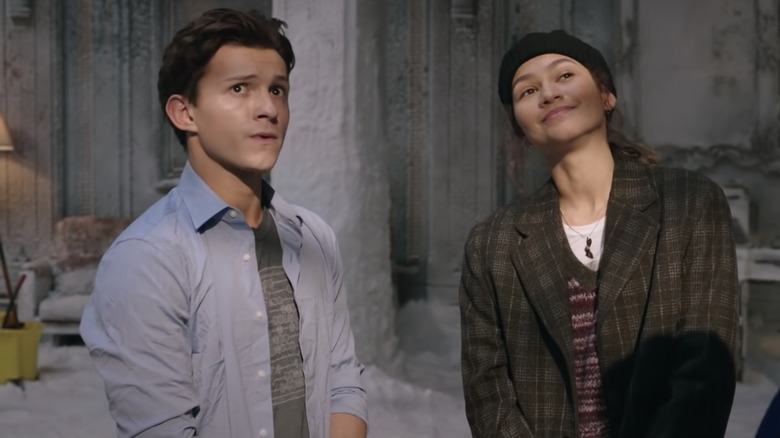 Marvel Studios
Part of the unprecedented success of "Spider-Man: No Way Home" can, no doubt, be attributed to the team-up mentality that Marvel and Sony have brought to this movie. Without delving into spoilers here, it's enough perhaps to say that "No Way Home" isn't just a Tom Holland vehicle.
This isn't the first time that Marvel has given director James Cameron a run for his money. In 2019, the Russo Brothers briefly unseated Cameron as the reigning monarchs of the movie world when "Avengers: Endgame" surpassed "Avatar" on the global stage as the highest-grossing film of all time. In a throwback to Steven Spielberg congratulating George Lucas and "Star Wars" for besting "Jaws," Cameron even congratulated Marvel "on becoming the new box-office king." On Twitter, in a rather inelegant turn of phrase likening his record loss to the deaths of real-life ship passengers, he infamously wrote, "An iceberg sank the real Titanic. It took the Avengers to sink my Titanic."
The Chinese re-release of "Avatar" last year enabled it to reclaim its box-office crown, and "Spider-Man: No Way Home" would need to earn another billion dollars or so to best it outside North America. One thing is clear: even amid less-than-ideal moviegoing circumstances, as other films like Guillermo del Toro's "Nightmare Alley" languish at the box office, people are still willing to make the trip to the theater to see "Spider-Man: No Way Home."