Jackass Forever Scores $1.7M In Previews, On Track To Defeat Moonfall At Weekend Box Office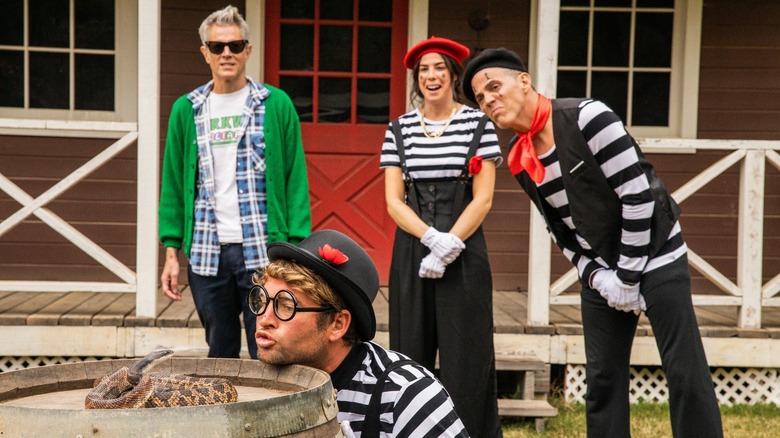 Paramount Pictures
Between the pandemic very much continuing to be a thing and a winter storm named after the meanest kid in a kindergarten class (Landon, by the way) taking over half the United States, getting people to willingly leave their homes to get to the movie theater is no easy task. Fortunately, if there's one thing that will almost guarantee to get butts in seats, it's the promise of seeing middle-aged men put their lives on the line just to commit to a bit. 
"Jackass Forever," the latest and likely final film from Johnny Knoxville, Steve-O, Jason 'Wee Man' Acuña, Preston Lacy, Chris Pontius, Ehren McGhehey, Dave England, and Jeff Tremaine has already brought in $1.7 million from Thursday night previews. The film is expected to pull in an additional $15-$20 million during its debut weekend alone. For a film with a budget of only $10 million and a cast of jackasses, that's not bad!
The main competitor of "Jackass Forever" is Roland Emmerich's space disaster film "Moonfall," which comes with a whopping $140 million price tag but only brought in $700,000 in preview ticket sales. Fortunately, Emmerich's end-of-the-world disaster films tend to play really well overseas, where watching America crumble under the weight of our own stupidity is more than worth the price of admission. The real determining factor for this weekend's box office totals will be how many theaters remain open during Winter Storm Landon, as over 300 theaters were closed on Thursday due to the inclement weather, and there's no telling how many more will close as Landon makes his way to the east coast.
It's A Good Weekend for Fun Movies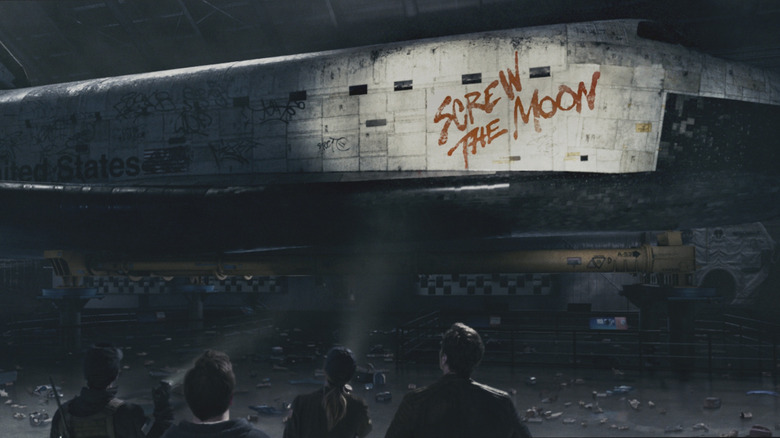 Lionsgate
"Jackass Forever" currently boasts a 90% critic rating on Rotten Tomatoes, with audience ratings hitting 96%. The only negative critic review so far calls the film "​​an unwelcome return for idiotic toxicity," which tells me someone doesn't actually understand that "Jackass" movies are about loving your friends, feeling comfortable in your own masculinity in the company of men, and rejecting the societal pressures that tell you there's never a time or a place for acting like a fool. "Jackass" films are and have always been anti-toxic masculinity, and if someone can't see the beauty in that, maybe they should do some personal inventory of their own and figure out why they have a hangup.
"Moonfall" on the other hand, is sitting at a critic score of 41% and an audience score of 72% on Rotten Tomatoes, because apparently some critics are taking a movie about Earth's moon literally falling from orbit with the seriousness of an Oscar-bait drama, and forgetting that Emmerich is the absolute king of camp disaster cinema. It's a good weekend for people who love big, dumb, fun movies, and for what it's worth, the path of the polar vortex caused by Winter Storm Landon looks like boobs (see below) which has me fully believing the "Jackass" boys have figured out how to control the weather. If anyone could conjure up that kind of power, it's Johnny Knoxville.
Who IS she? pic.twitter.com/eQI1ykKxiP

— bekka supp (@valhallabckgirl) February 4, 2022
"Jackass Forever" and "Moonfall" are both playing in theaters. The actual moon is still orbiting the Earth ... for now.