Euphoria Season 2 Viewership Has Skyrocketed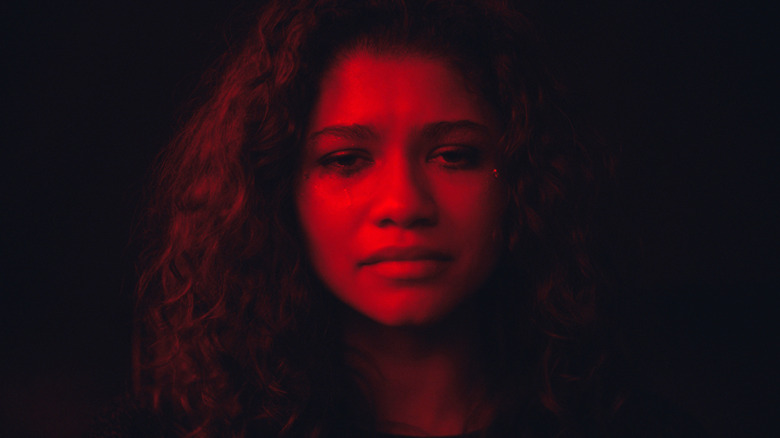 HBO
"Euphoria" is getting more popular by the week. This is wonderful news for HBO, a company I assume is buried in debt thanks to Sam Levinson's body glitter budget. And don't even get me started on how much this show probably spends on music — but who can blame them? The numbers don't lie and it looks like this investment is paying off in spades. The viewership of Levinson's gritty teen drama is up nearly 100% from its first season.
Over the course of its sophomore season, "Euphoria" has nearly doubled its season 1 per-episode viewership. Since airing on January 9, the premiere has drawn in 13.1 million viewers across multiple HBO and HBO Max to date (via Variety), with the second and third episodes tracking similarly. Compared to the 6.6 million average audience size from season 1, this is a massive uptick. According to /Film's Valerie Ettenhoffer (who's documenting the weekly chaos of Euphoria via yearbook superlatives), last Sunday's episodes reached season-finale-level mess — so it's no wonder people are tuning in! The word of mouth (aka Twitter chatter) on this show is unavoidable, and you can only stay away for so long before Zendaya dancing to Frank Sinatra or Sydney Sweeney gagging at a pee-soaked towel draw you in.
This past Sunday, the second season's fourth episode, "You Who Cannot See, Think of Those Who Can" became the show's second most-watched episode ever, behind the previously aired episode 3. Where the fourth episode drew in 3.2 million viewers across three linear airings on HBO and streams on HBO Max, episode 3 drew in 3.6 million viewers. "Euphoria" has been trending upwards on a weekly basis since the season premiere, only dipping slightly with its latest episode. For why episode 4 dipped, Variety points to the NFC Championship game which aired last weekend during the same time slot.
Come For The Vibes, Stay For The ... Trauma?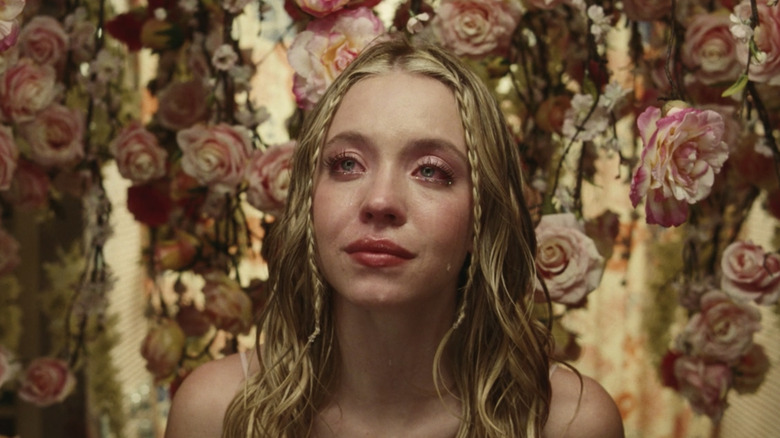 HBO
So what is it about the second season of "Euphoria" that has folks crashing HBO Max on a weekly basis? Is it the raw star power of lead actress Zendaya? The immaculate vibes of both glitter and a grade A soundtrack? Or perhaps the promise of a budding romance between an introverted theater kid and a kindhearted, knit-sweater-wearing drug dealer? The answer is all of these and more! But mostly the last one, because even five seconds of Lexi (Maude Apatow) and Fezco (Angus Cloud) is to die for. Honestly, their adorably awkward relationship is an excellent example of what makes "Euphoria" so irresistible.
The show has a remarkable penchant for flattening its stakes. "Euphoria" follows various high schoolers, all dealing with the typical struggles of growing up, which are heightened by more dire issues like addiction, drugs, trauma, identity, and loss. A single episode of "Euphoria" might see the characters grappling with first love while striking up deals with local drug dealers; or one second they'll be having a regular ol' bad time at a party and the next, they're trying to escape a dangerous, abusive relationship. No matter how big or small the issue seems, it's like a high-wire act — the tension and emotional stakes are immense. It's equal parts terrifying and invigorating. It all comes together thanks to an impeccable cast, led by Zendaya and Hunter Schafer, but featuring the talented ensemble of Maude Apatow, Angus Cloud, Eric Dane, Alexa Demie, Jacob Elordi, Barbie Ferreira, Nika King, Storm Reid, Hunter Schafer, Algee Smith, Sydney Sweeney, Colman Domingo, Javon "Wanna" Walton, Austin Abrams, and Dominic Fike.
"Euphoria" was created, written, directed, and executive produced by Sam Levinson in partnership with A24. It's loosely based on the Israeli series of the same name and follows "the intertwining lives in the town of East Highland, where 17-year-old Rue (Zendaya) must find hope while balancing the pressures of love, loss, and addiction." If you aren't already on board, the numbers prove it's only a matter of time before "Euphoria" draws you into its addictive mess.