Euphoria Season 2 Yearbook: Everyone's Spinning Out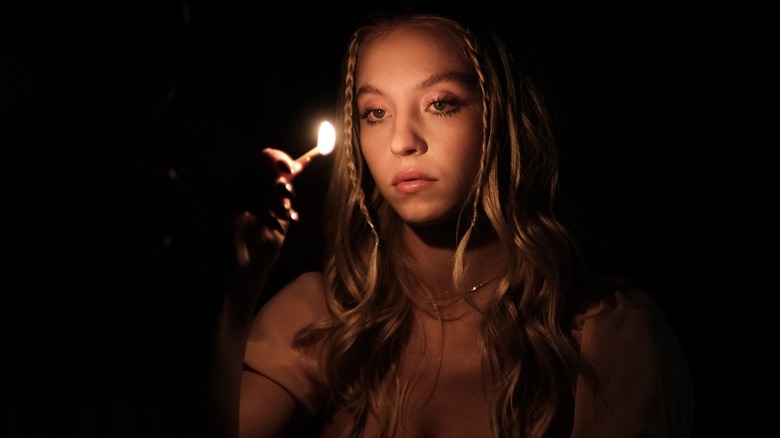 Eddy Chen/HBO
In my pages of notes on tonight's episode of "Euphoria," one sentence stands out above the rest: "That was season-finale-level mess." The tone of the social media conversation around HBO's most outrageous show has already shifted drastically this past week, as fans attempt to read between the lines of Sydney Sweeney's statements about nude scenes to The Independent, and debate rampant rumors about the second half of the season.
Tonight's episode, titled "You Who Cannot See, Think of Those Who Can," saw nearly every character sink to an embarrassing low point, and probably won't do much to set antsy fans at ease. It also inspired me, as your trusty "Euphoria" yearbook editor and guide through season 2, to throw out a bunch of my standard superlatives that no longer apply. Least Likely To Succeed? This week that was basically everyone, including writer-director Sam Levinson. Moment That'll Come Up In Therapy Later? Again, that's pretty much all of them.
This episode of "Euphoria" is stressful by design, as our characters' fixations curdle into a series of bad decisions that push the drama to its breaking point. It's one of my least favorite hours of the series, which is interesting, because next week's episode is one of my favorites. All this goes to say: if "Euphoria" is making you mad, you're not alone, but I have it under advisement that it's worth sticking around a bit longer. Let's dive in.
Somewhat Sinister Love Triangle of The Week: Rue, Jules, and Elliot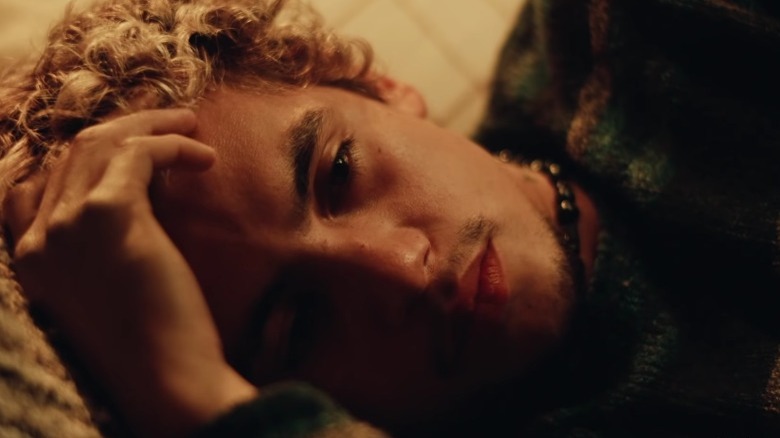 HBO
The episode starts with a moment that should be intimate, but thanks to Rue's (Zendaya) escalating drug use, it's void of all feeling. Jules (Hunter Schaffer) is attempting to go down on Rue, but Rue can't feel a thing. She idly imagines Jules as famous works of art, then casts the pair in famous movie scenes. They're Sleeping Beauty and her prince, Jack and Rose from "Titanic," and Ennis and Jack from "Brokeback Mountain." This is a cute, creative interlude, but Rue's too zonked to even narrate it like she usually does with cold opens for the show.
Rue fakes the worst orgasm anyone has ever heard — Zendaya fans, please don't let this become a meme — and Jules can't get over it. When she tells Elliot, he says she might just be bad at oral sex. He offers to do a demonstration on her hand, and soon the two are making out. I know everyone is up in arms about Jules and Elliot, but he doesn't seem like a bad person to me, as demonstrated later in this episode when he tells Jules that Rue relapsed. These kids are too young for life-or-death romances, and Rue is obviously growing increasingly checked out of her relationship anyway. These seem to be the same thoughts Jules is holding onto when she decides to steal a few moments of joy with Elliot.
The whole trio seems extremely close. At one point in this episode, all three of them lay in bed together, and Elliot says they should stop playing "lesbian power games" because they're clearly all horny for each other. The pair take shifts going to the bathroom, but instead of freshening up for the expected throuple adventure, Rue and Elliot are actually getting high. Or rather, Rue gets high. Elliot blows away the line she set up for him. Interesting.
Before they can figure out their whole romantic deal, the trio decide to run to the convenience store. Jules steals drinks while Elliot distracts the cashier — "Kramer!" — then make a run for it when he chases them down with a bat. The whole night is getting too real, so Rue grabs a drink of her own in the backseat. This once again kicks "Euphoria" into "painfully real portrayal of addiction" territory. Jules tells Rue she shouldn't be drinking, but Rue is over being parented by her loved ones. She asks to be dropped off at home, and casually tells Jules she can't stand her. It's clear that Rue just says this to be hurtful enough to escape the conversation about her sobriety. It works, but it's awful to witness. When Jules ends up back in Elliot's bed later, it's no surprise.
Unbearably Sinister Love Triangle of The Week: Maddy, Nate, and Cassie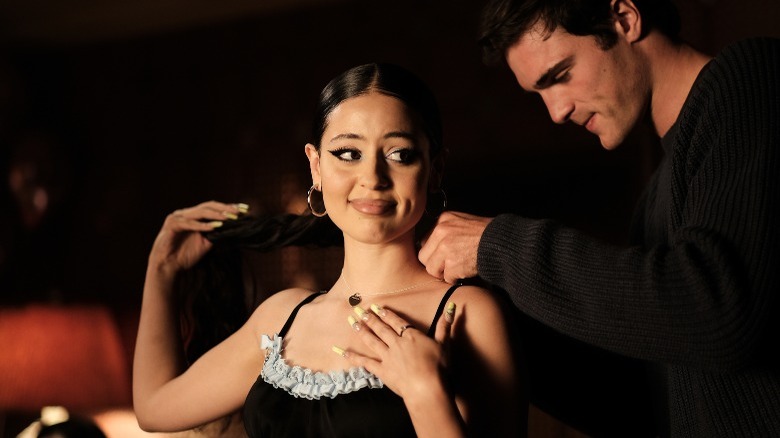 Eddy Chen/HBO
Meanwhile, on the other side of the neighborhood, a much more malignant love triangle is still brewing. The show picks up where it left off with Nate (Jacob Elordi) and Maddy (Alexa Demie). He meets her at the house where she's babysitting, and they have a fairly adult conversation about their break-up. Since the conversation involves Nate, though, it's still weird and off-putting. He tells Maddy he loved her because she's "smart and cruel, but not really." When Maddy asks if he felt loved by her, he has no answer.
Back at his house later, Nate and Cassie (Sydney Sweeney) get in a massive argument about Maddy. This scene is an episode highlight, as it lets Sweeney play Cassie with a rare sense of power. Their conversation goes downhill quickly, and it looks like they're done for good — especially after Nate accidentally calls Cassie by Maddy's name. Nate says Maddy is crazy, and Cassie confidently retorts: "What you don't understand is I am crazier." "That's not something to be f***ing proud of, Cassie!" he exclaims, and she says — in what may be my favorite line reading of the season — "No, but it is something you should be scared of."
I for one am extremely ready for Cassie to go full "Kill Bill" mode, but unfortunately, that's not what happens in this episode. When Nate shows up to Maddy's birthday party and it looks like the pair might be giving things another go, Cassie loses her last shred of composure. She struts around in a pink bikini to catch Nate's eye, but she's also been binge drinking and is clearly in turmoil. By the time the group has a frank conversation about Nate with Nate in the hot tub, she's in shambles. Maddy gets angry and throws some of the sweet nothings Nate has shared with her back in his face. Just when Maddy reveals that he's brought up the idea of having kids with her, Cassie throws up in the pool. Jesus, Cassie.
This episode seems determined to torpedo all the characters we empathize with, but it's worth remembering that Nate Jacobs' sly manipulations have led Cassie to this moment. The only saving grace is that the party is at her house, so her mom (Alanna Ubach, who I love more and more each week) is there to presumably pick up the pieces. Plus, Lexi (Maude Apatow) is there to, er, put it all in a play.
Most Surprising Bright Spot: Maddy Gives Kat Advice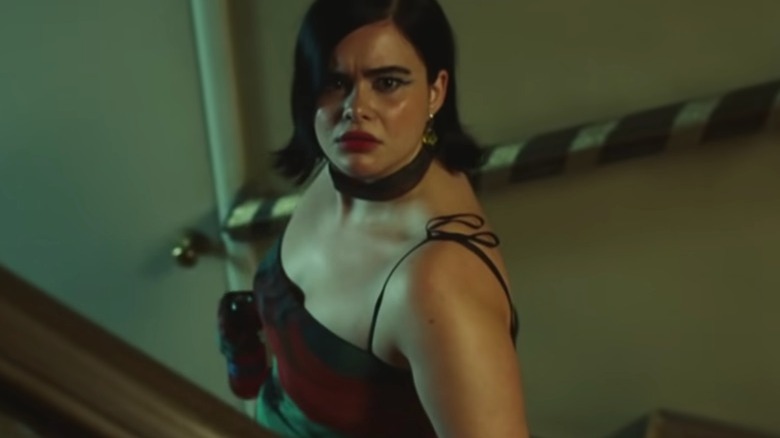 HBO
All season, Kat (Barbie Ferreira) has been on the "Euphoria" back burner, and it's become increasingly unbearable. It's not that the show doesn't know what to do with her, but that Levinson clearly wrote a short plot for her this year, and is meting it out slowly like she's Arya Stark wandering around Braavos for a full season too long.
At any rate, Kat gets some great screen time this week at Maddy's party. She claps back at Nate in the hot tub and gives Cassie a hilarious side-eye when she debuts her swimsuit. But her best moment is a quiet conversation she has with Maddy. When Maddy notices Kat isn't dancing, she pulls her into the kitchen. Kat finally admits that she can't stand her own boyfriend, and feels bad about it because he's objectively a good part of her life. "There's a difference between what you should want and what you actually want," Maddy says wisely.
Kat asks how she should know what she wants, and Maddy says she doesn't have to know. "Then what's the whole world always talking about?" Kat says, referencing, I assume, the socially reinforced ideas of true love, monogamy, and the like that have been bothering her all season. Maddy gives her some good advice that unfortunately features the R-word, which Kat tells her she's not allowed to say (finally, someone says it). Maddy ends with more words of wisdom: "The last thing you need is to feel worse because you're not feeling something you're supposed to feel. Do what feels good to you." It's exactly what Kat has needed to hear this whole time. Hopefully, it'll kick her plot into high gear.
Biggest Misfire: Cal's Monologue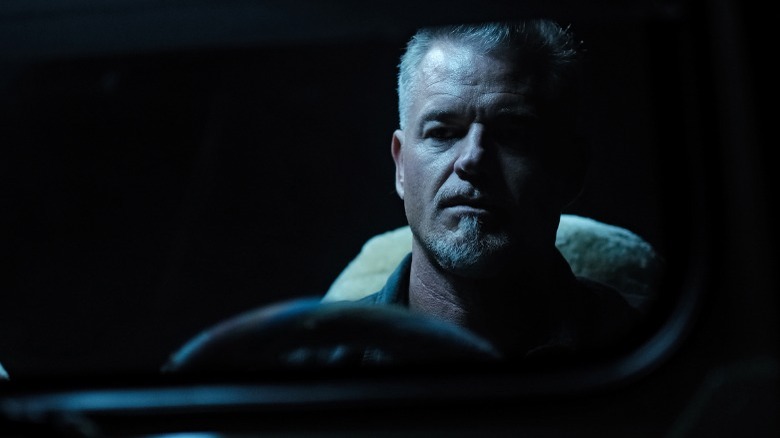 Eddy Chen/HBO
On the other side of the storytelling spectrum, here "Euphoria" goes tanking any positive feelings we may have felt towards Cal (Eric Dane) after last week's stunning cold open. This episode sees Cal dust off his car from high school and go for a drunk drive down memory lane. He ends up at the bar where he and Derek danced decades earlier. At first, he seems to be in a sort of sweet personal revelry, but after dancing with a patron, he turns a bit aggressive. Cal is ejected from the bar, and heads home. Once there, his wife finds him peeing on the floor of the entryway.
The less I say about Cal's monologue here, the better, as I think it's one of the show's most poorly executed missteps to date. Dane is excellent in the role, but the whole thing feels endless, and it doesn't cohere in a way that makes sense with his character. Cal talks about his long history of affairs with people of all genders, accuses his own wife of carrying on emotional affairs, and calls out Nate's older brother's porn habits. He tells Nate he doesn't know anything about him, that the boy is a mystery even to his dad. That last part is especially stupid, because Nate clearly represses the same impulses as Cal and sublimates them into acts of control and hyper-masculinity. It's not that hard to figure out, Cal.
Cal both apologizes to his family and blames them for everything wrong in his life. Then he leaves, seemingly for good. Bridging the distance between teenage Cal, season 1 Cal, and this Cal seems to require huge psychological leaps and bounds, ones the show hasn't explored enough for this to make sense. Let's not spend too much time worrying about Cal's discordant character arc, though, when Rue needs us.
Best Gut Punch: That Ending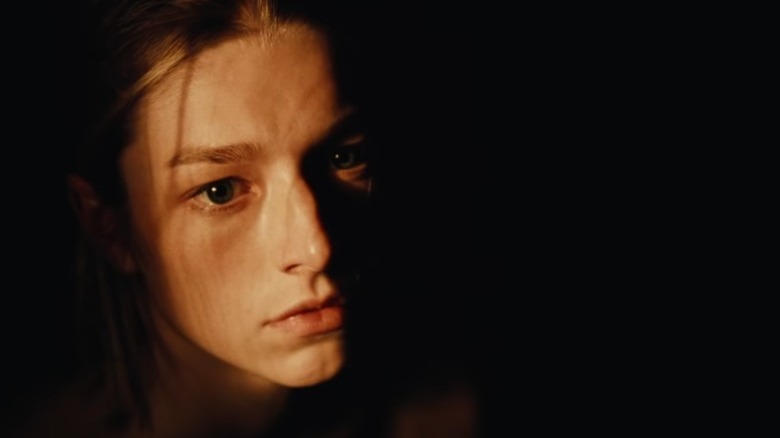 HBO
Our protagonist is not doing well. A little over halfway through the episode, Rue pops four blue pills from Laurie's suitcase and a bright light starts to shine on her face. For the rest of the episode, we mostly only see her inside her own head. She stumbles into a church, where the show's ever-present heavenly voice, Labrinth, is finally made corporeal. He's singing a hymn to a crowd that includes Jules and Elliot. "I ain't tryin' to win/Let it take me," he croons as she approaches him. "I'll be on my way/How long can I stay?"
Rue looks around, scared and emotional and suddenly seeming very young. When she meets the singer in an embrace, the vocals swell to a crescendo. Suddenly, she's hugging her dad. "I'm sorry I let you down," she whispers. He says he loves her, and she tells him how much she misses him. For a brief aching moment, we see that she's only dancing with herself in her living room, holding nothing but air.
The episode ends with Rue's haunting voiceover, juxtaposed with beautifully composed shots of all our key characters. It's the dialogue we heard in the trailer for this season. The scene pulls the episode back from the depths thanks to Zendaya's effortless delivery and the magnitude of the sequence's visuals. It's an almost Terrence Malick-like montage of past and present, real and representative. "I love you. I love you. I love you," she says like a quiet prayer. "I've always been with you. Before you were born, til after you're gone." Jules, who just learned of Rue's relapse from Elliot, adds her voice for the final line. "Since before we ever existed," she whispers.
Even More Superlatives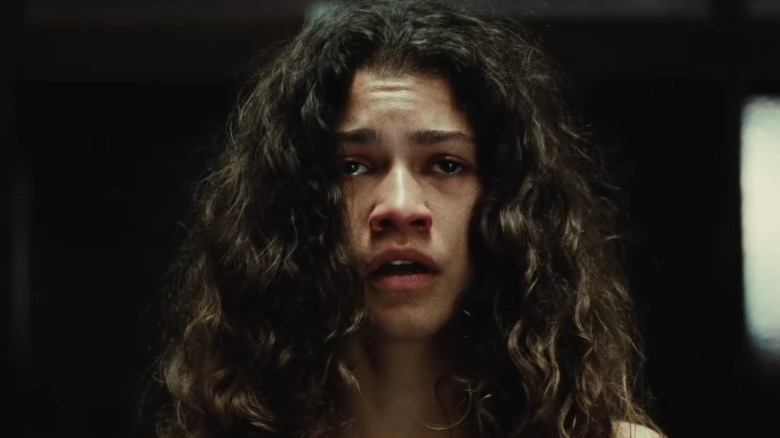 HBO
Most Egregious Headline Bait: Based on the heaven-and-Earth scope of the last scene, it kind of seems like Rue just ... died? Or overdosed? Let's not dwell on that too much for now.
Best filmmaking flourish: This show takes plenty of risks with its format, but the last few moments of this episode are a creative risk that really pays off. The effect of Rue's narration over these indelible yet cryptic images is utterly captivating. We see Kat and Ethan (Austin Abrams) in a car surrounded by complete, unnatural darkness. We see a close up of two red lines on a thigh, presumably signs of Jules' self-harm. In the show's most potent shot composition to date, we see Cassie, her hair and makeup conveying a sense of ripe lushness, surrounded by pink-white roses in full bloom. Are these harbingers of things to come? Regardless, they're as beautiful and ominous as "Euphoria" gets.
Best dressed: Jules has been wearing casually excellent outfits all season, so it's great to see her front and center playing dress up in the opening bit. She's Botticelli's "Birth of Venus" in a long red wig. She's Magritte's "The Lovers II," her face masked by a cloth. She's Kahlo's "Self Portrait of a Tehuana," cracking a beautiful smile with a portrait of Rue drawn on her forehead. This montage may be a bit more opaque in its meaning than "Euphoria" usually is, but it makes Rue's vibrant, full-hearted love for Jules very clear.
Best musical moment: The first time I watched this episode, I was struck by the way both Cal and Cassie sing Sinead O'Connor's "Drink Before The War" right before they drunkenly wreck their lives. After seeing where Cal ended up that night, though, I don't think it's nearly as meaningful a moment as the show thinks it is. Instead, our song of the week goes to "I Was Dancing In A Lesbian Bar" by Jonathan Richman, which plays during that cool overhead shot as Elliot saunters to the bathroom. This song is unusual and catchy as hell, and has become one of my most-played since I first heard it on the show.
Extra credit of the week: As conversations swirl about Sam Levinson's ability to take on these complex teen stories without a co-writer, I was inspired to look back at the one time he has shared a script credit so far. It was for Jules' therapy-set episode, which Hunter Schafer actually co-wrote. You can hear her talk about the experience on Entertainment Weekly's The Awardist podcast. Levinson certainly deserves a healthy level of scrutiny, but it sounds like Schafer is happy to have helped write Jules, calling the writing experience "a safe opportunity to ... have control over that narrative and approach it with a sense of freedom."
If you or anyone you know is struggling with addiction issues, help is available. Visit the Substance Abuse and Mental Health Services Administration website or contact SAMHSA's National Helpline at 1-800-662-HELP (4357).