Live-Action Dungeons & Dragons Series Rolls The Dice, Gets Red Notice Director To Write, Direct, And Executive Produce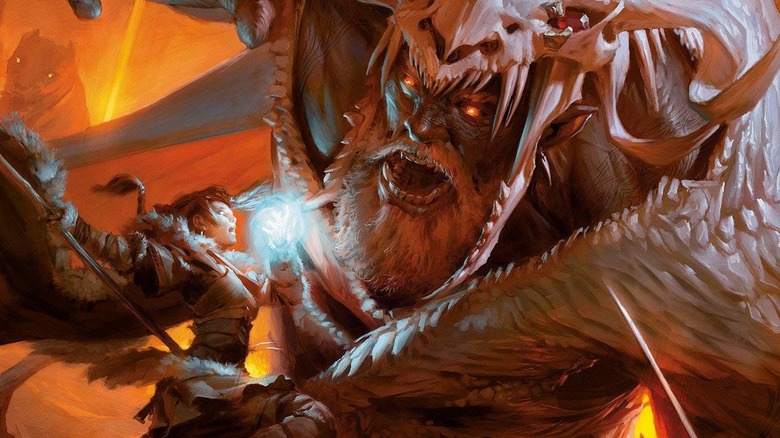 Wizards of the Coast
Grab your dice bags and gather your figurines, tabletop role-playing fans: the live-action "Dungeons & Dragons" series just took another Ice Giant-sized step forward. According to Variety, "Red Notice" and "Skyscraper" filmmaker Rawson Marshall Thurber has been attached to write and produce the series pilot, as well as executive produce and oversee the flagship show. The series is in development alongside a "Dungeons & Dragons" film which will star Chris Pine, Michelle Rodriguez, and Hugh Grant. It looks like the plan is for some interconnectivity between the movie and series, and there are plans for addition series as well, creating an entire sprawling "Dungeons & Dragons" ("D&D") live-action franchise.
The role-playing game has seen a spike in popularity during the pandemic, as players from around the world meet up digitally in order to escape to the Forgotten Realms, even if only for a few hours. Previous attempts at live-action "D&D" films have been critical and commercial failures, so here's hoping getting a filmmaker who makes wildly popular movies on board will give this version a higher chance of success. 
Roll for Series Development and Add Your Charisma Modifier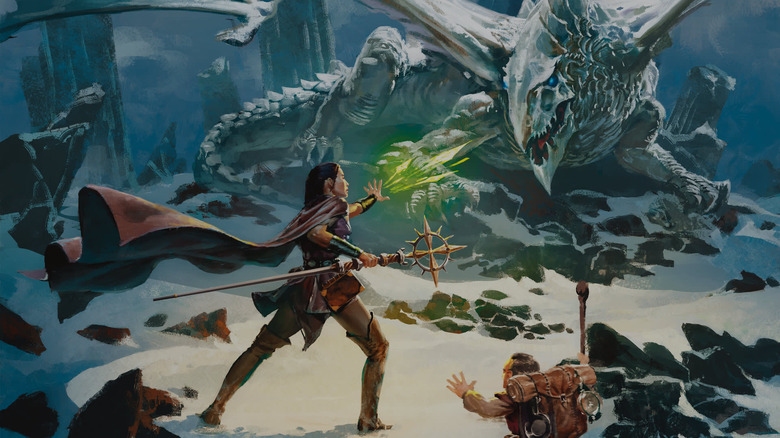 Wizards of the Coast
The "Dungeons & Dragons" series also has "John Wick" franchise writer Derek Kolstad handling some of the scripts, and he shared his vision for the series back in March 2021:
"In the first 'Star Wars', you heard about Jabba the Hutt and you don't see him until the third one because you earn at that point, and whatever the budget was for the third one compared to the first one, who cares, right? And I think in Dungeons and Dragons, who has this massive, dedicated community of acolytes, I don't want to suddenly throw everything on screen and say, 'Here's the buffet.' You'd much rather keep the story intimate. When you think of our favorite movies, I'd rather do the 'First Blood' version. It's a guy in the woods being hunted. And it's very small, but you allude to the other things through conversation."
Kolstad's desire to keep the story intimate sounds great, and hopefully will represent a small part of what makes "D&D" so fun for so many players instead of just trying to shove as many Easter eggs in as possible. For his part, Thurber is just coming off of the wildly successful "Red Notice" for Netflix, with two sequels already in development.
According to Deadline, filming on the first film in the planned "Dungeons & Dragons" franchise has recently wrapped, and the TV universe is aiming to compliment the films. eOne's yet-untitled film was jointly produced and financed with Paramount. Thurber's signing on means the project is getting closer to being on our TVs, which should make "D&D" fans happier than a great red wyrm on a pile of gold.