Texas Chainsaw Massacre Trailer Breakdown: New Town, Same Old Story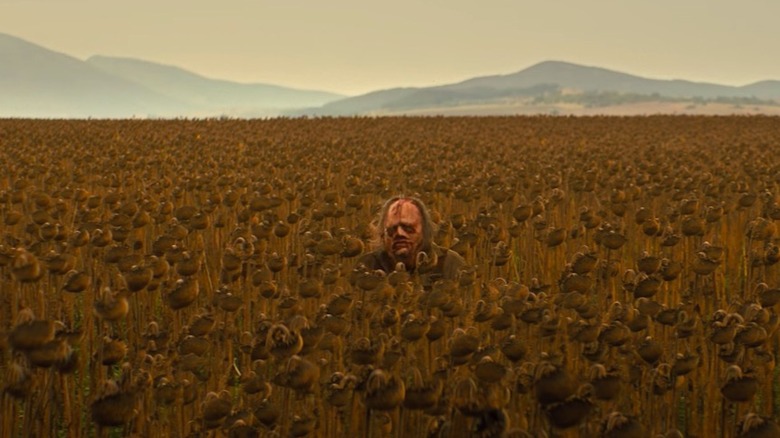 Netflix
Leatherface is back, officially, so say hello. And then run, obviously. The trailer for Netflix's new installment "Texas Chainsaw Massacre" debuted on Monday, January 31 — and there is quite a lot of action in the two-and-a-half minute visual. Between the antagonist's gruesome skin mask and a host of fresh new faces, we have a lot to unpack before our next square-off with the chainsaw-wielding man himself.
Let's take a closer look at the footage, in saw-sized pieces, and draw up some conclusions ahead of the film's February 4 release.
He's Everywhere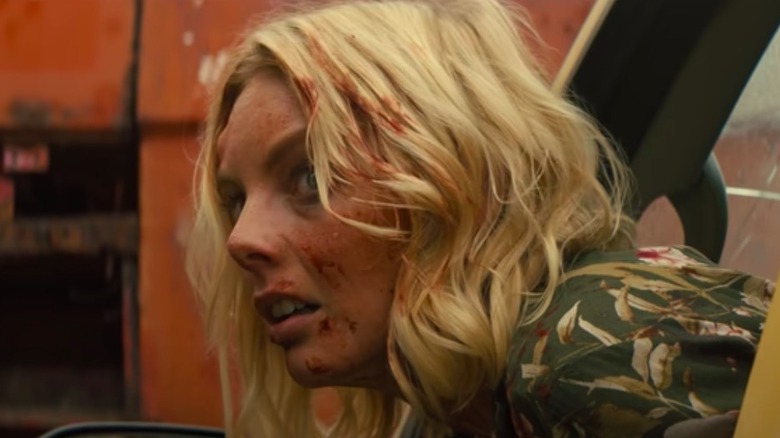 Netflix
As the visual opens, we see a beat-up truck careening through a wheat field before it crashes into a tractor trailer. A bloody blonde woman attempts to flee from the vehicle quietly, but not before she hears a noise behind her. She turns — and the frame cuts to a wide shot of the field, and her blood-curdling screams. Well, we know who that is.
A New Face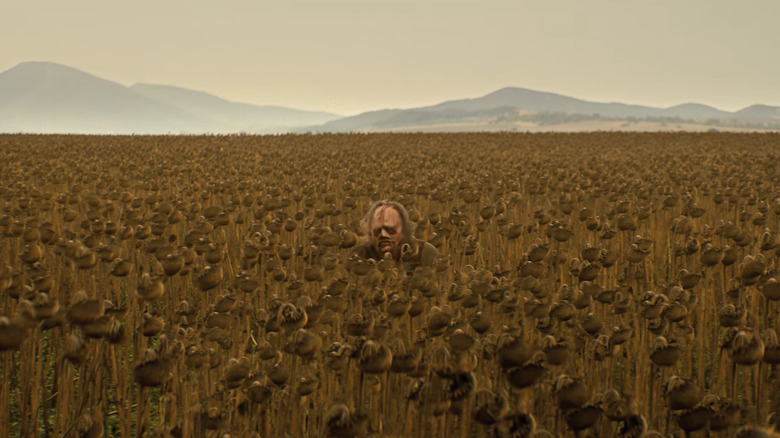 Netflix
As her screams cease, a demented-looking Leatherface looks up from a hidden spot in the field, showing off the new take on his horrifying mask. It clearly has its similarities to the original 1974 monstrosity, but seems to also be crafted differently somehow. It's a great marker to remind the audience that, hey, this is a new chapter. You know, how sequel-reboots tend to do.
Welcome to Harlow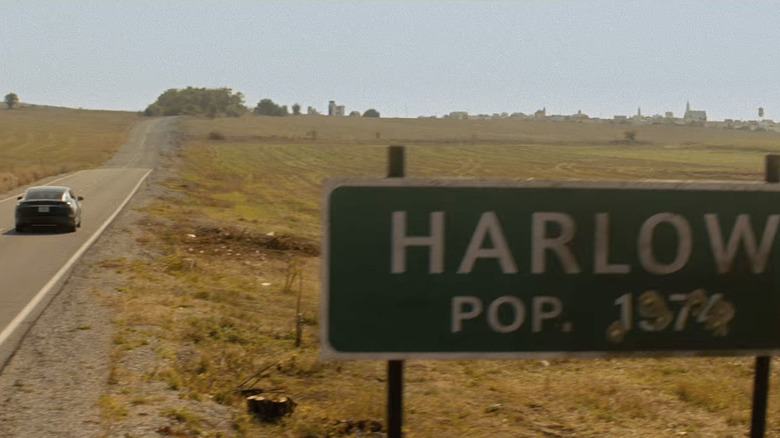 Netflix
Next, we see a black car speeding down a lonely country road into a town called Harlow. "So, Harlow is a ghost town," a woman's narration claims, before a man takes over and says, "We have a vision for this place. All it needs is young blood," alongside cuts of new folks arriving in their cars at a literal ghost town. It appears that a group of young folks have come to Harlow to build new lives, but we suspect they aren't going to like what they find.
Not Into It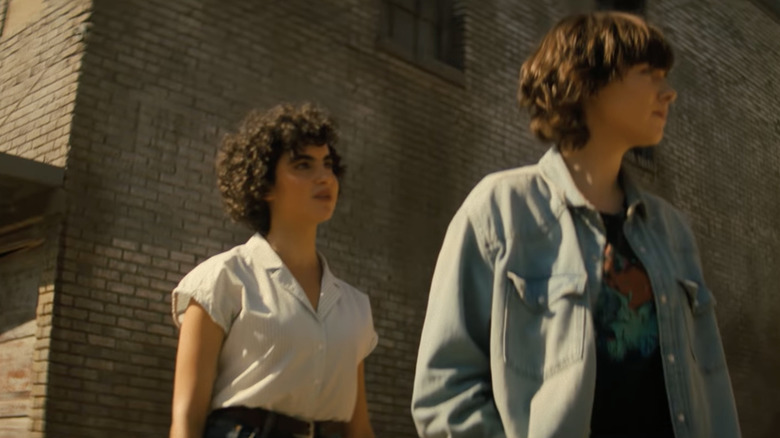 Netflix
"Eighth Grade" star Elsie Fisher's character, Lila, complains to her sister, Melody (Sarah Yarkin), that she doesn't want to live in a place like Harlow — but Melody asserts that people will be able to start lives somewhere "safe." Safe, of course, being the operative word in that sentence. Immediately, the camera cuts to a different point of view: that of someone who is watching these newcomers from a window.
The House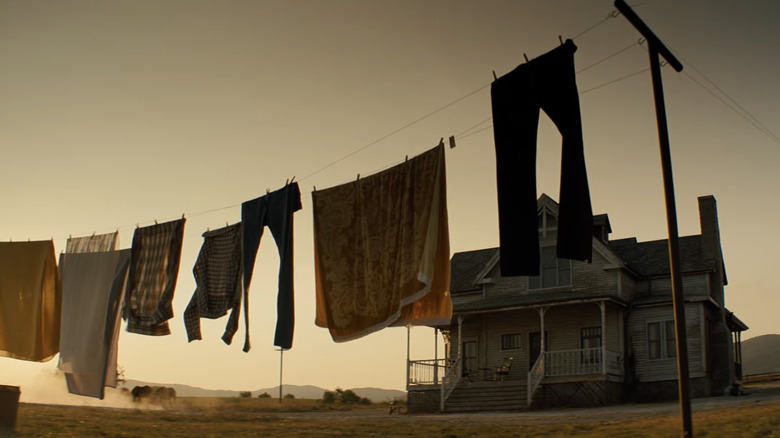 Netflix
Lila spots the iconic Sawyer family home, or at least one that looks a lot like it, and her sister attempts to check it out with another friend. Of course, it's inhabited already — and that will be the first of undoubtedly many mistakes this group will make throughout the film. Melody notices an old photograph with a man's face scratched out, before a woman appears and asks, "What are you doing in our house?" She then doubles down with, "You really shouldn't be here."
He's Coming for You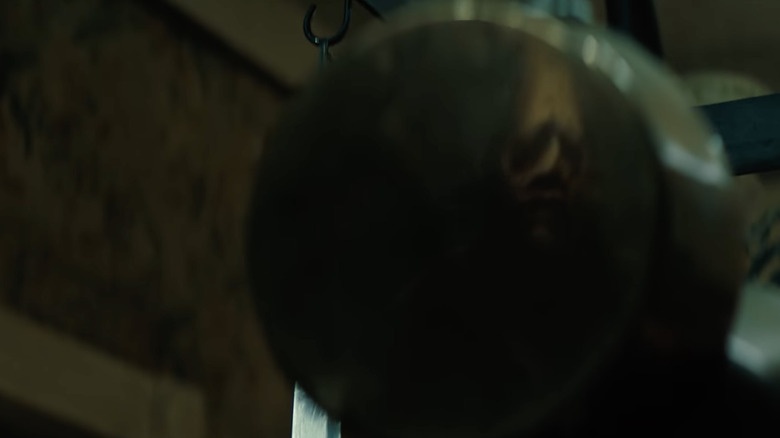 Netflix
The trailer then cuts to Jacob Latimore, who plays Melody and Lila's close friend Dante, reaching out to touch hanging pots and pans in the farm house kitchen. He catches a glimpse of Leatherface's visage in the reflection of one of the pots and turns around, startled, to face the man. Melody is overtaken with fear, and the camera cuts in and out as she runs for refuge under a bed. She watches as Leatherface drives an axe into the skull of one of the newcomers — and then, he drops his main weapon: the saw.
Sally Returns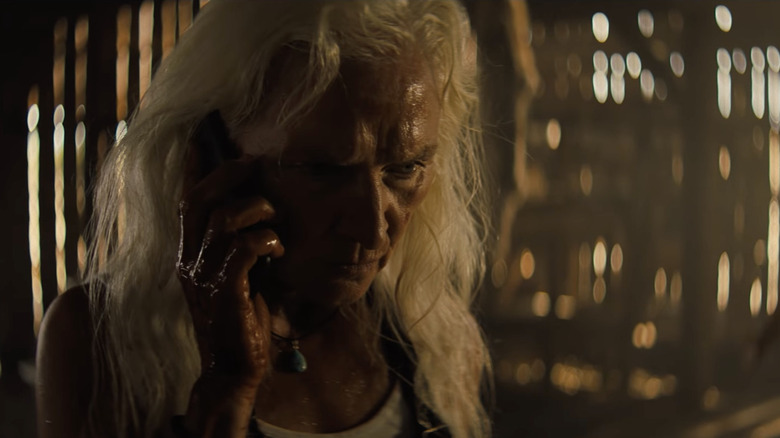 Netflix
Like Laurie Strode, Sally Hardesty appears to have returned to end the horrors that started with her and her friends nearly 50 years ago. "This is Hardesty," she says in voiceover, as the camera pans over newspaper clippings about the original massacre and her survival. A woman with long white hair is shown on the phone, and the person on the call tells her, "Sally? I'm afraid your old friend is back."
Next, we see Sally in her car, and she turns down the visor to reveal a photo of herself, her late friends, and her late brother, with whom she was traveling when their group was ravaged by Leatherface. "Fifty years I've been waiting for this night," she says, alongside a shot of the final girl in denim and a cowboy hat loading a bag of guns and ammo into her vehicle. The next shot shows the field at night, with a person searching with a flashlight in front of a lit-up truck. "Just to see him again," Sally adds. Melody, who is sitting in the back seat of the car Sally is in, asks, "Who?"
The Saw Is Family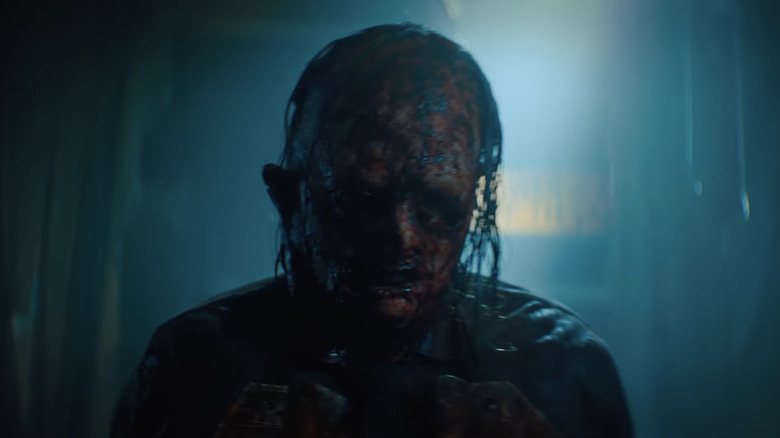 Netflix
We catch a quick shot of Dante and his girlfriend, Jessica, gasping at the sight of a figure shrouded in shadow before we see our antagonist pick up his chainsaw off the floor. "Leatherface," Sally answers as the camera lingers on a closeup of the man's bloody, mangled face.
Next, the trailer splices in cuts of Leatherface seemingly hiding in alleyways, and running after folks with his chainsaw as Lila calls to someone to run. Leatherface is seen holding his skin mask up to the sun like an offering in the field during the height of day. Then, Sally tells Lila, "It's you that he wants." Yikes, not a good position to be in.
"I'm not going to let him kill you," Melody tells her sister, and they hug, as Sally picks up her gun and aims it at someone. "Fear no evil, fear no evil," someone whispers in another cut as Melody stands slowly to face Leatherface, who swings his axe at her.
How Does It End?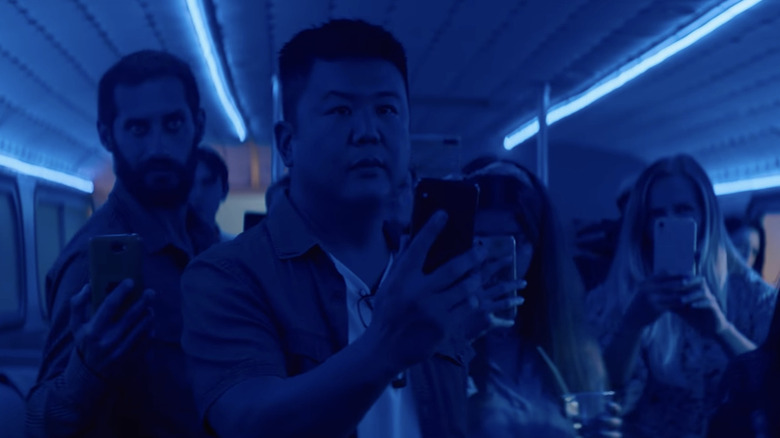 Netflix
The trailer concludes with several quick cuts of people screaming and people pulled to their deaths, a bunch of bloody hands against a window, and Leatherface's classic chainsaw swinging "dances."
Finally, Leatherface is seen confronting a small crowd of adults inside a school bus. They all notice his grotesque appearance, and slowly raise their cell phones nearly in unison. "Try anything and you're canceled, bro," one guy says to him, before the villain starts up his chainsaw. Soon, that dude gets split in half by the saw, and a massacre begins on the bus as the film's title rolls.
While this certainly seems to pay homage to its roots, it remains to be seen if "Texas Chainsaw Massacre" can do the original any justice whatsoever. One thing is for sure, though. This trailer is definitely a nice bit of fun, and it shows off a little of story co-writer Fede Alvarez's touch with the insane amounts of gore. Let's hope the saw is on the right path this time around, folks.
"Texas Chainsaw Massacre" premieres on Netflix on Friday, February 4, 2022.