Willem Dafoe Brings His Wild Eyes To A Surprisingly Horny Saturday Night Live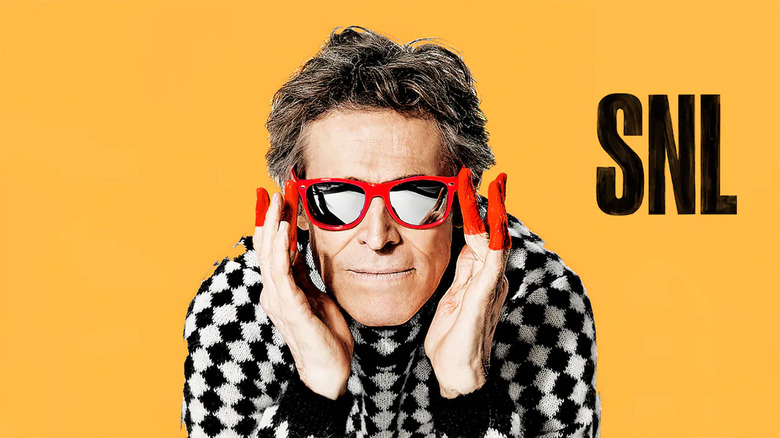 NBC
It's hard to believe that it took this long for Willem Dafoe to host "Saturday Night Live," even though there's actually a pretty reasonable explanation behind the wait. But thanks to the power of "Spider-Man: No Way Home," and probably a lack of availability for Tom Holland, Andrew Garfield, and Tobey Maguire, the "Spider-Man" franchise villain and wild-eyed star of films such as "Antichrist" and "The Lighthouse" finally took the stage at Studio 8H to partake in the long-running sketch comedy series. How did it go? Well, this episode was surprisingly horny. Actually, with movies like "Nymphomaniac" in Dafoe's past, maybe it's not all that surprising. However, there was quite a show-stealing surprise during Weekend Update. So let's dig into the best and worst sketches from this weekend's episode of "SNL."
The Best
Office Song – In what is absolutely a 10-to-1 sketch, it's not clear where this bit is heading, and that's a big part of what makes it so good. It's a minute and a half of set-up for what is hilarious physical gag. Even when you see that pivotal moment happen, you're probably not even sure why it's happened. Aside from being immediately amused by Willem Dafoe as a temp, seeing him so desperate to join in with the office song in such a misguided fashion absolutely cracked me up. But it gets even sillier when the office gives him a second chance at breaking into the song, and it ends in an even more absurd way, with a paper hole punch being thrown and knocking Heidi Gardner out the window with an incredible pratfall. I loved this pure nonsense.
Beauty and the Beast: The Mirror – Even if you're keyed into where this sketch is heading as soon as Willem Dafoe enters the cottage as Belle's father Maurice and asks whether anyone is home, it's the escalation that follows which makes it even funnier. From the steps that Maurice takes to prepare for his personal intimate moment to the fact that Pete Davidson totally abandons the deeper, regal voice he was putting on as Beast, this sketch is one of the prime examples of "SNL" pushing the boundaries of sexual humor on network television. Watching Dafoe emotionally break down when he talks about "so many wonderful things with my ass" sealed the deal. That's comedy.
Good Morning Columbus – As if Maurice preparing to pleasure himself weren't enough, we get this sketch where a self-help book called "Knowing Yourself" is accidentally retitled to something rather inappropriate, especially for a morning new program. Admittedly, the premise of the sketch isn't exactly a logical one, because an on-air gaffe would not result in the graphics (created far in advance) having the same blunder. Even so, it's a hilarious comedy of errors where the exercises from "Knowing Yourself" fit into this misunderstanding and make it infinitely worse. It's not quite as great as something like the Colonel Angus or Corksoakers sketches, but it's still great.
The Average
Tenant Meeting – I'm a sucker for the kind of sketches that feature an endless line of different characters. It's even more fun when cast members appear as multiple characters. But with such a large cast, that's not necessary here, and I'm pretty sure the entire cast makes an appearance throughout this sketch (with the exception of Cecily Strong, who is still missing in action). Kate McKinnon is a standout, as well as Sarah Sherman, and the pairing of both Mikey Day & Bowen Yang and Kyle Mooney & Andrew Dismukes (who really should be playing brothers in sketches). There are a lot of inside jokes about New Yorkers here, but the characters themselves are universally weird and funny, even if the sketch overstays its welcome a little bit.
Please Don't Destroy: Martin's Friend – I hate to say it, but this is the first Please Don't Destroy sketch that wasn't a home run for me. This one actually felt more like a Lonely Island misfire than a recent Please Don't Destroy bit. Plus, it showed a little bit of the comedy trickery that makes their sketches work. Maybe those strings were a little more visible because the material itself wasn't great, but it's clear here that the rapid cuts and incredulous reactions and repetition of ridiculous phrases is meant to incite laughter, but it doesn't work nearly as well. They can't all be winners.
Nugenix – Adding to the overall horniness of this episode, "SNL" parodied the Nugenix ads that you've probably seen airing late at night when everyone else is in bed. They always feature athletes talking about erectile dysfunction, and this parody is no different. But it does get shaken up by the presence of Willem Dafoe as himself. This one takes a turn into 10-to-1 territory when the arrival of a hard-on is accompanied by a horrifying, ongoing mechanical sound, implying there Nugenix is some kind of bio-enhancement with robotic parts involved. It's a weird turn, but it makes for a funny ending, even if the rest of the commercial isn't consistently funny. I needed more of Dafoe's crazy facial expressions at the end.
Dog Show – We've seen plenty of sketches with real dogs, and it's typically the lack of cooperation from the canines that makes for some comedy. In this case, the dogs actually behave pretty well, and it's their faux profiles as total weirdo dogs that bring the laughs. It's not necessarily paced very well, but there are more than a few amusing moments. Unfortunately, it ends with a bit of a thud and doesn't really have any peaks throughout. Not bad, not great.
The Worst
Now I'm Up – Despite the fact that this musical sketch hits plenty of "funny because it's true" notes, but there's something about the song that doesn't feel like it's quite polished enough for a pre-recorded sketch. Sure, I'll acknowledge that writing a stellar musical sketch isn't easy in a single week, but "SNL" has proven that the writers and cast members can do it with much more success many times before. So when a subpar one comes along, it's easy to notice. Perhaps there was a better way of using this kind of observational humor about the things that keep us up late, but at the same time, I'm not sure what it is. Maybe this one just needed more time in the oven.
Russian Disinformation – Not gonna lie, I'm getting sick and tired of these long cold open political satire sketches. While this one makes a little better use of the time than the previous two episodes, it's merely a reworking of that John Mulaney Uncle Meme sketch with the memes and TikTok trends focused on the recent Russian disinformation controversy. It's merely an excuse to use a variety of online gags one right after the other, and it just didn't work very well for me. Again, can we stop opening the show with political satire if it's not necessary?
Weekend Update
Another Weekend Update, another round of mostly average one-liners without much interaction between Colin Jost and Michael Che. Their strength comes from ribbing each other throughout the joke line-up, and I'm always disappointed if that doesn't happen at least once. However, Che's dolphin joke was top notch, and I'll admit that I wasn't expecting that "Full House" joke to take a turn towards Lori Loughlin, even if it's not the most timely reference. Weekend Update's political jokes lack bite when the headlines surrounding the government offer such little viability for great jokes, which is exactly the problem with their topical satire overall. "SNL" used to be much better about making the best out of political satire, but it feels like they've been waning in recent years, even since mocking Donald Trump turned into a tired affair. Lorne Michaels has to figure out how to get the writers and cast to up their game in this department.
You can watch the second part of Weekend Update right here.
Trend Forecasters on the Latest Trends – Is it just me, or does this feel like a musical revamp of The Art Dealers sketches that Maya Rudolph and Fred Armisen used to do roughly a decade before? It's somewhat amusing, if only because Aidy Bryant and Bowen Yang almost break several times. I think the biggest problem is these characters feel better suited for a sketch outside of Weekend Update, perhaps a talk show format, even though that's not always a guaranteed hit. It's just missing something to make it pop.
Peyton Manning on the NFL Playoffs – Wow, this came out of nowhere to steal nearly the entire episode. I'd love to hear how this one came together, because having Peyton Manning make an appearance was such a surprise. Even more of a surprise was how good he was at this Weekend Update bit. We already knew Manning was one of the rare athletes who makes for a good "SNL" host, but his comedic timing and delivery in this "Emily in Paris" inspired appearance was simply perfect. Can we have Manning host the show again? I don't care if he's retired. Just bring him back.
The Host
There was a lot of anticipation for Willem Dafoe to host "SNL" for the first time, and maybe unfairly so. It's not that Willem Dafoe wasn't an enthusiastic host who was willing to be downright silly. But I don't think the writers and the cast made a good enough use of Dafoe's unique screen presence, especially when it comes his extremely expressive face. Dafoe could have been given a little more weird material to work with, maybe even some broader characters. I want to stress that I don't think this episode was bad at all, and Dafoe did as well as you'd hope with the material that he was given. I just wish it was more on par with an Adam Driver or Ryan Gosling episode that made better use of his talent.
The MVP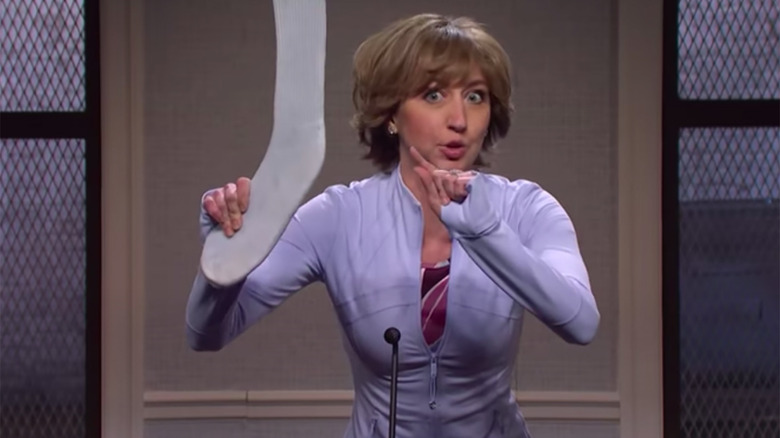 NBC
Heidi Gardner – This week's episode didn't really feature a clear breakout member of the cast. The comedy was spread pretty evenly across everybody with the sketches making use of the ensemble. But after consideration, I think Gardner came away with some of the biggest laughs outside of Willem Dafoe. This might seem like a good opportunity to give it to Dafoe, but the host is supposed to be a standout star, so it takes a lot for me to give the MVP title to the host. In this case, Gardner had a series of supporting turns that brought big laughs, especially in Office Song. She wasn't leaps and bounds ahead of a few other cast members, but she felt like the most worthy. 
The Final Word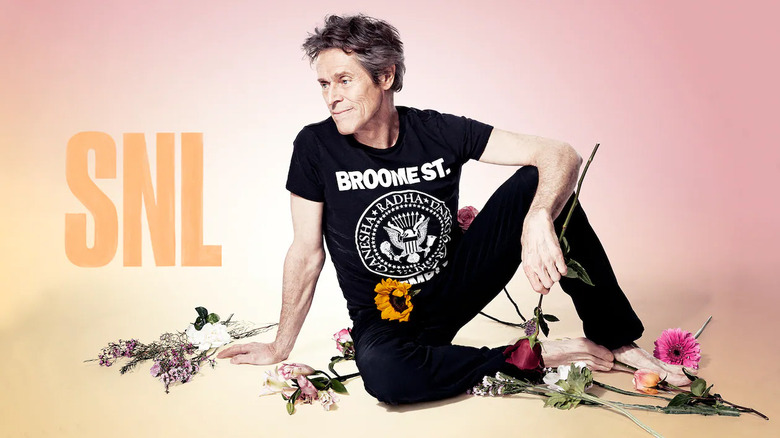 NBC
Though it might have been a little more satisfying to end this last round of episodes before "SNL" goes on hiatus for the Olympics with a bigger bang, at least we didn't go out on a total dud. Will Forte would have been a better closer to hold us over for the month-long wait for the show's return, but Willem Dafoe still gave us some memorable bits. If anything, what I'm really appreciating about this season as a whole is how there's a much wider variety of sketches. Even if "SNL" is still hitting political satire too much, they're not hitting tropes such as game shows and talks shows nearly as much as they have in previous years. Even if the more original stuff doesn't always land firmly, it's nice to see the writers and cast venturing outside of the show's tropes more often than not.
Anyway, we'll have plenty to look forward to when "SNL" returns, because John Mulaney is hosting yet again on February 26, 2021. That should make for an interesting monologue, especially given everything that's happened in his personal life since the last time that he hosted. We'll be back at the end of next month with a recap, so stay tuned.