Here's What It Took To Get Andrew Garfield And Tobey Maguire To Join Spider-Man: No Way Home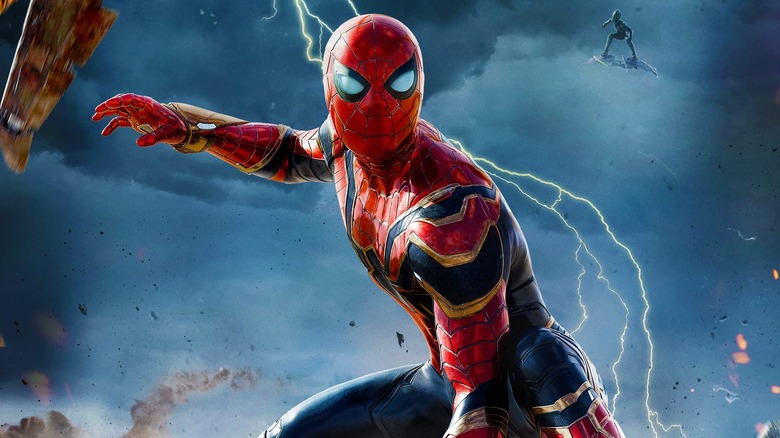 Sony Pictures
Andrew Garfield, a man best known for his lies, is executing his right to finally speak about his "Spider-Man: No Way Home" appearance. After months of being badgered and insisting he knows absolutely nothing, Garfield is embracing that sweet, sweet NDA freedom by openly laughing about his hilarious lies. Honestly, it's hard to hold a grudge against this man after such a convincing performance — we never stopped suspecting, of course, but every now and then his lies made me doubt reality. But trickery is just the tip of the great acting iceberg for Garfield. His return to the role of Peter Parker was glorious, moreso because he had the chance to bounce off his fellow Spider-Men, Tobey Maguire and Tom Holland.
With "No Way Home" not only in theaters but breaking box office records on a weekly basis, it's safe to assume that people have either had a chance to learn the news on their own or given up on avoiding spoilers completely. In other words, the Marvel snipers have been called off and the three Peter Parkers are free to let us in on the multiversal crossover. In addition to all the great stories about sneaking into screenings and bringing Spidey memes to life, the returning actors have finally revealed what brought them back to the franchise, and it's not just money.
Beware — their discussion includes minor spoilers for "No Way Home."
A Tale of Three Spideys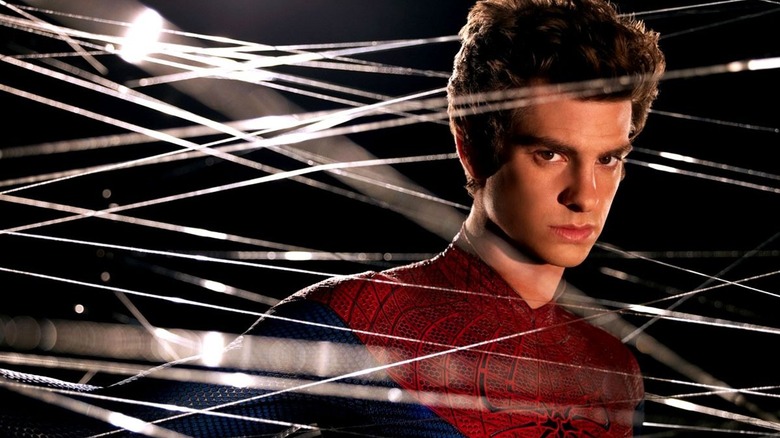 Sony Pictures
In typical Andrew Garfield fashion, the "Amazing Spider-Man" actor has revealed the very sweet and thoughtful explanation behind his return. The three actors recently reunited for a joint video interview with Deadline, where Garfield shared:
"I was just waiting to see if Tobey was going to do it, and if Tobey was going to do it, then I was like, well, I have no choice, you know? I follow Tobey to the ends of the Earth. I'm a lemming for Tobey."
As we all know, Garfield is a major Tobey Maguire fanboy. The Sam Raimi "Spider-Man" trilogy was a major motivation for taking on the character in the first place: Garfield was a fan of the comics and cartoon iterations, but it was Maguire's take on Peter who cemented his love. Given the past decade has given us four different blockbuster iterations of the webslinger, along with even more on the small screen, everyone has their own journey with the webhead, and "No Way Home" pulls it all together for a joyous celebration. While Maguire's backing was more than enough motivation, Garfield was happy to come aboard based on the story idea alone:
"It was like, oh, the intention feels very pure here. It actually feels like a great creative idea and a great creative story. It wasn't like they were just asking us to come and say hi and then leave again, but actually, have our presence being in service to Tom, being in service to Tom's journey, and where he is as Peter Parker. I love the destiny feeling of the multiverse expanding in this film, and actually, without Tobey's Peter and Andrew's Peter being present for Tom's Peter at this very moment, he may not become the Peter Parker that he's supposed to become [...] Getting three Spider-Men together could go one of two ways, and I think it's a testament to these guys that it went the way that it went, which was a brotherhood, which is just beautiful."
Why Tobey Maguire Got In On The Action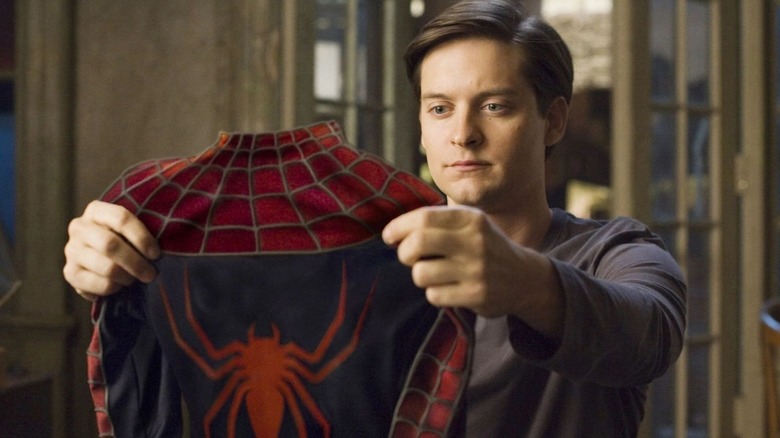 Sony Pictures
"Spider-Man: No Way Home" picks up just after Tom Holland's Peter Parker has officially lost his secret identity, revealing that the once normal teen happens to be a space-traveling, web-shooting Avenger. When this reveal starts wreaking havoc on his personal life, Peter takes action to get help from Doctor Strange. This turns out to be a huge mistake. The multiversal affect effects allow villains from alternate universes to break through but on the bright side, it also lets Maguire and Garfield's Peters slip through the cracks. The duo provide young Peter with some much-needed assistance and guide him through the latest devastating chapter of his life. 
After hearing a pitch from the Marvel and Sony execs, Maguire (via ComicBook.com) came aboard because of how well this dynamic worked:
"I went and had a meeting with Amy Pascal and Kevin Feige. And had talked about... They sort of just teased it. I think Amy was like, 'We'd love to talk to you, and you know what this is about.' And I was like 'okay, sure. Let's go chat. [...] I was intrigued immediately. In that conversation, the intention, the kind of love and celebration of these movies, and what it meant, I think, to Amy and Kevin was apparent. To me, when artists or people who are steering the creative process have a kind of authentic, genuine intent of celebration and love... it just was so apparent in both of them that I just wanted to join that."
"Spider-Man: No Way Home" is in theaters now.