Yellowjackets Originally Killed Off A Key Character In The Pilot Episode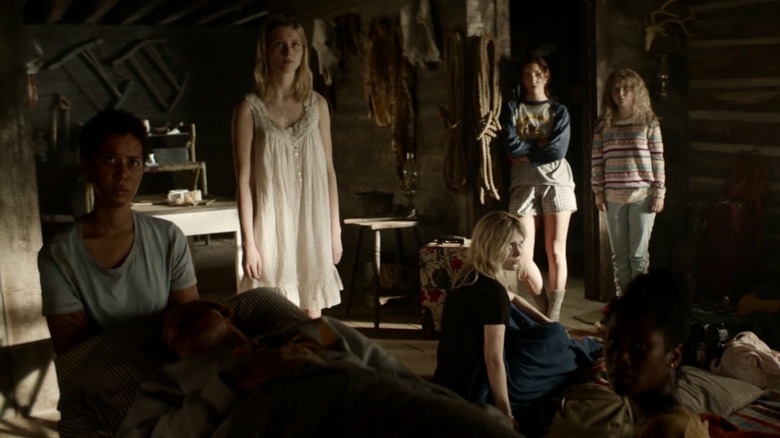 Showtime
When the trailer for "Yellowjackets" dropped last August, I remember writing up a post about it, thinking, "Wow, this show looks really good, but I'll bet it gets lost in the streaming shuffle." Thankfully, that's hasn't been the case. Like the wasp or hornet that gives the show and its wilderness-stranded, cannibalistic girls' soccer team their name, "Yellowjackets" has built up a lot of buzz around itself over the last 10 weeks. The Showtime series just aired its season 1 finale, so if you're late to the party, you can go back and binge all 10 episodes in the first season now.
I've been watching "Yellowjackets" on a streaming service called U-Next, which is basically the Japanese version of HBO with some Showtime thrown in. Here, it's two weeks behind, so the last episode I saw was actually episode 8, "Flight of the Bumblebee," which ends with a notable character death. If you're not caught up to at least episode 8 of "Yellowjackets," avert your eyes now, because we're about to delve into some spoilers.
Flight of the Bumblebee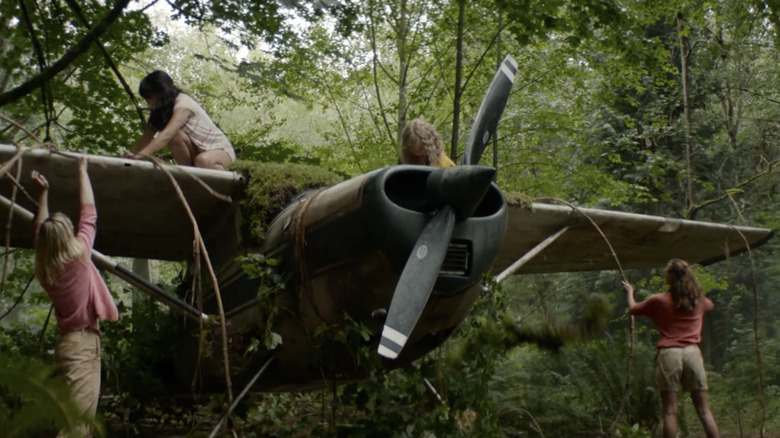 Showtime
"Flight of the Bumblebee" ends with Laura Lee (Jane Widdop) piloting an old plane that the girls (and their coach and one or two accompanying boys) have found near the site of their own plane crash in the wilderness. Laura Lee has been studying the manual and they clear a makeshift runaway path for her in the forest. She gets airborne in the plane, but for some reason, her teddy bear catches fire in the passenger's seat. From the ground, the girls watch in horror as the plane explodes with Laura Lee in it, dashing their hopes for a rescue.
To be honest, I had already marked Laura Lee as a goner and figured she would have died sooner, just because her character is initially portrayed as naive and religious, a Christian caricature who's not cut out, maybe, for the harsh realities of survival on a show like "Yellowjackets." She shows some depth and growth over the course of the season, however, and Widdop (who uses "they" pronouns) brings a lot to the role. So much so, in fact, that Ashley Lyle, Bart Nickerson, and the makers of "Yellowjackets" kept their character around longer than they originally intended.
Melania Lynskey on Jane Widoff as Laura Lee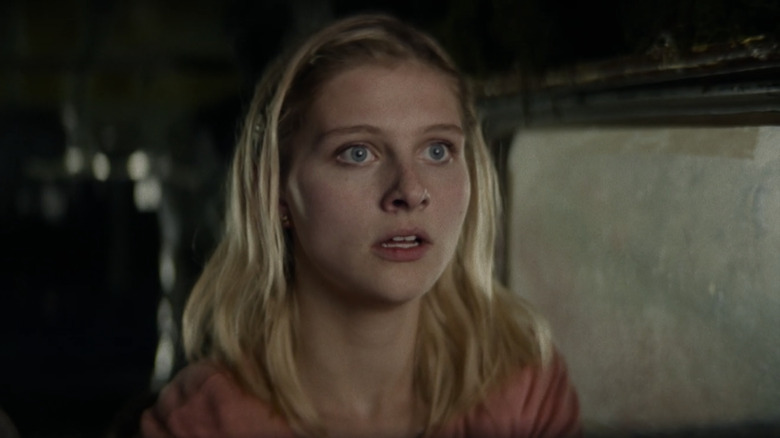 Showtime
In an interview with Collider, Melania Lynskey, who plays the adult version of Shauna in the show's present timeline, revealed that "Yellowjackets" was planning to kill off Laura Lee sooner. She wasn't even going to survive the plane crash in episode 1, but Widdop gave such an impressive performance that they decided to keep her around longer. Lynskey explained:
"Jane, who plays ... Laura Lee, they were supposed to have one line in the pilot and then they were so good — or like two lines or something. It was a little part — and then, I don't know if this is public knowledge, but they were not supposed to make it past the plane crash and were so impressive in the table read and in the pilot that then they were brought along."
There's already a five-season plan for "Yellowjackets," which might make it seem daunting in terms of the commitment it's asking. However, the first season has foregrounded some talented young actors like Sophie Nélisse, Jasmin Savoy Brown, Sophie Thatcher, Ella Purnell, and Sammi Hanratty, and it's not every day you get Lynskey, Juliette Lewis, Christina Ricci, and Tawny Cypress in a room together, either.
R.I.P. Laura Lee. "Yellowjackets" is streaming on Showtime now.