Yellowjackets Trailer: Soccer Players Battle The Wilderness In The Showtime Series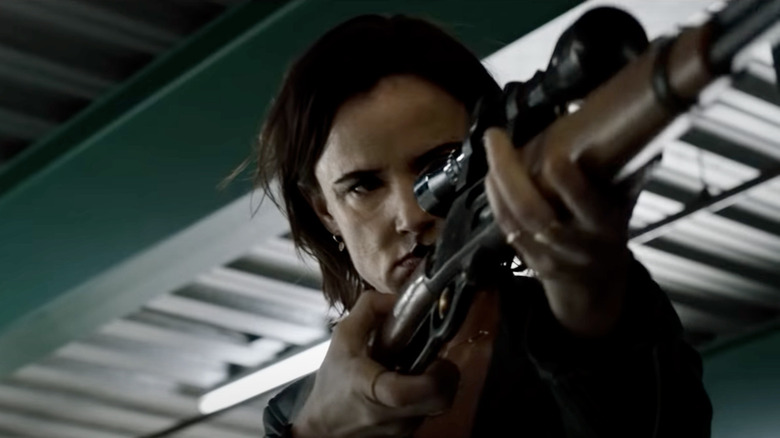 Showtime
Showtime has lined up a murderer's row of actresses for its new survival drama, "Yellowjackets." Juliette Lewis, Melanie Lynskey, Christina Ricci, and Tawny Cypress star in the 10-episode series which follows the aftermath of a girls' soccer team that gets stranded in the wilderness after their plane crashes. By "aftermath," I mean not only their time in the wilderness but also some 25 years later when the survivors are left haunted (and possibly thirsty for revenge) by what happened.
What do you get when you put "Lord of the Flies" and "Kill Bill" in a blender? "Yellowjackets" looks to answer that question. Judging by the trailer, there may be some bloody tribalism and cannibalism and/or some gun-toting retribution involved. It looks like these ladies will be battling the wilderness, yes, but also potentially each other. 
"Yellowjackets" is created and executive produced by Ashley Lyle and Bart Nickerson, the latter of whom co-created "Narcos" for Netflix. Karyn Kusama also executive produces and directs the first episode. The series is currently in production in Vancouver.
If you're a fan, as we are, of movies like Kusama's "The Invitation" or Lynskey's "I Don't Feel at Home in This World Anymore" (to name but two), then the trailer for "Yellowjackets" is sure to get you excited. Check it out below.
Showtime's Yellowjackets Trailer
Is it just me, or is Lewis channeling some serious Uma Thurman (as The Bride) and Carey Mulligan (as a certain "Promising Young Woman")? The moment where her character confronts Ricci's channels others we've seen with great actresses getting their revenge on. Reminder: a yellowjacket is not only a friendly soccer mascot or a Marvel movie villain. It's also a kind of predatory wasp with an aggressive sting.
"Yellowjackets" also stars Ella Purnell, Samantha Hanratty, Sophie Thatcher, Sophie Nélisse, Steven Krueger, Jasmin Savoy Brown, and Warren Kole. Entertainment One (eOne) produces the series for Showtime, with Jonathan Lisco ("Animal Kingdom," "Halt and Catch Fire") joining Lyle and Nickerson as executive producer and showrunning partner.
Here's the official synopsis for "Yellowjackets" via Showtime:
Equal parts survival epic, psychological horror story and coming-of-age drama, YELLOWJACKETS is the saga of a team of wildly talented high school girls soccer players who become the (un)lucky survivors of a plane crash deep in the remote northern wilderness. The series chronicles their descent from a complicated but thriving team to savage clans, while also tracking the lives they've attempted to piece back together nearly 25 years later, proving that the past is never really past and what began out in the wilderness is far from over.
"Yellowjackets" premieres on Showtime on Sunday, November 14, 2021 at 10 pm ET/PT.